Are you looking for a unique way to spruce up your living area? Look no further than incorporating a 3-sided fireplace into your home design. Not only is it aesthetically pleasing and highly functional, but also provides visual interest while creating an inviting atmosphere in any space. With all the possibilities that exist when designing with three sides, you can create unlimited options to give your home the wow factor it deserves. In this blog post, we'll explore some of the most fantastic 3-sided fireplaces and explore how they can be incorporated into any setting. Our selection of ideas will demonstrate the possibilities of adding a three-sided fireplace in your home, regardless of whether you prefer a modern or traditional style.
What Is a 3-Sided Fireplace?
A 3-sided fireplace is an attractive and unique feature to add to a home. A 3-sided fireplace has three faces, each with a different purpose. The two side faces provide warmth in an open concept space while the center face is used as a decorative focal point or viewing portal. This type of fireplace is often seen as a modern take on traditional fireplaces, creating an eye-catching look with maximum efficiency. Its versatility also allows it to be added as either a built-in or freestanding unit.
Lastly, there are many design options available from sleek and modern, to rustic and homey.
No matter what 3-sided fireplace ideas you have in mind for your space, adding this feature can make an ordinary room feel extraordinary by creating an inviting atmosphere that is both beautiful and practical. With careful consideration, you can create the perfect 3-sided fireplace to give your home a unique touch! [1]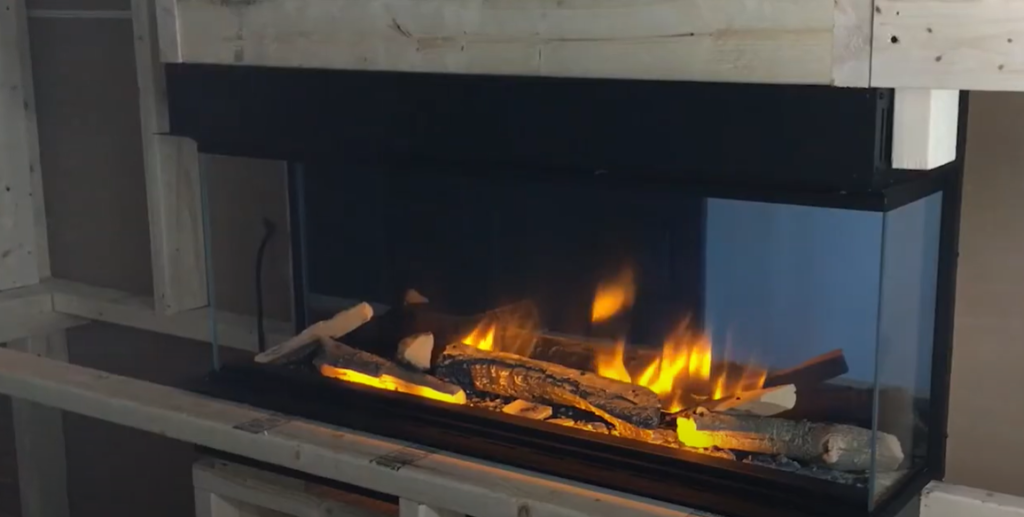 Benefits of a 3-Sided Fireplace
A 3-sided fireplace adds a unique ambiance to any living space. It can bring warmth and light, while creating an inviting atmosphere for entertaining friends and family. Here are some of the benefits of installing a 3-sided fireplace in your home:
Easy Installation: A 3-sided fireplace is easy to install compared to traditional fireplaces that require complex venting systems. This makes them ideal for homeowners who want quick installation with minimal effort.
Enhanced Visual Appeal: The three sides allow you to see the flames from multiple angles, adding dimension and depth to the space. You can customize the look with different materials such as stone or tiles for further impact.
Versatile Usage: A 3-sided fireplace can be used to heat a single room or an entire home. With the ability to generate heat from three sides, it is more efficient than traditional fireplaces and can save on energy costs.
Open Concept Living: The open design of the 3-sided fireplace provides greater visibility into different areas of your home, creating a sense of connectedness between living spaces. This makes it ideal for homeowners who prefer an open concept style.
With its versatile usage options, easy installation, and enhanced visual appeal, installing a 3-sided fireplace is an excellent way to add character and charm to any space. Whether you're looking for a cozy atmosphere or increased energy efficiency, a 3-sided fireplace can provide both.
3-Sided Fireplace Ideas
If you want to give your fireplace a modern update, you might want to consider installing a 3-sided fireplace. A 3-sided fireplace is an interesting way to bring style and warmth into your home while still achieving the convenience of a traditional open flame. While these fireplaces can be constructed in virtually any style, they often create a more modern look since they have fewer components than standard fireplaces. Here are some ideas on how you can use a 3-sided fireplace in your home:
One popular option is to install a 3-sided ethanol or gas burning fireplace in your living room or other gathering space. This type of fireplace does not require venting, making it ideal for homes that don't have access to outdoor chimney flues. They are also relatively low maintenance and can easily be adjusted for different flame heights.
Finally, if you're looking for something truly unique, consider building a 3-sided indoor fireplace in your home office or bedroom. This type of fireplace allows you to enjoy the warmth and ambiance of a traditional fireplace without the need for venting and can also be used to enhance a home's decor with its angular design.
No matter which 3-sided fireplace you choose, rest assured that it will add warmth and beauty to any room in your home. With so many options available, you are sure to find the perfect fit for your style! [2]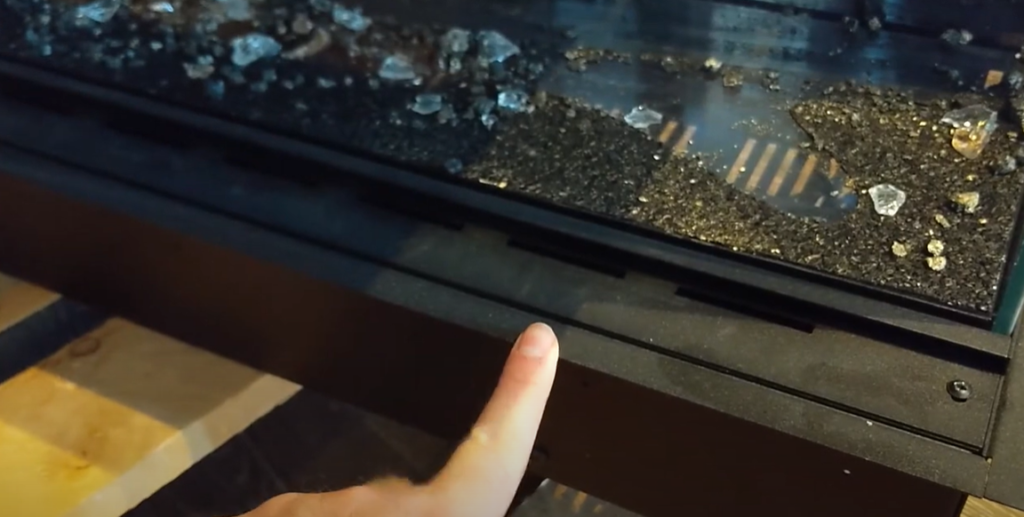 How To Decorate The Inside Of A Fireplace?
When decorating the inside of your 3-sided fireplace, you want to keep it warm, inviting and stylish. Here are some tips on how to do that:
Add a mantel – Adding a mantel can be a great way to tie together the décor in your room and create an eye-catching focal point for the 3- sided fireplace. If you have the space, choose a mantel with plenty of shelving for accents or knick knacks.
Incorporate texture – Whether it's brick, stone or tile, adding different textures around your fireplace will give it dimension and depth. Consider adding wainscoting or different faux finishes around the sides of the fireplace, or installing tile in the hearth.
Use a fire screen – If you have an open flame in your 3-sided fireplace, be sure to use a safety screen to protect from any errant sparks. Fire screens come in a variety of sizes and shapes, so there's sure to be one that complements the look of your room.
Accessorize – Accent pieces like candles and vases can help to tie together the décor around the fireplace. Choose pieces with colors that match your walls and furniture for a cohesive look.
Paint it up – If you want to add some color or pattern to your fireplace, consider painting it! You can give it a bright pop of color with a bold paint, or create an eye-catching pattern using stencils.
By following these tips, decorating the inside of your 3-sided fireplace will be simple and stress-free! With some thoughtful planning and attention to detail, you'll have a warm and inviting centerpiece in no time. [3]
How To Decorate Walls On The Side Of A Fireplace?
When decorating a wall on the side of a 3-sided fireplace, there are several options for achieving an attractive and inviting look. Depending on the size of the room, you may want to go with some minimalist artwork, or hang bold and striking pieces that really draw attention. Mirrors can also be used to great effect in this setting, especially if they reflect flames from the fire.
Alternatively, why not try hanging sconces or lanterns to provide ambient lighting? Wall shelves are another idea; these can be used to display family photos or meaningful objects.
Finally, consider adorning the walls with tapestries or framed fabric panels for added texture and color. Whatever your style preference, you'll find plenty of ideas to transform your 3-sided fireplace into a focal point of the room.
Be sure to plan out your design ideas thoroughly before you begin decorating, and consider involving a professional for expert advice. With careful planning and some creative flair, you can create something truly special that will last for many years to come!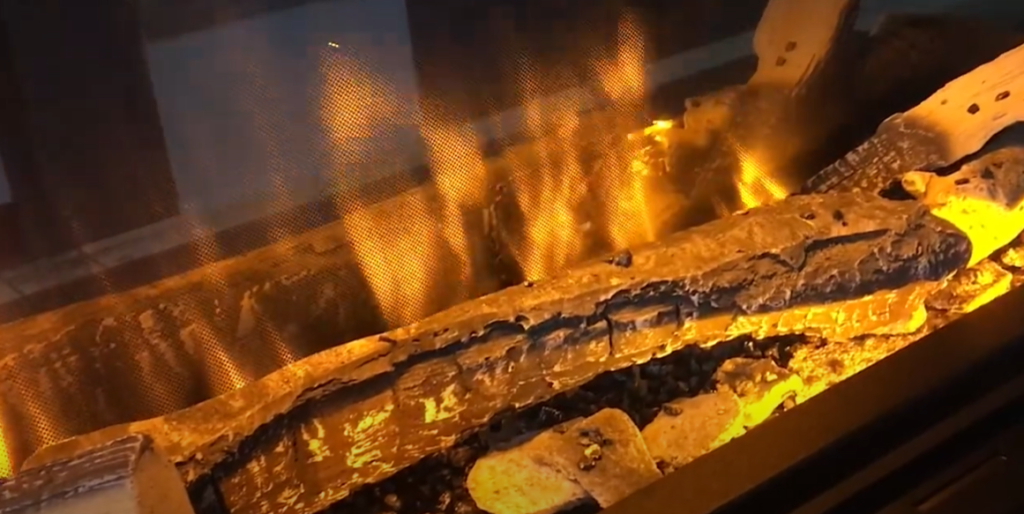 Cons Of A 3-Sided Fireplace
One of the cons of a 3-sided fireplace is that it can be difficult to source materials. This type of fireplace requires three different walls, which can be challenging to find suitable materials for.
Additionally, 3-sided fireplaces tend to require more space than traditional fireplaces as they are typically larger in size. This means that homeowners may need to relocate furniture or make other adjustments in order to fit the fireplace into their home.
Lastly, these types of fireplaces tend to be less efficient when compared with standard single-sided fireplaces due to the fact that heat tends to escape out of the sides instead of up through the chimney. Therefore, this type of fireplace may not be ideal for those who wish to maximize energy efficiency.
Other Types Of Fireplaces
For those looking for more traditional fireplace options, there are several other types of fireplaces to consider. These include wood-burning fireplaces, gas fireplaces, pellet stoves and electric fireplaces. Each type offers its own unique benefits, such as portability or ease of use.
Wood-burning fireplaces offer a classic look with the warmth and ambiance provided by a real flame, but require regular maintenance to keep it burning efficiently.
Gas and Pellet stoves are powered by gas or pellets respectively and provide consistent heat output without the need for chopping or storing logs.
Electric Fireplaces offer convenience as they can be plugged in anywhere and do not require any special fuel sources or ongoing maintenance.
With so many options available, finding the perfect fireplace for your home can be a daunting task. However, 3-sided fireplaces provide a unique solution to those looking for something different and modern. They create the illusion of an open space while still providing the warmth and ambiance that a traditional fireplace provides. Whether it is built into an existing wall or as a standalone item, 3-sided fireplaces can make any room feel special. So if you're looking for something unique, consider adding a 3-sided fireplace to your home! [4]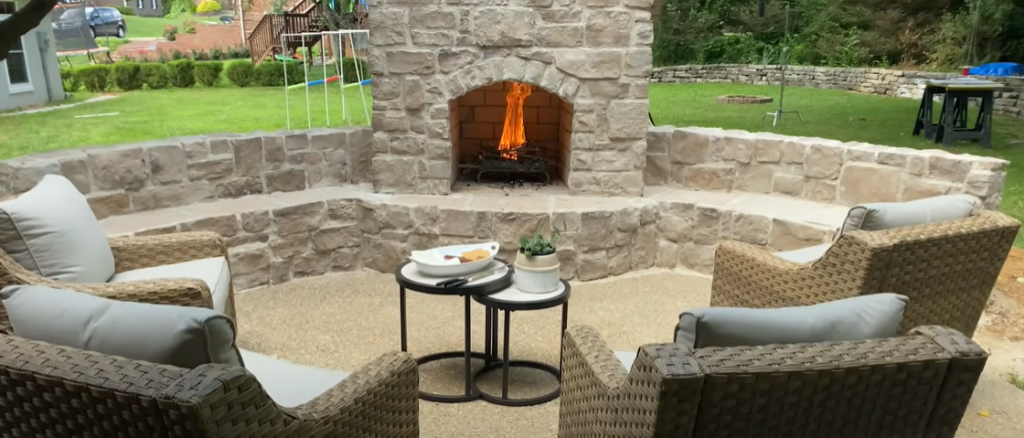 What is a Finnish fireplace?
A Finnish fireplace is a type of wood-burning stove that features three sides with one side open to the room. The design of this kind of fireplace originated in Finland and is still very popular today, especially among homeowners who want to bring an element of warmth and coziness into their space.
A Finnish fireplace typically has an oven-like firebox built into one side, which helps optimize heat distribution throughout the room. The other two sides are lined with tiles or stone for added insulation and decoration, helping to make it a beautiful focal point in any home. The unique design of a Finnish fireplace also allows for more efficient burning, as the larger opening helps increase air flow and ultimately reduce smoke production. This makes it a great option for anyone looking to reduce their environmental footprint.
You could also choose to install wood panels above the firebox for an even more contemporary aesthetic. Whatever style you decide on, a Finnish fireplace is sure to bring warmth and charm into your home!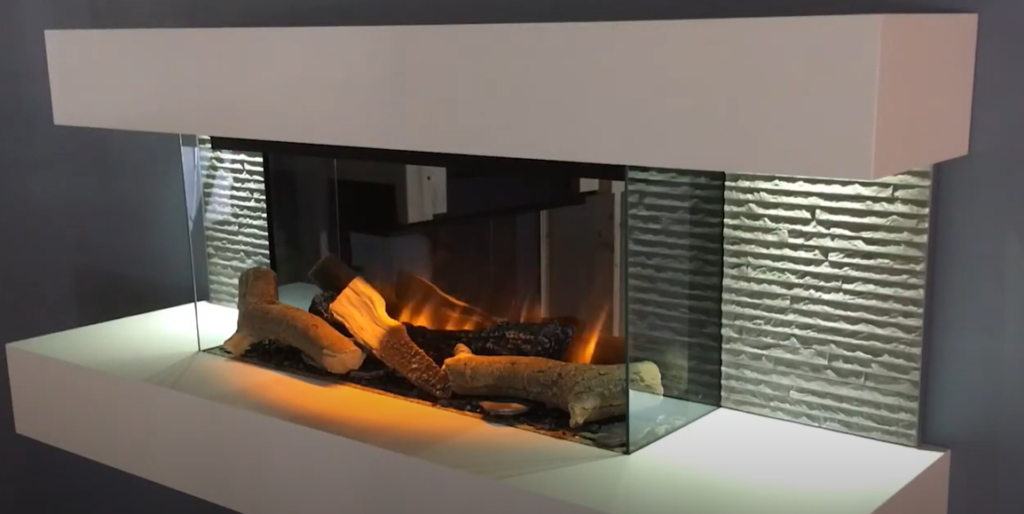 Cozy Fireplace Tips for Your 3-Sided Fireplace
If you have a 3-sided fireplace in your home, it can be difficult to know what to do with it. With some extra thought and creativity, you can make the most of this unique feature and create a cozy atmosphere in your home that everyone will love. Here are some tips for getting the most out of your 3-sided fireplace:
Choose an eye-catching fuel type. There are many different types of fuel options available for three-sided fireplaces, from natural gas to wood pellets or logs. Invest in high quality fuel and choose something that stands out visually, such as colored glass or ceramic pieces for added drama.
Add accents around the fireplace. Decorate the space around your 3-sided fireplace with items that will make it pop, such as artwork or wall hangings. You can also add a rug to provide texture and warmth to the room.
Don't forget about ambiance. Add some dimmable lighting in the area surrounding your 3-sided fireplace to create a warm and inviting atmosphere, perfect for unwinding after a long day.
Incorporate seating areas. Create a cozy seating arrangement around the outside of your 3-sided fireplace so that everyone can gather together and enjoy its warmth on cool nights. Place comfortable chairs and couches nearby so that you have plenty of space for entertaining guests or just relaxing on your own.
With these tips in mind, you'll be able to create a cozy and inviting atmosphere around your 3-sided fireplace that everyone in the family will enjoy. From adding accents to selecting an eye-catching fuel type, there are plenty of ways to make the most of this unique feature in your home. [5]
When Is a 3-Sided Fireplace a Good Idea?
A 3-sided fireplace can be an elegant and stylish addition to a room. It can provide warmth, light and visual interest without taking up much space. However, due to its unique shape, a 3-sided fireplace may not be suitable for every room or home.
Before deciding on a 3-sided fireplace design, it is important to consider the size and layout of your room. A 3-sided fireplace requires sufficient space to accommodate the three walls that make up its frame. Similarly, there must also be enough wall space available so that the operation of all three sides is safe and efficient. If you do not have the necessary amount of floor and wall space for this type of setup, then a traditional one or two sided fireplace may be more appropriate.
In addition to size constraints, it is important to consider the overall aesthetic of your room when deciding on a 3-sided fireplace design. This type of fireplace works well in modern and contemporary homes, as its sleek and streamlined appearance adds a touch of luxury while still providing the necessary warmth during colder months. However, if you prefer a more traditional style or live in an older home with period features, then a 3-sided fireplace may not be suitable.
Finally, consider how much time you would like to spend maintaining the fireplace. While these types of fireplaces are relatively low maintenance compared to other models, they do require regular cleaning and occasional repairs to keep them functioning properly. If you do not have the time or resources to keep up with regular maintenance, then a 3-sided fireplace may not be the best option for you.
Overall, a 3-sided fireplace can be a great addition to any home if it is carefully considered and properly installed. When choosing this type of design, remember to take into account the size and layout of your room, as well as your overall aesthetic preference and maintenance requirements. With these factors in mind, you can find the perfect fireplace for your space! [6]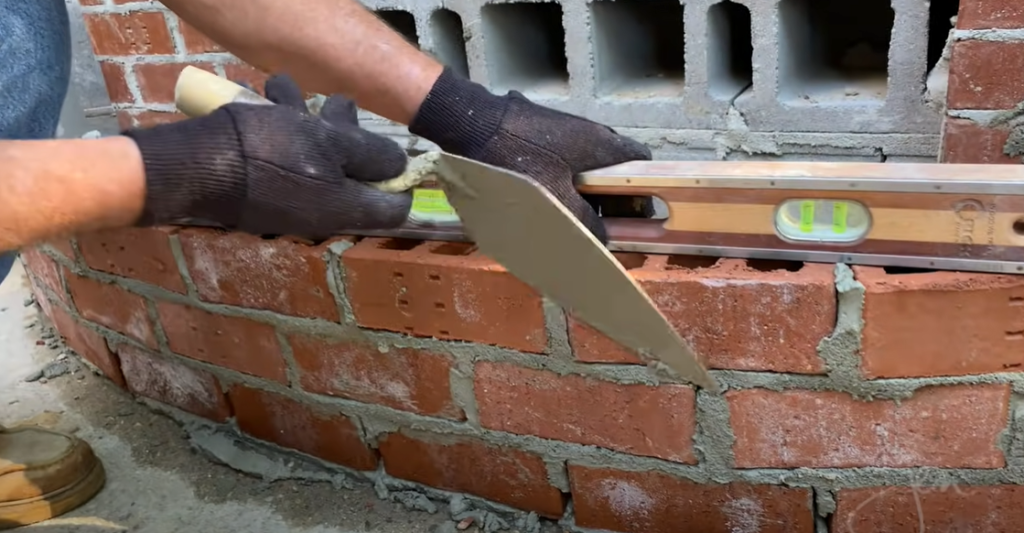 FAQ
What is a 3 sided fireplace?
A 3 sided fireplace, also known as a peninsula or three-sided see-through fireplace, is a stylish and eye-catching way to bring warmth and visual interest to your living space. This type of fireplace has two sides facing outwards from the wall, usually in an angled configuration, with one side that remains open.
What are the advantages of a 3 sided fireplace?
The main advantage of a 3 sided fireplace is its optimal visibility from multiple angles within a room. There's nothing like enjoying the warmth and ambiance of flickering flames while entertaining guests in your living space – plus this style looks modern and luxurious too! Another benefit is that these fireplaces have improved efficiency due to their unique design which limits air flow and maximizes heat output.
What are some design ideas for a 3 sided fireplace?
Designing your three-sided fireplace doesn't need to be complicated – in fact, the best designs often keep it simple. Start with a basic style such as a traditional rectangular or square shape and choose materials to fit your space: stone, tile, brick or metal. You can also opt for a contemporary look by incorporating geometric shapes into the design or adding an LED lighting element around the firebox to really make your fireplace stand out. Whether you're looking for something classic or modern, there are plenty of options to make your 3 sided fireplace unique!
Are there any safety considerations when installing a 3 sided fireplace?
Yes, safety is always a priority when dealing with any type of fireplace. Before installing a three-sided fireplace, you should consult with an experienced contractor to assess your home's structural integrity and make sure that the proper venting and insulation are in place. In addition, it is recommended that you install closed-circuit fire detectors or smoke detectors near your 3 sided fireplace for added safety.
What are the three types of fireplaces?
The three types of fireplaces are direct vent, traditional wood burning and gas fireplaces. Direct vent fireplaces feature a special type of insulation that allows the fireplace to produce heat without relying on air from inside the home. This makes them more efficient than traditional wood burning or gas models. Traditional wood burning fireplaces use natural ventilation to draw in cool air and expel hot air. Gas fireplaces are powered by either natural gas or propane and require no chimney or flue for exhaust. They offer convenience and control over temperature, allowing users to adjust the flame height for different levels of warmth. All three types of fireplaces can be designed with a 3-sided design to create an all encompassing experience perfect for entertaining guests or simply adding a cozy atmosphere to any home. 3-sided fireplaces can be designed with a variety of styles and materials, giving homeowners plenty of options for creating their own unique look.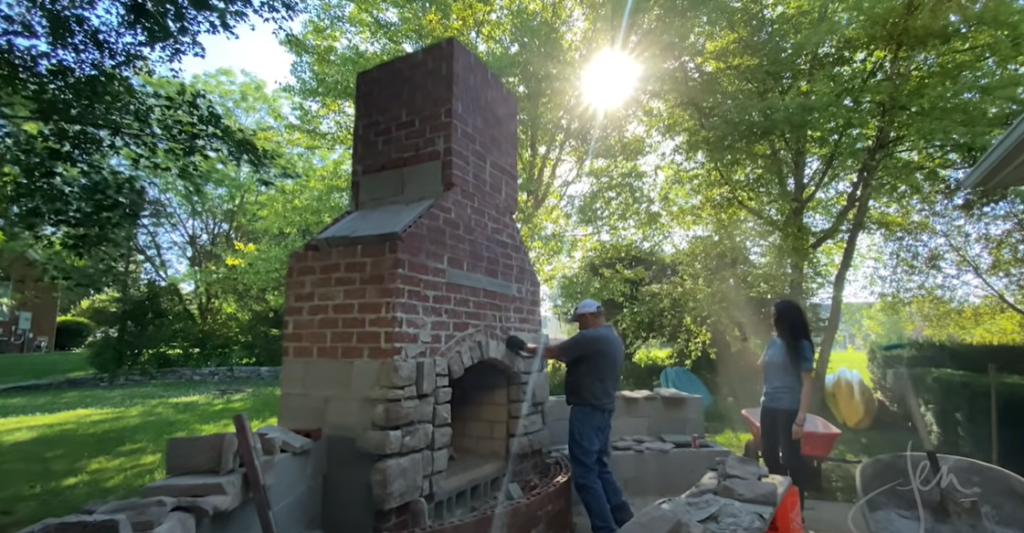 Is a double sided fireplace a good idea?
A double sided fireplace can be a great idea for many different situations. If you're looking to open up the space between two rooms, or divide a large room into separate living areas, then a double-sided fireplace is an ideal solution. This type of design allows you to enjoy the warmth and ambiance of a fire from both sides of the room without sacrificing space or crowding the area. Additionally, they can add character and visual interest to your home as well as provide an opportunity to express your personal style. The main disadvantage with this type of fireplace is that it requires more maintenance than traditional models since there are two openings which must be regularly cleaned and serviced in order to prevent smoke from entering other areas of the house. However, with proper maintenance, a double-sided fireplace can be an excellent option for anyone looking to add warmth and charm to their home.
What is the trend in fireplaces?
The trend in fireplaces is increasingly towards modern, contemporary designs. Fireplace manufacturers are incorporating innovative technologies such as gas inserts, electric inserts, and even smart fireplaces into their products. These types of fireplaces offer more efficient heating solutions while also providing the visual appeal of traditional wood-burning models. Additionally, many homeowners are opting for 3-sided or see-through fireplaces which allow them to enjoy a fire from multiple angles at once. This type of design creates an intimate atmosphere that encourages conversation and relaxation.
What is the most efficient fireplace design?
The most efficient fireplace design depends on the type of fuel that is being used. For wood-burning fireplaces, an EPA certified model with a damper and tight-fitting doors will ensure the most efficient burn possible. Gas fireplaces are more efficient than wood-burning models since they do not require as much air ventilation to operate properly. Electric fireplaces are also very energy efficient since they do not require any fuel source at all. Ultimately, selecting the best fireplace design for your needs will depend on a number of factors including the size of your space and your budget.
Useful Video: Napoleon See Thru Gas Fireplace Three Sided Peninsula Burn Video Product Review Corner BGD402 BGD403
Conclusion
When it comes to 3-sided fireplace ideas, there is no shortage of options. From modern and sleek designs to more traditional fireplaces, you can find the perfect option for your home. Whether you're looking for an efficient way to heat a room or creating a statement piece in your living space, 3-sided fireplaces are the perfect solution. With plenty of styles and materials available, you can be sure to find a fireplace that meets both your aesthetic preferences and needs. So don't wait any longer – start shopping today and transform your home with a beautiful 3-sided fireplace!
References:
https://www.houzz.com/photos/query/three-sided-fireplace
https://www.archiexpo.com/architecture-design-manufacturer/3-sided-fireplace-4687.html
https://www.archiproducts.com/en/products/fireplaces/3-sided/style_contemporary-style
https://europeanhome.com/3-sided-fireplace-modern/
https://www.valorfireplaces.com/gas-fireplaces/lx2.php
https://modernblaze.com/collections/3-sided-electric-fireplaces