Do you want to improve your outdoor living space? With modern outdoor fireplace ideas, you can easily transform any backyard into a cozy oasis that is perfect for entertaining friends and family. Whether it's an elegant fire pit that adds visual interest or a contemporary wall-mounted design that provides heat, there are endless options when it comes to creating the ultimate modern outdoor retreat. In this post, we'll explore some of the latest trends in stylish fireplaces so you can get inspired and start planning your dream modern outdoor transformation!
Modern Outdoor Fireplace Ideas
Bring In A Midcentury Mood
If you're looking for a fireplace that will add instant retro vibes to your outdoor space, then look no further than a mid century modern fireplace. With its clean lines and geometric shapes, it's an elegant style that never goes out of fashion. Consider incorporating curved shapes and bold colors like white, black or even pink into your design. For added drama, try adding some eye-catching tile around the firebox!
Showcase Multiple Materials
If you're not afraid to experiment with materials, why not consider using multiple elements for your outdoor fireplace? Think about combining brick, stone and metal to create an intriguing focal point. You can even use lighting to add depth and texture to your design. Plus, mixing materials will create a unique look that stands out from the rest! [1]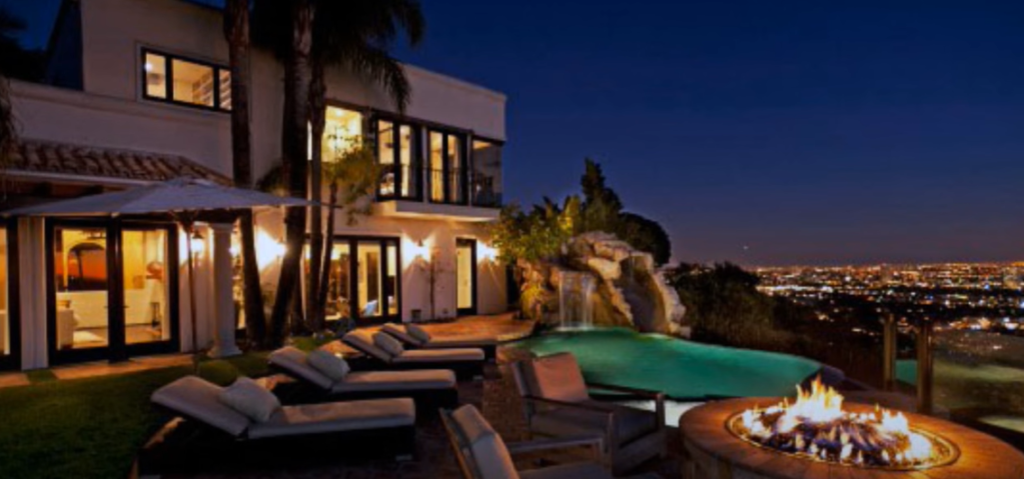 Separate Your Spaces
Modern outdoor fireplaces can be used to create distinct areas in your outdoor space. For example, you can use a fireplace as the boundary between a seating area and an outdoor kitchen. The warmth of the fire will make each area feel cozy and inviting, while providing a visual separation that gives each spot its own unique identity. In addition to being beautiful and functional, using an outdoor fireplace for delineating zones is an easy way to increase the usable space in your backyard. You don't have to stick with just one large fireplace either; smaller fire pits or chimineas are an attractive option for creating multiple seating areas on different parts of your patio or deck. Group them together near the edge of your property if you want to create a cozy campfire atmosphere.
Deck Out Your Chimney
If you've decided to go with a larger outdoor fireplace, there are lots of ways to make it stand out. Consider adding a stone surround or tiles that match the colors of your patio furniture and accessories. You can also choose from a variety of styles, including traditional wood-burning fireplaces and more contemporary gas models. For an extra-special touch, add lighting around the edges of the chimney or even hang string lights above the fireplace. These details will create a stunning effect in the evening when illuminated by the light of the flames.
Choose Colorful Tiles
You can also use an outdoor fireplace to quickly add a splash of color to your backyard. Tile is one of the most popular options for covering fireplaces, and there are plenty of choices when it comes to colors and designs. Consider bright and cheerful hues like yellow, orange, or turquoise for a vibrant look that really stands out against the green foliage in your garden. Or go with a more subtle color palette such as blues or grays if you'd prefer something that blends into its surroundings. Whichever direction you choose, adding tiles will instantly elevate the look of your outdoor fireplace and make it a focal point on your patio. [3]
Infuse Some Spanish Flair
If you're looking for a truly unique way to add a fireplace to your outdoor space, consider a Spanish-style design. These eye-catching fireplaces often feature intricate tile work and beautiful archways reminiscent of old world architecture. They can be custom built or purchased as kits that make installation much easier.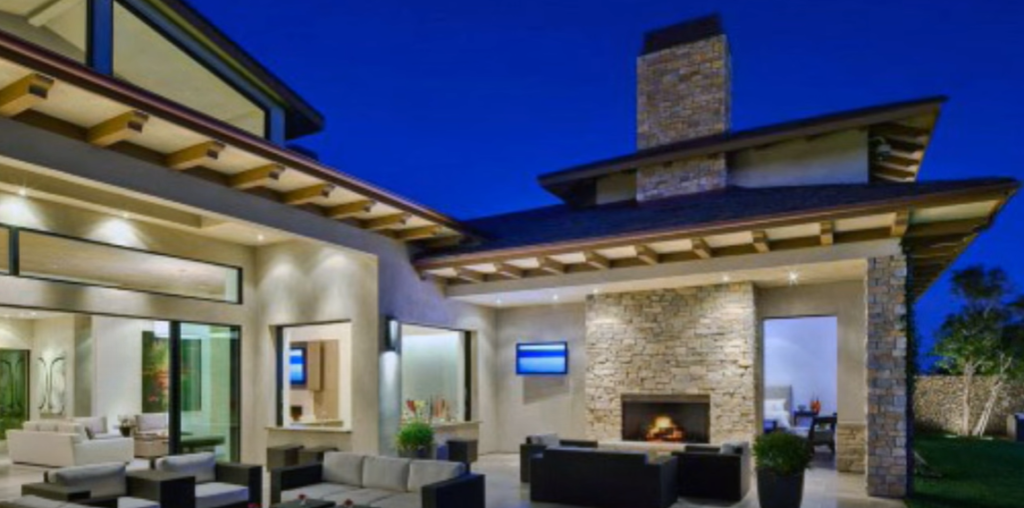 Make A Modern Rooftop Retreat
If you want to take your outdoor living space to the next level, consider installing a fireplace on your rooftop. There's something magical about sitting around a crackling fire underneath the stars that no other type of outdoor area can provide. You can choose from a variety of modern designs, such as gas-powered fire pits or sleek metal fireplaces. And with some clever lighting options, you can transform this spot into an enchanting oasis after dark.
Introduce An Eclectic Fire Pit
If you'd prefer a more rustic vibe for your outdoor space, then a fire pit is the way to go. They come in all shapes and sizes, from larger models with benches to small, portable versions that can be moved around as needed. You can also choose from different materials like steel, stone or even copper for a unique look. And by adding some colorful cushions and throw pillows, you can easily create an eclectic outdoor seating area that will be perfect for entertaining guests during summer nights. [3]
Mix Modern And Rustic
If you're looking to combine the modern and rustic styles in your backyard, then an outdoor gas fireplace is the perfect choice. It offers a clean, contemporary look that will fit seamlessly with any existing décor. You can find models with a variety of finishes, such as stainless steel or copper, so you can easily create a unique style for your outdoor space. Plus, gas fireplaces are much easier to install than wood-burning versions and require less upkeep.
Close Things Up With A Fire Bowl
If you're looking for a way to add some warmth and ambiance to your outdoor area, then a fire bowl might be the answer. These simple yet stylish pieces come in a variety of different materials such as steel or concrete and can easily be moved around as needed. They provide just enough heat to keep everyone cozy on cool summer nights, but won't overpower the space like larger fireplace models can.
Build A Rustic Fire Pit
If you're looking for a more traditional style of outdoor fireplace, then a rustic fire pit might be the perfect choice. These charming pieces are made from natural materials like stones and logs and can create a warm atmosphere in your backyard. Plus, they require little to no maintenance and will last for years to come. [4]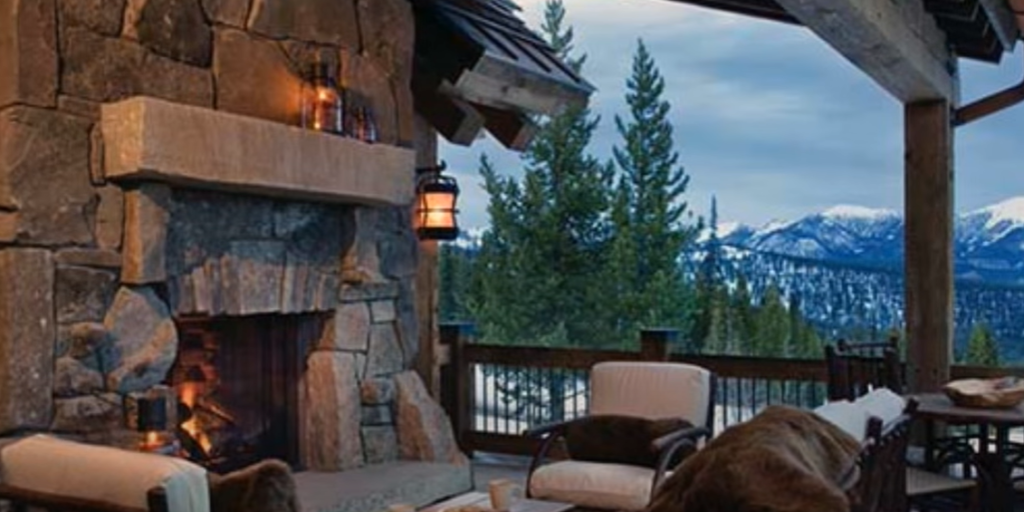 Create An Outdoor Living Room
An outdoor living room with a modern fireplace can add the perfect combination of warmth and style to your outdoor space. With a few simple design elements, you can create an inviting space for entertaining family and friends or just relaxing in the fresh air. Start with a seating area that is comfortable and inviting, then add a modern outdoor fireplace to complete the look. Choose from a variety of materials such as stone, brick, metal, concrete, or wood to create the perfect backdrop for your fire feature. Consider adding built-in shelving around the perimeter of your fireplace to house books and other items when not in use. Incorporate mood lighting and accent pieces like candles or planters to make it feel even more inviting.
Paint It Black
For a bold, modern look, consider painting your outdoor fireplace in black. This will create a strong graphic statement that adds instant drama to your outdoor living space. Opt for matte or high gloss finishes, depending on the desired style of your design. Accessorize with simple elements like light fixtures and pillows in complementary colors for an inviting atmosphere.
Bring The Indoors Out
Bring the comforts of indoors out with an outdoor fireplace that combines wood and stone. Create a more natural look by adding a surround of rustic wood to your modern fire feature. This will help to create some warmth in the space while tying it into its natural surroundings. Finish off the design with cozy seating and a few accent pieces such as planters or string lights for an inviting atmosphere.
Keep It Classic
For a timeless look, opt for a classic stone fireplace. Choose materials that will hold up to the outdoor elements such as granite or limestone. Add some seating around the perimeter and keep it simple with minimal decor. This look can be dressed up or down depending on your preference and is sure to bring a touch of sophistication to any backyard. [5]
Embellish With Art & Antiques
For a unique look, incorporate art and antiques into your modern fireplace design. Incorporate vintage pieces such as mantels or firebacks to add visual interest. Hang wall art on the surrounding stone or brick for a gallery-like feel. Finish off the look with furniture and accent pieces that reflect your personal style for an inviting atmosphere.
Heat Up A Small Space
If you are working with a smaller outdoor space, consider adding a modern fireplace that is compact in size. You can find plenty of options that don't take up much real estate but still offer the warmth and style of larger fireplaces. Opt for materials like metal or concrete to keep the look sleek and modern.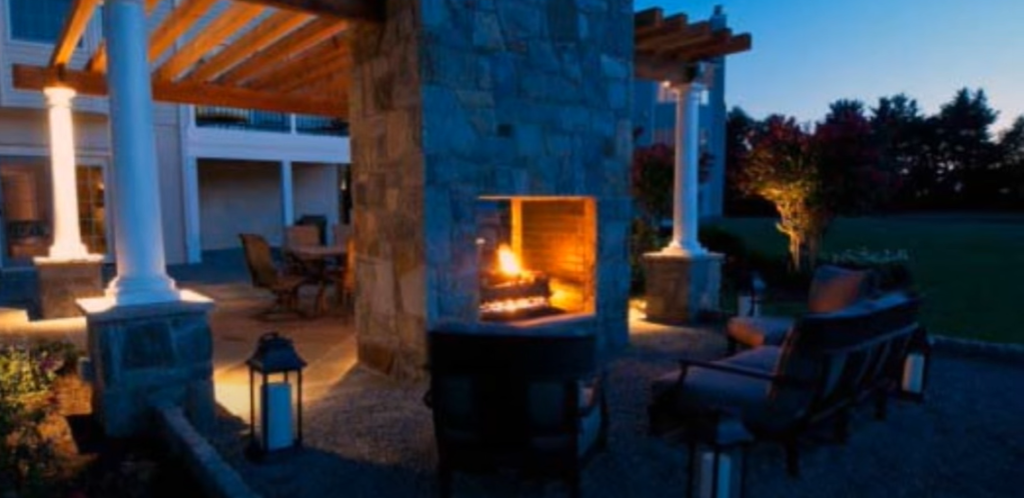 Go For Gas-Fueled Flames
If you're looking for a modern twist on the traditional outdoor fireplace, consider investing in a gas-fueled fire pit. Gas-powered fire pits come in all shapes and sizes, from elegant bowl designs to linear rectangles. They offer flames that can be adjusted with manual or remote controls, as well as low maintenance requirements since there's no need for gathering or storing firewood. Plus, they emit less smoke than wood-burning fires and can be lit quickly with just the push of a button. If safety is your priority, look into models that feature glass wind guards to contain embers and prevent them from spreading around your outdoor space.
Have A Lakeside Bonfire
For a luxe yet low-key outdoor fireplace design, why not have an evening bonfire on the lake? This minimalist setup requires minimal materials: just some stones and a few logs. To construct your fire pit, simply arrange the stones in a circle or square and fill it with logs. You can even add a metal grate for cooking marshmallows if you wish! Take extra caution near the water's edge as this type of fire should be put out before you leave.
Embrace Patina
If you're looking for a more timeless approach to your outdoor fireplace, why not embrace the patina of an older design? An antique fire pit will add rustic charm to any space and can be used for both cooking and gathering around with friends. Many vintage designs are available online or at salvage yards, so do some research and find one that speaks to your style.
Infuse The Space With History
If you want to add a personal touch to your outdoor fireplace, consider infusing the space with history. Display family photos or heirlooms around the fire pit, and tell stories of past generations to those who gather around it. This will help create an inviting atmosphere that celebrates your unique sense of style as well as your family's history. [6]
Pair Your Fireplace With A Pergola
Pergolas are a great way to create an inviting outdoor space, and they look especially chic when paired with a modern fireplace. Choose a contemporary pergola design that complements the style of your fire pit for an aesthetically pleasing effect. You can also hang string lights or lanterns from the pergola beams for added ambiance.
Add Decorative Warmth With A Rug
Don't forget to add a touch of warmth to your outdoor fireplace with some cozy decor. An outdoor rug is the perfect finishing touch, as it will help tie the area together and make it more inviting. Choose a pattern or texture that complements the style of your fire pit for an effortless look. These are just a few modern outdoor fireplace ideas to get you started on transforming your backyard into an oasis.
Extra-Tall Chimney
For a modern look that stands out, go for an extra-tall chimney fire pit. This type of design features a tall column with grates extending outwards to contain the embers and smoke. It has the added benefit of keeping flames higher off the ground, so you can gather around it without worrying about sparks flying onto clothing or skin. Look for models made from durable materials such as steel or aluminum that won't rust over time. The sleek lines of this type of fire pit will bring an industrial edge to your outdoor space.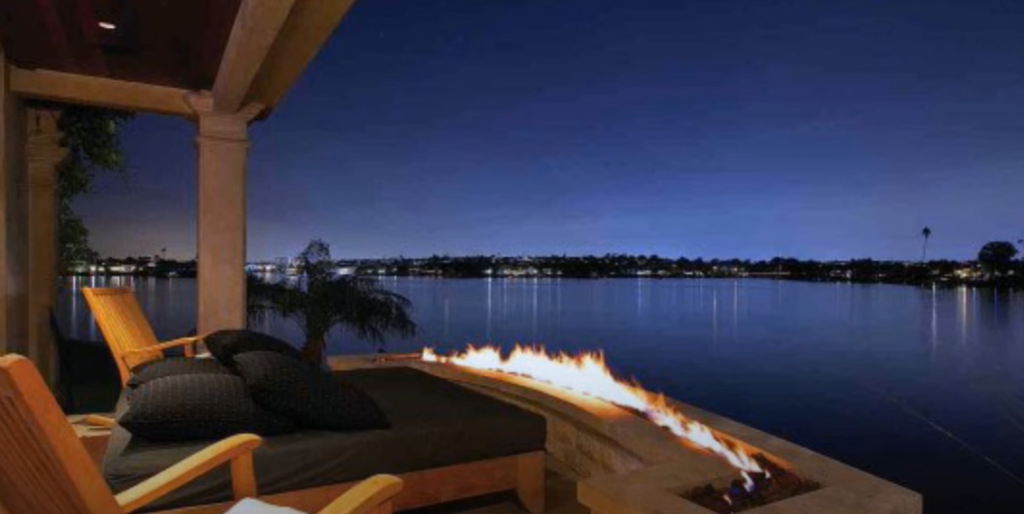 Paint Your Fireplace A Fun Color
If you're looking to make your outdoor fireplace stand out, why not paint it a vibrant or bold color? This is an excellent way to bring a pop of personality and character to your backyard. If you want to go for something classic, opt for neutral tones like beige, light gray or white. These colors will look chic and timeless against the backdrop of nature. However, if you're feeling adventurous, try hues like navy blue, sunny yellow or even green.
Snag A Super-Wide Fireplace
Take your outdoor fireplace to a whole new level with one that's super-wide. This type of fireplace is perfect for gathering around and will be the envy of all your guests. Not only does it look great, but it also offers plenty of space for adding logs to keep the fire blazing. If you have a large backyard, this could be the ideal solution for creating a cozy setting on cold winter nights.
Level Up a Covered Patio Fireplace
A covered patio can be a great spot to enjoy an outdoor fireplace. Make your patio cozy by adding a few chairs and blankets, along with a fireplace that's recessed into the wall. This will create an intimate setting for you and your guests to relax in front of the fire without worrying about getting cold or wet. Plus, you can use this area year-round since it's sheltered from the elements. [7]
Mount a TV on Your Mantel
Turn your outdoor fireplace into a multi-functional spot by mounting a TV on the mantel. This is perfect for watching sports games or enjoying a movie night with friends and family. Just be sure to secure the TV properly in order to avoid any accidents or fires, and make sure you have an extension cord so it can reach an outlet.
Frame Your Fireplace With Sconces
Light up your outdoor fireplace with a set of sconces. Sconces are perfect for framing the fireplace and creating an elegant vibe in your backyard. These can be either electrical or battery-powered, whichever suits your needs best. And they come in all sorts of styles, so you're sure to find one that fits your style.
Stock Up on Fire Balls
If you're looking for a unique way to light up your outdoor fireplace, consider using fire balls. These are large spheres that have a hollow center, allowing them to be filled with fuel and then lit on fire. They come in all sorts of sizes, so you can find one that fits the size of your fireplace perfectly. Plus, they add a really interesting touch to any outdoor space.
No matter what style or design you choose for your outdoor fireplace, it is sure to become the focal point of your backyard. With these modern ideas, you can create an inviting atmosphere no matter how big or small your space is. So don't be afraid to let your imagination run wild – it will make your outdoor living area even cozier!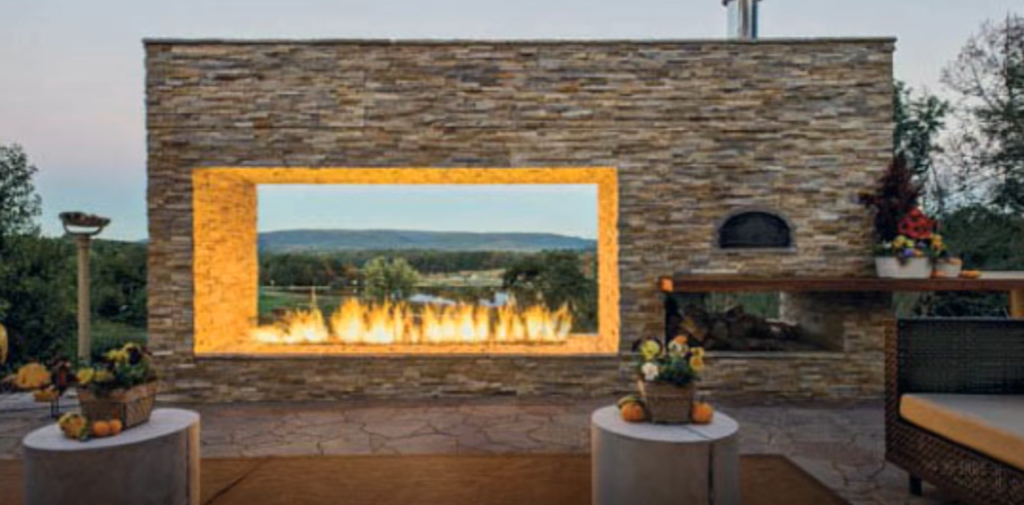 FAQ
How to build a modern outdoor fireplace?
Building a modern outdoor fireplace requires careful planning and specific materials to ensure it is safe and aesthetically pleasing. Begin by selecting the size, shape, style, and location for your fireplace. Consider the type of fuel you want to use such as wood or gas. Then decide on the material for construction such as brick, stone, concrete blocks, or manufactured fireboxes. After that you must obtain any necessary permits from local authorities before beginning construction. Finally, install a safety screen in front of the fireplace and take extra precautions when lighting fires.
How much does a modern outdoor fireplace cost?
The cost of a modern outdoor fireplace depends on several factors including size and complexity of design, fuel type used (wood burning or gas), and materials used for construction. Generally, a basic wood burning fireplace costs around $2,000-$3,000 while a gas burning fireplace can range from $4,000 to as much as $10,000.
What are some design ideas for modern outdoor fireplaces?
Modern outdoor fireplaces come in many different shapes and sizes. Consider adding decorative touches such as tile or stone accents for the surround and hearth of the fireplace. For a contemporary look you could opt for sleek metal finishes or use multiple colors and textures of stone in the design. For a more rustic feel you could use natural elements like reclaimed wood or logs to create an inviting space.
What is the trend in fireplaces?
The trend in fireplaces is leaning toward clean lines and modern designs. Many people are opting for sleek, contemporary styles that add an elevated aesthetic to their outdoor spaces. Fire pits, built-in units, and tabletop models with a minimalist design are popular choices for homeowners who want to create a space perfect for relaxing or entertaining guests. Materials such as stainless steel, concrete, stone, and wood can be used to create a unique look that will bring out the beauty of any backyard area. A wide range of features such as adjustable flame heights, LED lights, and remote control operation can be incorporated to enhance the overall experience. With the right elements in place, a modern outdoor fireplace can become the centerpiece of your home's exterior design.
What types of fireplaces are available?
When it comes to modern outdoor fireplaces, there are a variety of styles and designs available. Built-in units can be installed directly into brick or stone surfaces, while freestanding models can easily be moved around the backyard as needed. Fire pits can create an inviting atmosphere with their low profile design and come in many shapes and sizes to fit any space. Tabletop versions offer portability, so they can be placed wherever desired for a quick and easy way to enjoy the comfort of an open flame. Finally, portable fireplaces provide a unique option for bringing warmth to even the most remote areas.
Do outdoor fireplaces give off heat?
Yes, modern outdoor fireplaces are designed to produce enough heat to keep you warm on a chilly night. Many models have adjustable flame heights and multiple fuel sources, including gas and electric, that can be used to generate the right amount of warmth for your needs. In addition, some units may also feature fans or blowers that help circulate the air throughout the space faster. With these features in place, an outdoor fireplace can be a great way to enjoy time outdoors during colder months.
Can you use an outdoor fireplace in winter?
Yes, many modern outdoor fireplaces are designed to be used in winter. If you choose a model with an adjustable flame height, you can easily turn up the heat when temperatures drop. Additionally, some designs incorporate insulated walls that help maintain the warmth and prevent it from dissipating too quickly. Finally, if you have access to natural gas or propane, these types of fuel sources can provide long-lasting heat and make it even easier to enjoy your outdoor space year round.
Useful Video: Beautiful Outdoor Fireplace Design Ideas
Conclusion
An outdoor fireplace is an excellent addition to any backyard or patio area, adding both warmth and ambiance. There are a wide variety of modern outdoor fireplace ideas available, ranging from sleek and contemporary designs to more traditional models. Whatever your style or budget, there's sure to be an option that meets your needs. With the right design and installation, you can create a beautiful space in which to enjoy gatherings with friends and family while providing additional warmth during chilly evenings. So let your imagination run free and get started on creating the perfect outdoor oasis today!
References:
https://www.housebeautiful.com/room-decorating/outdoor-ideas/g4403/outdoor-fireplaces/
https://www.mydomaine.com/outdoor-fireplace-ideas-5197924
https://www.realhomes.com/design/outdoor-fireplace-ideas
https://www.bhg.com/decorating/fireplace/styles/outdoor-fireplace-ideas/
https://www.thespruce.com/outdoor-fireplace-design-ideas-4154699
https://www.installitdirect.com/learn/outdoor-fireplace-ideas/
https://www.homestolove.com.au/outdoor-fireplace-ideas-21292