When decorating your home, there are many areas that can be overlooked. One of those commonly forgotten about places is the fireplace corner. If you have a corner fireplace in your home and have yet to bring it to life with some awesome decorations, then this blog post is for you! Here we will discuss how a few simple steps can help make any living room instantly come alive by adding color and style to a neglected corner of your house – all while preserving its unique shape and charm. With these tips and tricks, you can easily turn a forgotten nook into one that brings added life and vibrancy to the space! Read on if you want to learn more about how to redecorate your own corner fireplace!
How to Decorate a Corner Fireplace?
White Brick Fireplace With A Dark Wooden Mantel
If you have a white brick corner fireplace, then you can choose to dress it up with a dark wooden mantel. This will give the room an elegant, modern look that is sure to impress. Add some accent pieces such as candles or framed art to really bring out the beauty of the mantel and highlight its distinct style.
Stone Corner Fireplace With Natural Accents
To create a more natural sense in your home, use a stone corner fireplace with earthy accents. Place stones around the fireplace area and add greenery such as ferns or other foliage plants to further enhance this cozy atmosphere. You can also hang string lights around the top of your fireplace for extra illumination and decoration.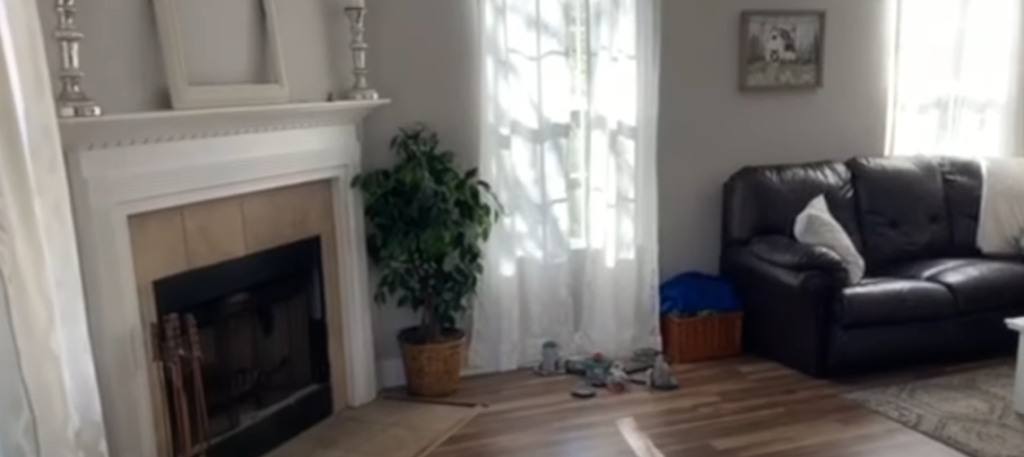 Decorating Around A Corner Fireplace
As you decorate around your corner fireplace, don't forget to take into account its unique shape. Place furniture and decor items at different angles as opposed to all facing the same direction for a more dynamic look. You can add decorative rugs or throw pillows in complementary colors to make the area come alive with texture and color. Furthermore, consider hanging artwork on the wall located within the corner of your fireplace. This will provide a unique perspective that will draw attention from all sides of the room. [1]
Corner Fireplace With Warm Cherry Wood Mantel
If you have a warm cherry wood mantel on your corner fireplace, then you can choose to decorate the area with neutral colors. A white accent wall will look especially nice as it will bring out the vibrancy of the wood and create a soft contrast in the room. You can also add some earthy tones such as brown or green to complete this cozy fireplace design.
Modern Marble Fireplace
If your corner fireplace is a modern marble design, then you can choose to dress it up with contemporary decor. Place metal accents such as sculptures or candle holders around the area and install accent lighting for an extra touch of luxury. You can also bring in some colorful pillows or rugs to brighten up the space and create an inviting atmosphere.
Living Room With Floor Carpet And Corner Fireplace
If you have a living room with floor carpeting and a corner fireplace, then you can create a chic, modern look by decorating the area around it. Paint the walls in neutral colors such as white or gray and add some contemporary furniture pieces to complete the design. To create an interesting perspective, consider hanging wall art in the corner of your fireplace. Lastly, place statement rugs underneath your furniture for added texture and color. These are just a few ideas on how to decorate your corner fireplace. [2]
Fireplace With White Wood Wall
If you have a fireplace with white wood wall, then you can create a farmhouse style decor by adding rustic furniture such as wooden armchairs or a couch. Choose accessories with natural materials such as jute rugs and wicker baskets for a cozy atmosphere. You can also hang art on the wall within the corner of your fireplace to add some color and interest to the room.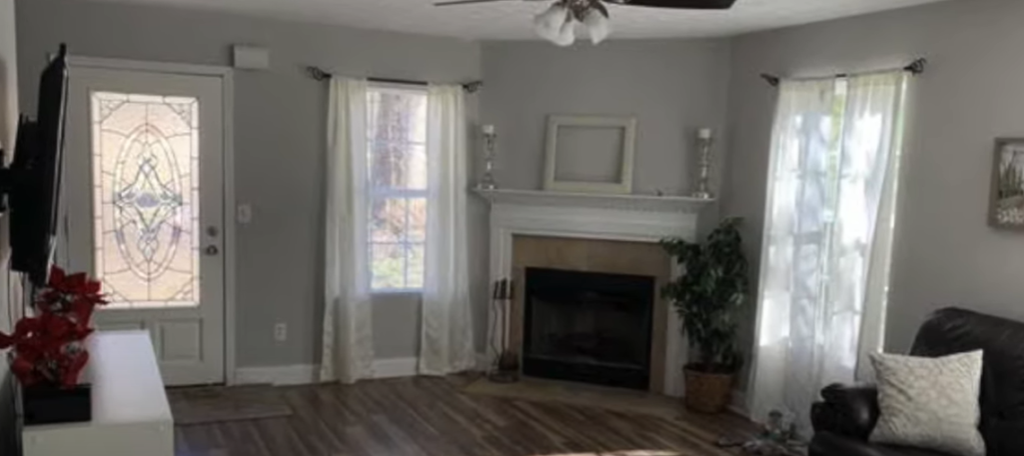 Corner Fireplace Renovated From Box TV Space
If you're looking for an easy way to give your fireplace a new look, consider changing up the corner TV space into a beautiful corner fireplace. Not only will it add extra warmth and charm to your home, but the transformation is relatively simple. Begin by removing any current shelving in the area and if possible, try to keep any existing tile or brick intact. Then use some wood panels or stone tiles to line each side of the wall. This will create an eye-catching backdrop for your new firebox. Choose a firebox that fits snugly inside the wall, making sure it doesn't protrude too far into the room. To give the illusion of height and width, install a mantle on top of the firebox and crown it with a flat screen TV. This will make the fireplace look taller than it is and give the illusion of extra space in your home. Finally, accessorize with some artwork or vases to complete your corner fireplace renovation.
Tulp Gas Fireplace
Inserts are a great way to quickly update your existing fireplace without the hassle of tearing out existing walls and floors. Not only do they fit snugly into your wall, but they also provide efficient heat for those cold winter nights. They come in many different styles and can be adjusted to match any decor scheme you have in mind. [3]
Wooden Fireplace Mantel with Flat Panel TV
For a timeless look, consider installing a wooden fireplace mantel with flat panel TV. This will give your corner fireplace a classic, yet modern feel. The wood mantle adds an extra layer of dimension and depth while the sleek flat panel TV provides the perfect finishing touch. If you're looking for something more traditional, try adding some ornate carvings or intricate details to the wood panels.
Decorated Fall Living Room with Armchair
Finally, decorate your corner fireplace with cozy accessories like candles or lamps. Not only will this provide extra warmth and light, it'll also help to create a more inviting atmosphere. Consider layering some throw pillows on the couch or armchair in front of the firebox, as well as adding an area rug to define the space.
Farmhouse Fireplace Mantel with String Lights
Don't forget to accessorize your corner fireplace with some fun accessories like string lights, greenery or artwork. These will add an element of whimsy and charm that will make the whole space feel more inviting and cozy. [4]
Corner Fireplace Mantel with Gold Frame Mirror
A corner fireplace mantel with a gold frame mirror can be an eye-catching and functional accent to any room. This timeless combination of wood, metal and glass will add warmth, style and sophistication to your living space. Start by choosing a mantel that fits the size and shape of your corner fireplace. You may opt for a classic wooden one or something more modern such as wrought iron, stone or tile. If you are looking for something truly unique try combining different materials such as marble and cherry wood or slate and copper. Next, choose the perfect mirror to compliment your decorative scheme. Consider the type of frame – try opting for gold leaf if you are going for a luxe look or antiqued bronze if you want something more rustic.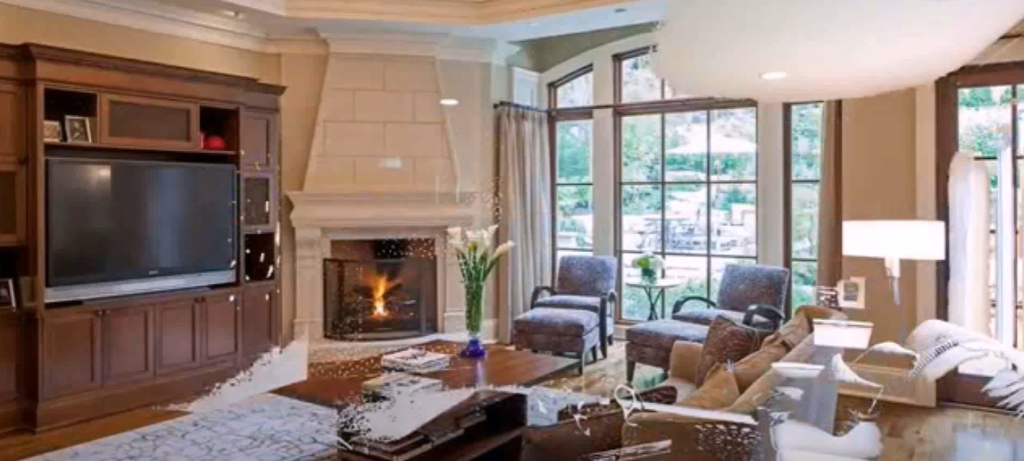 Christmas Stockings on Wood Fireplace Mantel
If you have a traditional wooden mantel and want to add a festive touch, consider adding some Christmas stockings. Choose coordinating colors or pick something more unusual such as velvet or fur-lined ones. Hang them using ribbon, twine or string, ensuring they are tight and secure so they don't fall off when filled with presents! Finally, accessorize the mantel with candles, plants, artwork or other decorative items to complete your corner fireplace design.
Corner Fireplace Mantel with Greenery Garland
If you want to take your mantel decor up a notch, consider adding a garland of greenery. Choose from natural foliage such as eucalyptus and ivy or opt for artificial plants in hues that complement your color scheme. Drape the garland along the top of the mantel and add fairy lights or other festive decorations for extra sparkle and festive cheer!
Black Candlesticks on White Fireplace Mantel
A classic and elegant look is to place black candlesticks on a white fireplace mantel. Choose a few different sizes and heights of candles and use them as the centerpiece of your decor. This timeless combination will add an understated sophistication to any room, making it perfect for both modern and traditional spaces. For extra warmth in your home, consider adding a gas or electric corner fireplace insert. These inserts provide heat without taking up too much space – perfect if you need more heating without cluttering up your living area!
Two Panel Free Standing Corner Fireplace Screen
Don't forget to add a corner fireplace screen. This will protect your wall and furniture from sparks and embers while also adding an extra decorative element to the room. Choose a two-panel free standing option with intricate detailing or stick with a more minimalistic design if you prefer. [5]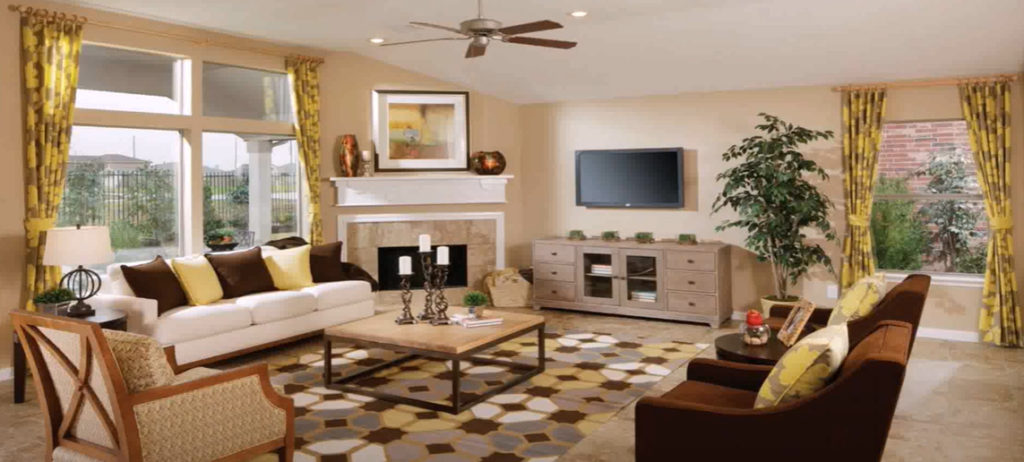 Hand Hewn Solid Pine Rustic Fireplace Mantel
Hand hewn solid pine rustic fireplace mantels are a great choice for decorating a corner fireplace. These rustic mantels feature natural knotting and grain patterns, giving your fireplace a unique look. These mantels can come in various sizes and shapes to fit any area of your home. And because they're hand-hewn from solid pine wood, you can rest assured that the look will be timeless. When installing these rustic mantels, consider finishing them with either wax or varnish to help protect them from the heat of the fire. And for added visual interest, try adding small accessories like candles or greenery to give it an even more inviting feel.
Custom Hand-Hewn Solid Pine Fireplace Mantel
If you're looking for a unique look, consider a hand-hewn solid pine fireplace mantel. These mantels are beautiful in their natural state and can easily be customized to fit your corner fireplace area. You can choose from various wood grains and sizes, as well as different finishes that will bring the look together perfectly. And if you want something truly special, opt for a custom hand-hewn mantel with carvings or additional features like corbels to make it stand out even more.
Reclaimed Rugged Wood Floating Fireplace Mantel
If you're looking for something truly unique and rustic, consider a reclaimed rugged wood floating fireplace mantel. These mantels are made from salvaged wood, making them one of a kind and super durable. Choose from different sizes and styles to fit your corner fireplace area perfectly. And for added interest, try adding driftwood pieces or adornments that pick up the natural texture of the wood. [6]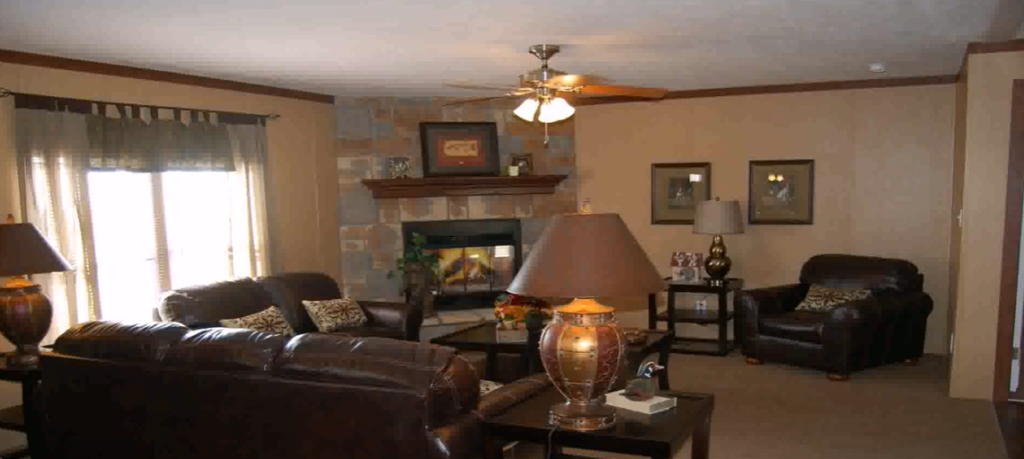 How to Arrange Furniture with a Corner Fireplace?
When it comes to arranging furniture around a corner fireplace, there are several guidelines you should follow.
First of all, choose furniture pieces that are the same scale as the fireplace. If your fireplace is tall and large-scale, opt for bigger furniture such as an armchair or loveseat with a coffee table in the center. Alternatively, if your corner fireplace is smaller and more petite, pick out some accent chairs or stools instead.
Next, consider how much space you have available. For example, if you're working with a limited area then place the sofa against one wall and arrange two chairs (or an armchair and ottoman) opposite it. This configuration allows for conversation between the two pieces of furniture, as well as entrances and exits from either side.
These are just a few tips on how to decorate and arrange furniture around a corner fireplace. With some careful planning, you can turn this feature into a cozy focal point and make it the star of your room! [7]
Things to Avoid When Decorating a Corner Fireplace
When you're in the process of decorating your corner fireplace, there are some things that you should avoid. Here are a few key tips to keep in mind:
Avoid over clutter – You want to create an inviting atmosphere around your corner fireplace, so be mindful of the items you choose to add. Too much clutter can make it look cramped and uninviting.
Don't forget about safety – Make sure any decorations or items placed near the fireplace do not pose a fire hazard. This includes keeping flammable materials at least three feet away from the fireplace itself.
Don't block the firebox – When selecting furniture for the space, make sure you don't block the firebox. This is a safety hazard and will also limit your fireplace's ability to heat the room.
Avoid too much color – Instead of trying to create an eye-catching look with bright colors, opt for a subtle palette and let the fireplace be the star of the show. In this case, less is definitely more!
By following these simple tips, you can easily create a beautiful corner fireplace that looks inviting and is safe for everyone in your home. With a little thought and creativity, decorating your corner fireplace can be both easy and enjoyable!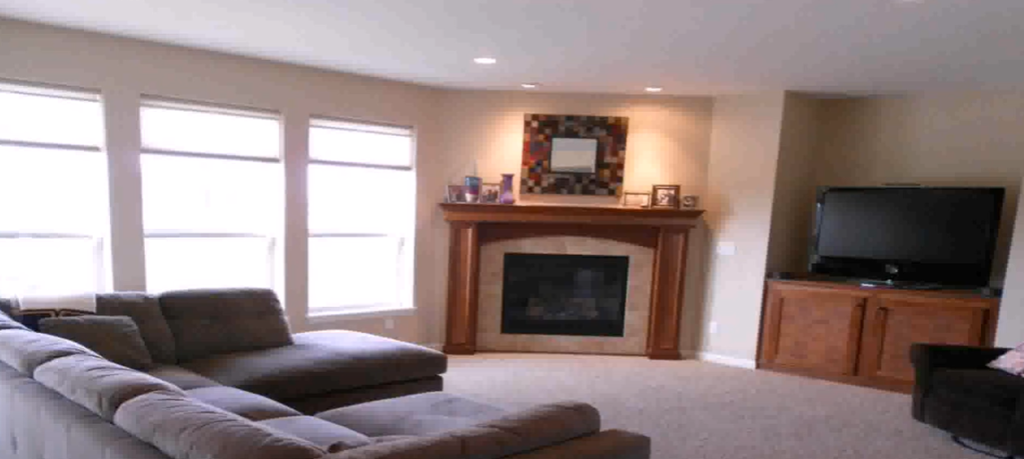 Are Corner Fireplaces Better Than Traditional Fireplaces?
When it comes to fireplaces, there are several different design options available. Corner fireplaces offer a unique and attractive way to bring warmth and ambience into your home or office space. Corner models take up less room than traditional fireplaces and can be installed in any room of the house without taking up too much space. In this article, we'll explore the pros and cons of corner fireplaces to help you decide if they are right for you.
One of the main benefits of corner units is that they provide efficient heating with minimal effort from the user. They typically have smaller pipes so energy usage will be lower compared to that of a larger fireplace. Additionally, as they're located in corners, they won't take up much space in the room, making them ideal for small living spaces or apartments.
Another advantage of corner fireplaces is that they provide a great focal point and can be used to emphasize a certain area of the room. With so many different designs and styles available, they are also highly customizable to fit any decor. Corner models typically come with remote controls, allowing you to adjust the heat output from anywhere in the room.
Overall, corner fireplaces can be a great option for small living spaces or apartments where space is limited. They are efficient in terms of energy usage and provide a beautiful focal point for any room. However, it's important to consider the drawbacks before making your decision as there may be other options that would better suit your needs. Be sure to research all your options and take into consideration the pros and cons before committing to a particular model. With the right design decisions at play, corner fireplaces can be a great way to bring warmth and ambience into your home or office space!
FAQ
How can I make my corner fireplace look good?
To make your corner fireplace look good, try adding a decorative mantel or shelf above it. You can also add wall sconces on either side of the fireplace. For extra decoration, hang artwork on both sides of the fireplace and incorporate plants or candles to complete the look. If you have a television above the fireplace, use built-in shelving to store books and other items that are part of the decor. Finally, consider adding an area rug in front of the fireplace for added comfort and warmth.
What type of materials should I use to decorate my corner fireplace?
When deciding what materials to use when decorating your corner fireplace, consider selecting something that matches the overall color palette in your home. Popular options include wood, stone, tile, or brick. Additionally, you might want to use a patterned wallpaper around the fireplace and incorporate decorative accents like candles or vases to add an extra layer of visual interest.
Are there any safety tips I should keep in mind when decorating my corner fireplace?
When it comes to decorating your corner fireplace, it's important to practice fire safety at all times. Make sure that fabric items hanging above the fireplace are made from flame-resistant materials and that any decorations placed close by are away from heat sources. Additionally, never leave burning candles unattended and always ensure that the area is free from clutter. Finally, be sure to read up on local codes regarding installing mantels over fireplaces before making any purchases.
Is a corner fireplace better?
If you are looking to add a cozy and inviting atmosphere to your home, then a corner fireplace is an excellent choice. Corner Places are great for small spaces as they can be placed near the corners of rooms or in tight spots. Not only do they look beautiful, but they also provide efficient warmth.
When it comes to deciding between a traditional or corner fireplace, there are several benefits to choosing the latter. First, corner fireplaces maximize space since they fit snugly into one corner instead of taking up space along two walls like traditional fireplaces. Additionally, these kinds of fireplaces tend to be more energy-efficient than traditional models because their design allows for improved heat circulation throughout the room.
In terms of decoration, corner fireplaces are extremely versatile. You can create a classic and timeless look with a traditional wood-burning fireplace or opt for something more modern with an electric model. To further enhance the look of your corner fireplace, you can hang artwork above it, use different colors and textures on the walls around it, or even add decorative tiles to the surround.
Is it OK to put a sofa in front of a fireplace?
Adding a sofa in front of your corner fireplace is usually fine, as long as it's more than two feet away from the opening. Placing furniture too close to a fireplace could pose a risk of fire, so make sure to leave enough space between the two. Additionally, if you have an electric fireplace, be aware that heaters can cause items like blankets and bedding to overheat, so keep these items away from the unit. With some thoughtful decorating and placement, you can create a warm and inviting atmosphere with your corner fireplace. Keep in mind that safety comes first and always check your local fire codes before making any changes.
Useful Video: CORNER FIREPLACE LIVING ROOM REDESIGN | Design Time
Conclusion
Decorating a corner fireplace can be quite challenging, as there is typically limited space to work with. However, with the right décor and accessories, you can create a unique and attractive design that will suit any room. Consider using art pieces or mirrors to draw attention to the fireplace and make it stand out from other furniture in the room. To keep your fire safe, always make sure that all combustible items are a few feet away from the opening of the fireplace. With these tips in mind, you are sure to have a beautiful corner fireplace for many years to come!
References:
https://www.mason-lite.com/top-4-reasons-to-choose-a-corner-wood-burning-fireplace/
https://www.idealhome.co.uk/living-room/modern-fireplace-ideas
https://homebnc.com/best-diy-corner-fireplace-design-ideas/
https://www.bhg.com/decorating/fireplace/styles/corner-fireplace/
https://www.soulandlane.com/corner-fireplace-mantel-2197/
https://www.makinghomebase.com/corner-fireplace-ideas/
https://farmfoodfamily.com/corner-fireplace-ideas/