Adding a black fireplace mantel to your living space is a great way to create warmth, depth and elegance. Whether modern or traditional, bold and minimalist or ornate – there are countless design options when it comes to updating your home with a black fireplace mantel. From marble surrounds mixed with brass finishes to mid sized tile inserts paired with monochromatic frames, the possibilities for transforming your home's aesthetic are both limitless and exciting! This blog post will help you explore various stylish black fireplace mantels ideas that suit any interior decor style so that you can choose the one perfect for you.
How to Decorate Black Fireplace Mantel?
Layered Antique Mirrors
The timeless look of antique mirrors and shiny black wood makes for a striking look. Add multiple layered round or rectangular antique mirrors to add reflective beauty as well as depth to your black mantel. Be sure to use a variety of sizes, shapes and frame finishes to create an interesting and eye-catching design. For added drama, place sculptural candle holders in the center of the mirror arrangement or drape garlands across the mantelpiece.
Hanging Artwork
A great way to draw attention to your black fireplace is with artwork. Hang pieces that have complimentary colors such as cool blues and bright whites, or more contrasting colors like warm oranges and rusts that will stand out against the dark background. This allows you to create a beautiful focal point for the space. [1]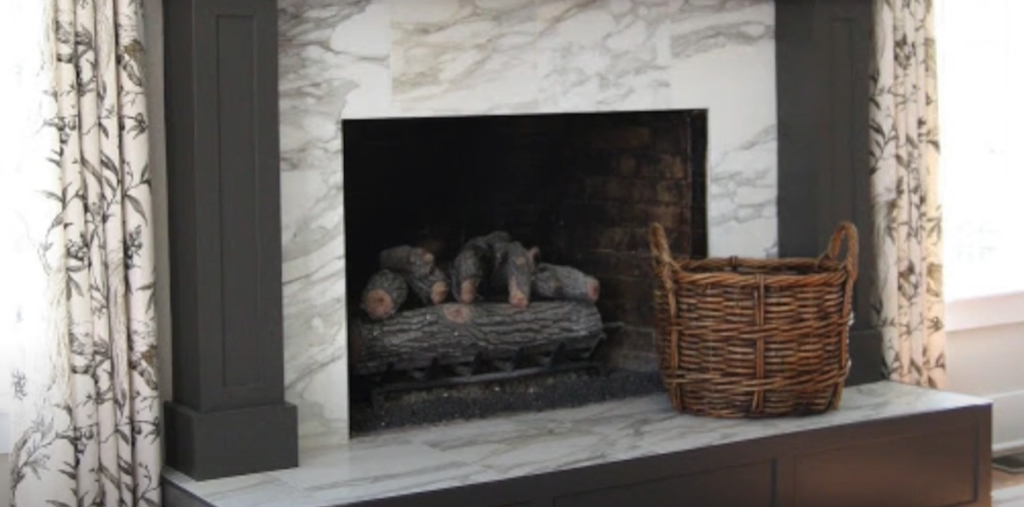 Vintage Accessories
Decorate your black fireplace mantel with vintage accessories like clocks, candlesticks, and vases. Choose pieces that feature intricate details and interesting textures to add an interesting contrast against the bold black finish of the mantel. For added style, choose vintage-inspired decor pieces in classic colors such as navy blue, gold or silver.
Textured Pottery
Adding pottery with textured designs is a great way to bring visual interest to your black fireplace mantel. Look for pottery pieces in muted colors like blues and grays or look for more vibrant shades such as yellow or red that will stand out against the dark background. Place multiple objects together on the mantel for a more dramatic effect. Finally, add some greenery with trailing plants or cascading vines to soften the look of your black fireplace mantel.
Budget Mantel
DecorIf you're on a tight budget, there are still many ways to decorate your black fireplace mantel. Try using items from around your home like books and vases that have interesting shapes and colors. You can also repurpose old frames or mirrors by painting them in different shades of black for a unique look.
Showcase the Brick
Brick is a classic design element in home decor, and you can use this timeless material to add an inviting touch to your fireplace mantel. Brick fireplace mantels offer a rustic, Old World vibe that can be further enhanced with the addition of wooden shelves or stone accents. A brick mantel also adds texture and depth to your room and can be easily decorated with wall art, plants, candles, or other decorations. For a truly unique look, consider pairing your brick mantel with colored paint or stain for an eye-catching contrast. [2]
Smoke Gray Fireplace
Smoke gray is an on-trend color that can look especially striking when paired with the right fireplace mantel. A smoke gray mantel adds a sophisticated and modern feel to any room, while still offering the warmth of traditional wood. For an updated take on this timeless style, consider pairing your smoke gray mantel with lighter colored shelves or wall decor for contrast. If your home has existing dark colors, try adding a light and airy touch by painting the walls in a lighter hue or adding natural elements like plants or woven baskets to the space.
Brooklyn Fireplace
If you're looking for a more contemporary style, consider the Brooklyn fireplace mantel. This sleek design is perfect for adding a modern touch to any room and pairs well with eye-catching decorations like bold art prints or geometric shapes. To make this fireplace even more unique, try adding pops of color to the walls or shelves surrounding it with brightly colored accents.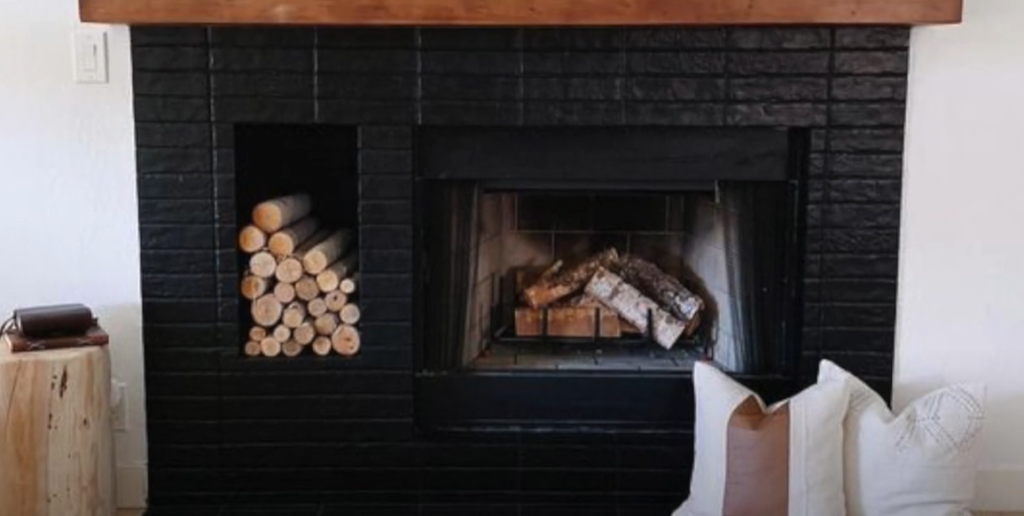 Mixed Materials Fireplace
For a truly unique look, consider mixing materials on your fireplace mantel. This style is perfect for the homeowner looking to add a bit of luxury and texture to their space. Try pairing wood shelves with metal accents for an industrial-chic vibe or marble with brass for an elegant and classic feel. You can also mix different colors of stone or paint to create a bold statement that's sure to be the centerpiece of any room.
A Little Lighting
Adding lighting to your fireplace mantel is a great way to add brightness and dimension to the space. Consider hanging string lights, sconces, or wall lamps around your mantel to draw attention to its beautiful design. This can also be a great place for displaying artwork or family photos as well. However you choose to decorate it, adding lighting is an easy way to make your fireplace the focal point of any room. [3]
Mortar Wash Mantel
For a rustic and worn look, try adding a mortar wash to your fireplace mantel. This technique is perfect for achieving an aged and weathered appearance that can be further enhanced by adding distressed wood shelves or stone accents. You can also use this method to create a shabby chic style in any room by pairing the black fireplace with neutral colors like white, gray, or beige.
Rough-Cut Mantel
If you're looking for a truly unique design, consider adding a rough-cut mantel to your fireplace. This style is perfect for adding texture and character to any room, while also offering a natural look that blends perfectly with other rustic elements. Plus, you can easily customize the look by staining or painting the wood to match your existing decor. [4]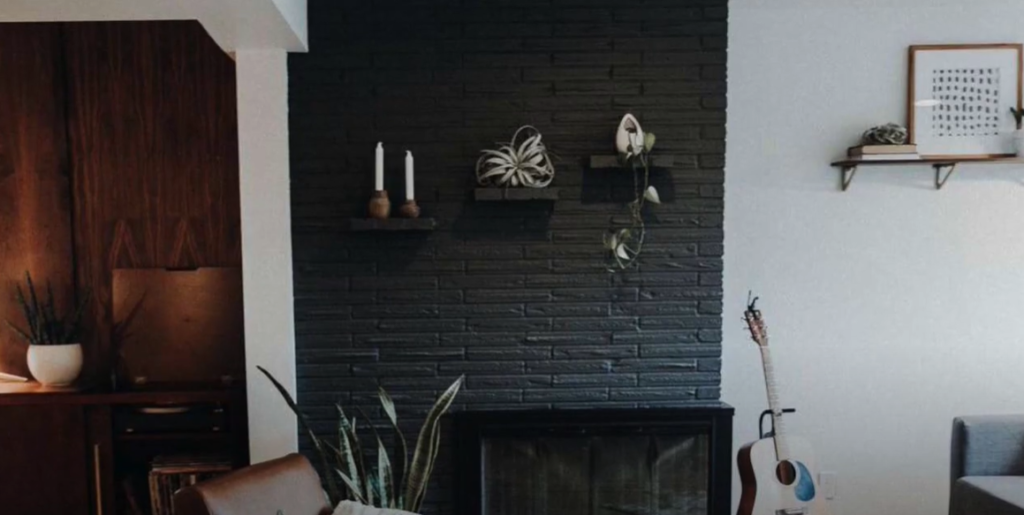 Benefits of Black Fireplace Mantel
Black fireplace mantel ideas can offer a dramatic look to any home. Whether you're looking for something sleek and modern or more traditional, a black mantle is an ideal way to create the perfect atmosphere. Not only are they aesthetically pleasing, but also provide some practical benefits as.
One benefit of black fireplace mantels is that they provide a classic appearance that will last for years to come. The color gives off an air of sophistication and elegance that can fit into almost any interior design style. Additionally, it has great heat resistance capabilities so you won't have to worry about your mantel being damaged by high temperatures from the fire below.
Another advantage of black fireplace mantels is that they don't require a lot of maintenance. Since they are already quite dark in color, you won't have to worry about regular touch ups or refinishing to keep them looking their best. This makes them a great option for busy homeowners who don't have the extra time for complicated upkeep tasks.
No matter what kind of atmosphere you want to create in your home, black fireplace mantel ideas can be the perfect way to make it happen. With its timeless appeal, long-lasting durability and low maintenance upkeep, it's no wonder why so many people choose them for their fireplaces! [5]
FAQ
What do you put on a black mantel?
When it comes to decorating a black mantel, you have many options. You can create a striking centerpiece with art or framed photographs, or use candles and vases to bring a warm glow to your room. Mirrors are also great for adding dimension and reflectivity, while quirky trinkets can give the mantel an eclectic touch. Try using plants in vases to add life and color, or arranging books in interesting ways for visual interest.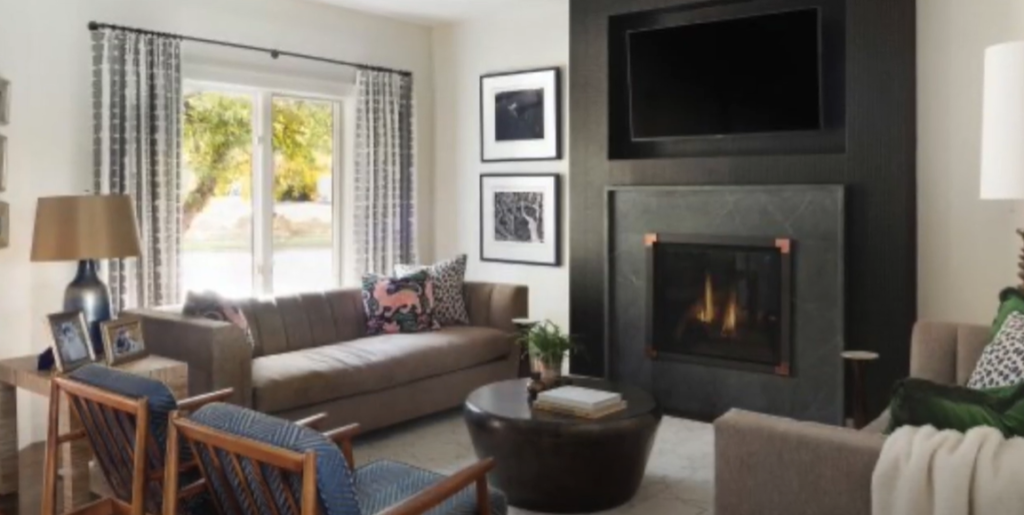 How do you decorate around a fireplace?
Decorating around a fireplace depends on personal preference as well as the size of the space you're working with. If possible, arrange furniture so that it's facing the fireplace for conversation-friendly seating arrangements. For smaller rooms, hang wall art or mirrors above the mantel to open up the space visually. In larger rooms, you can create a vignette with decorative objects and knick-knacks flanking each side of the fireplace for added visual interest. If you don't have a mantle, try hanging family photos on the wall around the fireplace instead.
What type of décor goes with black?
Black is an incredibly versatile hue that pairs well with many different color schemes. You can use classic neutrals like beige and cream to keep it subtle, or opt for brighter colors such as yellow or pink to help make your black mantel stand out. Jewel tones are also popular choices when decorating with black — think deep blues, greens and purples. Metallic accents like gold, silver and copper can also help to add a luxe touch. No matter what color palette you choose, there are numerous ways to decorate your black mantle for a truly polished look.
What is the best way to arrange art around a fireplace?
When it comes to arranging art around a fireplace, it's important to keep in mind the size of your mantel and the type of artwork you plan on displaying. For smaller fireplaces, hang art at eye-level or slightly above with consistent spacing between pieces. If you have larger wall space, consider creating an asymmetrical arrangement with varying sizes and frame types for added visual interest. When hanging multiple pieces together, try grouping them by color or theme for cohesiveness. For a modern vibe, opt for sleek black frames with minimalistic artwork.
What looks best on a fireplace mantel?
That's a question that many people ponder when it comes to decorating their space. Choosing the right fireplace mantel can be difficult, but black is one of the most classic and timeless options you can choose. Black fireplace mantels are both stylish and elegant, making them the perfect addition to any home. Whether you want an ornate design or something more modern and minimalistic, there's a black fireplace mantel that will fit into your existing décor. One option is to go with a traditional look by using antique furniture pieces like an armoire or buffet for the mantle top. This adds an air of sophistication and class without being too over the top. You can also incorporate metal accents like wrought iron or brass to complete the look.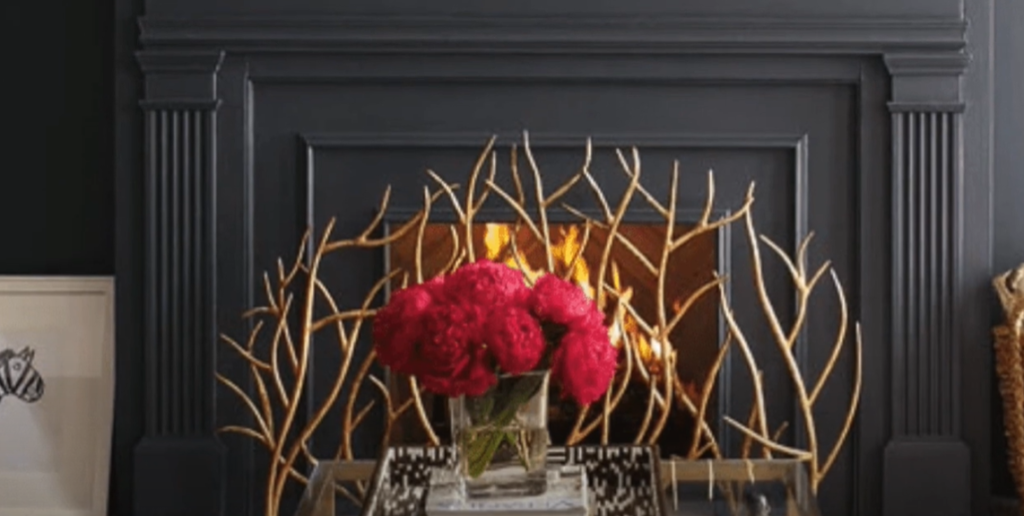 How do I choose a fireplace mantel color?
When selecting a fireplace mantel color, it's important to consider the other hues in your space. Black is a great choice if you want to make a bold statement, but it may not be the best option for a smaller room or one that is already full of bright colors. If you're looking for something more subtle and neutral, then white or gray are both popular choices. You can also choose to layer different shades of black on top of each other to create an interesting textured effect. Ultimately, the choice comes down to personal preference and what will look best in your home.
How do you brighten a dark fireplace?
A black fireplace mantel is a stunning way to make a bold statement in your home, but that doesn't mean it has to be all dark and dreary. With the right accessories and decorative pieces, you can create a cozy ambience for any room. Here are some ideas for brightening up your black fireplace mantel:
Hang Artwork – Choose artwork featuring light colors or abstract designs to add more visual interest and texture to the space.
Incorporate Mirrors – Mirrors are an excellent way to reflect light and draw the eye upward. Look for unique frames or shapes that match the design of the mantel itself.
Use Candles – Place a few tea light candles on the mantel to add a warm glow and create an inviting atmosphere.
Put Plants – Place plants or flowers around the fireplace for a touch of color and life, as well as to add more texture.
Add Accents – Accessorize with bright accents such as colorful pillows, throws, or decorative objects that are sure to bring out the best in your black fireplace mantel.
What decor things to avoid on black fireplace?
When decorating around a black fireplace, it's important to consider the overall look and feel of your home. While a black mantel can add an elegant and modern touch to any room, there are certain items that should be avoided when styling it. Bright colors can look garish on a dark backdrop, while too much clutter can make space feel cramped. Additionally, light accessories may get lost against the black background. Instead of adding these types of items, try using textures such as wood or metal to create depth and contrast. Similarly, neutral tones like white and gray will help keep the space looking airy but still stylish. Finally, pick one statement piece – such as a sculpture or unique vase – rather than cluttering your mantel with too many trinkets. With these tips, you can create a stunning and timeless focal point in any room!
What are the pros and cons of a dark fireplace?
When considering a dark fireplace mantel, there are several pros and cons that should be taken into consideration. The biggest pro of a black fireplace is the dramatic effect it can have in any room. Dark colors tend to draw the eye and create a sense of drama and luxury that lighter colors cannot replicate. Additionally, black fireplaces can add an element of sophistication to any space. On the downside, darker colors tend to absorb more light than lighter colors, making them appear smaller than they actually are. This can make a small room look even more cramped and uncomfortable, so it's important to pay close attention to how much light you have available before choosing this style of mantel. Additionally, dark colors may fade over time due to exposure to the sun, so it's important to take proper care when cleaning and maintaining your fireplace mantel. Ultimately, black fireplace mantels can be a great aesthetic choice if you have the right space and maintenance plan in place.
Useful Video: How To Style A Black Fireplace | And Then There Was Style
Conclusion
No matter what style you prefer, black fireplace mantel ideas can help you achieve the perfect look for your home. From classic colonial to modern minimalism, there is an idea to match any aesthetic. Whether it's a bold statement piece or a subtle backdrop, using black as an accent color can make all the difference in creating the atmosphere of your dreams. With a little creativity and imagination, you will have no problem finding the perfect black mantel for your home. So go ahead and make your mark!
References:
https://www.soulandlane.com/black-fireplace-mantel-2431/
https://www.houzz.com/photos/query/black-fireplace-mantel
https://www.countryliving.com/home-design/decorating-ideas/advice/g677/fireplace-designs/
https://www.decorpad.com/search/black-mantle-black-fireplace-mantle
https://theinspiringinvestment.com/black-fireplace-designs/