The leaves are changing color, the air is getting colder… It can only mean one thing: Halloween is coming! Halloween is a time when people love to get creative with their decorations. If you're looking for some ideas to spruce up your fireplace for the holiday, you've come to the right place! This article will answer some common questions about decorating your fireplace for Halloween and offer some tips that will help you create a festive and spooky atmosphere. So, read on and get ready to start decorating!
Main Halloween Decorations for your Home
When it comes to creating the perfect Halloween look for your home, you'll want decorations that will make a statement and get everyone in the spooky spirit. Here are some of our favorite main Halloween decorations that will really help set your home apart!
Illuminated Jack o' Lanterns: Nothing says "Halloween" like a traditional jack o' lantern. You can use either real or fake pumpkins and light them up with LED candles or fairy lights for an extra eerie effect.
Ghoulish Garlands: Hanging garlands above doorways with sinister skulls, ghosts, spiders, and other creepy crawlies will add just the right amount of spookiness to any space. Pair them with string lights for a magical, ethereal feel.
Creepy Crawly Spider Webs: Spooky spider webs are a must-have for any Halloween décor. You can buy pre-made cobwebs and spiders or make your own with white yarn and black felt pieces. Add some plastic spiders to really get people in the mood!
Ghostly Garden Figures: Place some spooky figures like ghosts, witches, and skeletons among your plants and flowers for a truly haunting look. Just make sure they're weatherproof or you might have some soggy surprises on your hands!
Wicked Window Displays: Decorate your windows with creepy eyes peeking out from behind curtains or colorful cutouts of cats, bats, and pumpkins. You can even get creative and create a scene with wax figures or other creepy decorations.
With these main Halloween decorations in place, your home will be ready for a spooky night of fun! So, grab some treats and get your space ready for the perfect Halloween party [1]!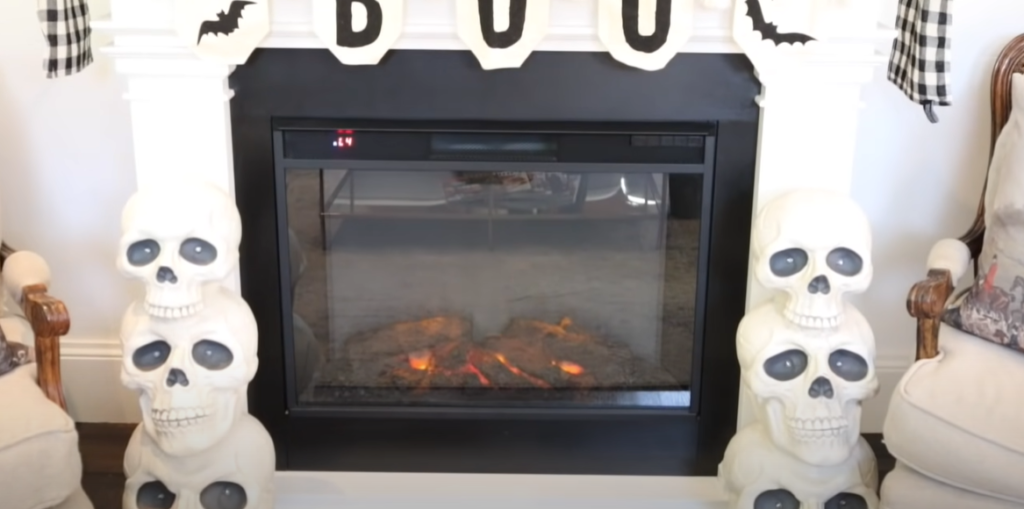 How to Decorate Your Fireplace for Halloween?
Create a Vintage Display
Start by adding vintage decorations to your fireplace that brings a little bit of nostalgia to the holiday. Hang old-fashioned Halloween cards, framed illustrations or photographs from the past, and vintage dolls or stuffed animals dressed in their spookiest attire. You can also use items you might find at an antique store like skeletons and skulls, or purchase some online. If you have any vintage books lying around – now is the time to put them on display! It's easy to create a creepy atmosphere with these decorations and make your mantel look extra spooky for Halloween.
Add Pumpkins Gourds
Pumpkins and gourds are a must-have decoration for any Halloween celebration! Whether you buy them in a store or choose to pick your own, they're an easy way to add some Halloween spirit to your mantel. If you want to make them last longer, try to find artificial pumpkins and gourds that will be able to stick around until the holiday is over.
Make Spooky Candles
Candles are a classic Halloween decoration that can add a spooky atmosphere to any room. For your mantel, suggest using black and white candles of various sizes – this will create an eerie glow throughout the space! You can even use large pillar candles to make it more dramatic. To play up the theme, you can wrap twine around the pillars or glue dried leaves, moss, and other natural materials onto them.
Create a Spooky Halloween Mantel
The best way to decorate your fireplace for Halloween is to create a mantel display that's both fun and spooky. Start by gathering some decorative items like skulls, bones, bats, spiders, cobwebs, and more. Then add in vintage elements like old photographs or dolls dressed up in their Halloween costumes.
Make an Antlers and Branches Combo
If you're looking for a unique way to decorate your fireplace for Halloween, why not try combining antlers and branches? This is a great way to bring some nature into the space and it adds an extra layer of spookiness. Just gather some branches from outside and place them in front of the mantel along with some antlers. Then add in other decorations like skulls, black candles, pumpkins, or gourds.
Add a Black Crow Wreath Mantel
A black crow wreath is a perfect addition to any fireplace mantel. The spooky bird will bring a hint of darkness to your home while still keeping it festive. Hang a large black crow wreath on the wall behind your mantel and add in some other decorations like pumpkins, gourds, skulls, or candles for a unique Halloween look.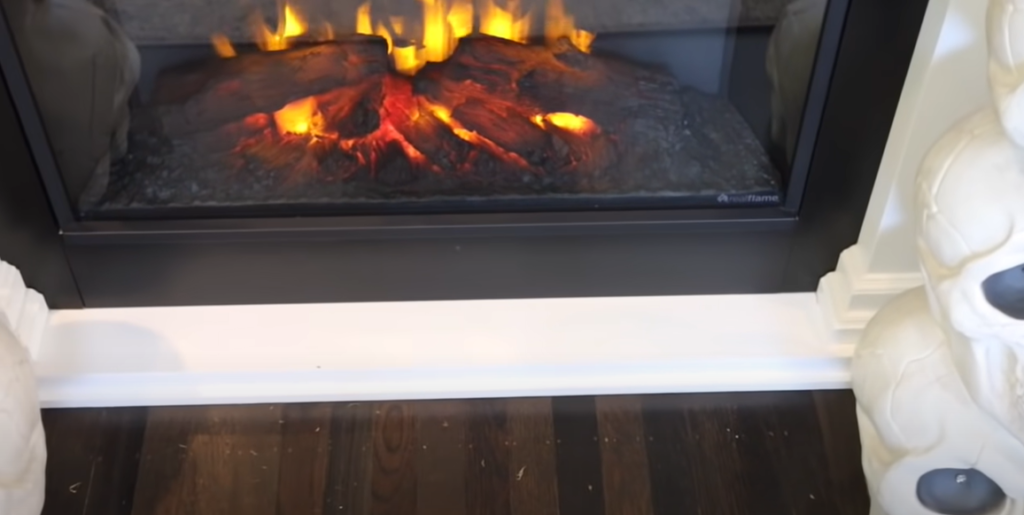 Bring in Some Colorful Skeletons
Skeletons are an absolute must-have for any Halloween celebration! For an extra touch of color, try adding some colorful skeletons to your mantel display. You can find plastic skeletons in all sorts of colors at most stores – they're sure to make your mantel more festive and fun. If you want to go for a more traditional look, try some black and white skeletons.
Use a Mixture of Copper and Wheat
If you're looking for a more subtle way to decorate your mantel, try using a mixture of copper and wheat. You can find these materials in most craft stores or online. Place the copper and wheat together on top of the mantel and add in some small pumpkins or gourds for a touch of color. This is sure to bring an autumnal feel to your home.
Add Some Spooky Lanterns
Lanterns are always a great addition to any Halloween decor! Choose some spooky lanterns that will give off an eerie glow when lit up on the mantel. You can also use traditional jack-o-lanterns with candles inside for even more atmosphere – just be sure to keep them away from any flammable items.
Go for the Classic Halloween Look
If you're looking for a classic Halloween look, try decorating your mantel with some white pumpkins and gourds. The neutral colors will bring a timeless feel to the space while still keeping it festive. Add in some spooky decorations like skulls, bats, and cobwebs for a truly eerie look.
Play Around with Country Classic Fall Decor
If you want to keep your mantel looking more country classic, try using items like dried corn stalks, hay bales, wreaths of autumnal leaves, and pumpkins. You can also find some cute small hay bale scarecrows to add a whimsical touch – they'll look great on the mantel! For even more charm, use white pumpkins and gourds to bring a bit of farmhouse style into the space.
Make a Chalkboard and Spooky Mantel
Chalkboards are a great way to add some fun and creativity to your mantel. Pick up a large chalkboard or two and use it as the background for your display. Then add in some spooky decorations like skulls, bats, pumpkins, and gourds. You can also write out spooky sayings on the board with chalk – this will give your fireplace an extra touch of Halloween spirit!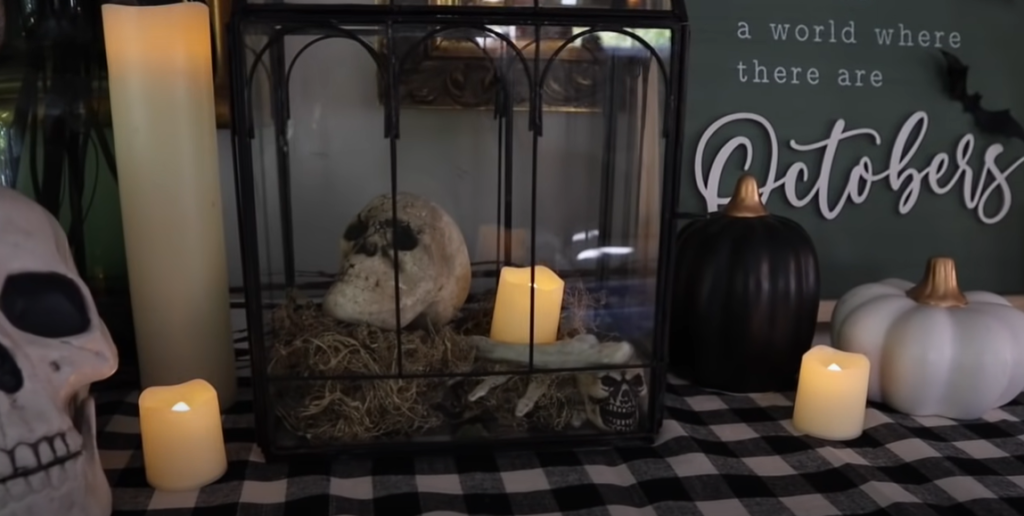 Light Up Your Mantel with Pillar Candles
If you want to create an even more dramatic effect on your mantel, try adding some pillar candles. This is a great way to bring both light and ambiance into the space. Choose some pillar candles in black, orange, or white for a classic Halloween look. You can also use battery-operated candles to avoid any fire risk.
Use White and Black Mantel Decor
Using black and white for your mantel decor is a great way to create a modern, spooky look. Try using a mixture of skulls, bats, pumpkins, gourds, and other Halloween decorations in both black and white. This will bring an elegant yet eerie feel to the room that's perfect for any Halloween celebration.
Create a Haunted House with Spiders
Spiders are always associated with Halloween so why not add some creepy crawlers to your mantel? You can find plastic spiders in all sizes at most stores. Place them around your mantel display and add in some small pumpkins or gourds for an extra touch of spookiness. You can also hang some spider webs along the walls of your fireplace to create a truly haunted house atmosphere.
Make a Fall Apple Orchard
Create a fall apple orchard on your mantel by using faux apples and some twigs. Place the apples in a bowl on the mantel and add some dried twigs for extra texture. You can also add in some pumpkins for a more traditional look – this is sure to bring an autumnal feel to your home.
Bring Some Color with Flowers
For a brighter, more colorful display, try adding some flowers to your mantel. Choose cheerful blossoms like sunflowers, daisies, or poppies for a fun and festive look. Place them in small vases along the top of the mantel and use different colors to really make it pop! This is an easy way to instantly brighten up the room.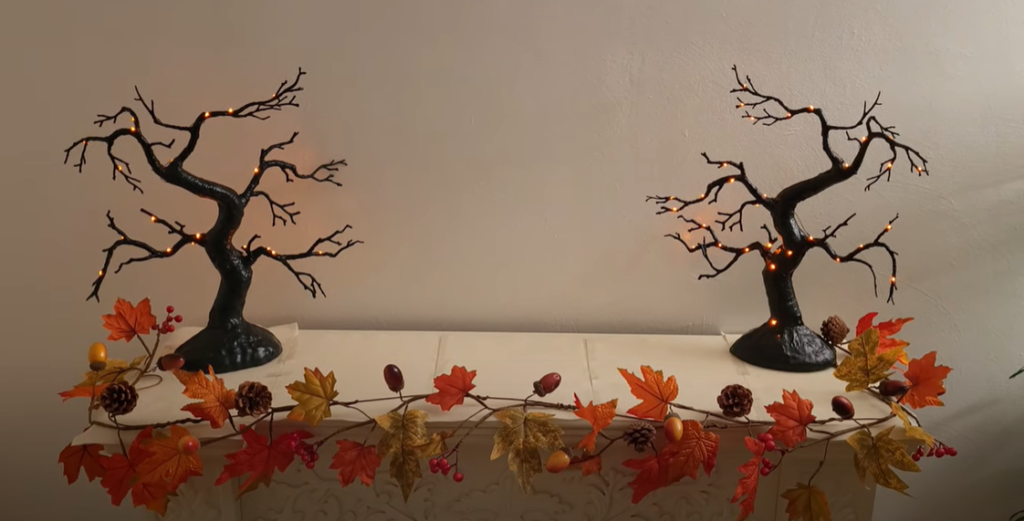 Choose Cat Lover Halloween Decor
If you're a cat lover, there are plenty of ways to decorate your mantel for Halloween. Choose some decorations with cats on them, like pumpkins or bats, and place them around the mantel. You can also find some cute black kitty figurines to add a touch of whimsy to the display.
Bring Out Your Inner Witch
Give your mantel a witchy vibe by using decorations like cauldrons, brooms, and hats. Place these items on either side of the fireplace and then fill in the rest with traditional Halloween decorations like skulls, pumpkins, gourds, and cobwebs. This is sure to give any room an extra spooky feel!
Bring Nature Inside
Bring the outdoors inside by using natural elements like branches, pinecones, and leaves. You can hang some of these items on the mantel or place them in baskets. This is a great way to create an autumnal look without having to use any spooky decorations. Just add some pumpkins for a classic fall touch [2]!
How to Clean a Brick Fireplace Properly before decorating?
Before decorating your brick fireplace, it is important to make sure that you clean it properly so that the finished product looks its best. Here are some tips for cleaning a brick fireplace:
Start by sweeping away all dust and debris from the surface of the bricks with a dry brush or vacuum cleaner.
Dilute an all-purpose cleaner in warm water and use a soft cloth to gently scrub off any soot or dirt on the surface of the bricks. Be careful not to scrub too hard as this can damage the brickwork underneath or cause discoloration.
Once you've cleaned off any dirt or grime, rinse off the soap using a damp cloth and allow the bricks to dry.
If there are any stains or discoloration, you may need to use a stronger cleaner such as bleach or an acid-based cleaner to remove them.
Finally, seal the brickwork with a sealant designed specifically for brick fireplaces to protect it from future damage and discoloration. This will also help keep your fireplace looking like new for years to come!
By following these steps, you can ensure that your brick fireplace is clean and ready for decoration before you start adding all of those finishing touches! Have fun creating the perfect look for your home [3]!
Materials you need to decorate fireplace for Halloween
If you want to decorate fireplace for Halloween you will need the following materials:
Pumpkins – You will need to carve or buy pumpkins to decorate the fireplace.
Candles – Place candles within carved-out pumpkins or around the fireplace for a spooky effect. * Paper bats, spiders, and creepy crawlies – Create your paper bats, spiders, and other creepy crawlies to hang from strings around your fireplace.
Orange lights – Add some orange string lights around the fireplace to create a warm glow.
Garlands and wreaths – Decorate with garlands made of autumn leaves, twigs, and berries or a Halloween-themed wreath hung above the mantelpiece.
Skeletons and skulls – Add skeleton figures or skull props around your fireplace for an extra eerie touch.
Fake cobwebs and spiders – Drape fake cob webbing over the mantelpiece, and around the firebox, and add fake spiders for a spooky effect.
Evil decorations – Hang evil figure decorations from strings in front of your fireplace to create a creepy atmosphere.
Bonfire – Light up a bonfire outside your house and enjoy delicious snacks with friends or family while admiring the show!
These materials will help you turn your fireplace into an amazing Halloween decoration sure to impress your visitors!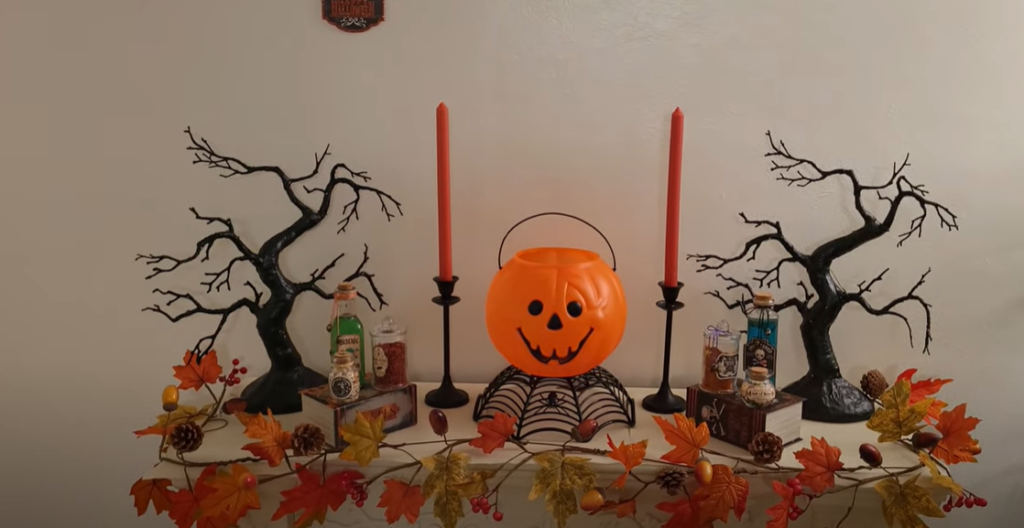 FAQ
How to make a fireplace for Halloween?
Making a fireplace for Halloween can be a fun and easy project. The first step is to gather the needed materials, such as cardboard, construction paper, scissors, markers, glue, and other decorations. With those items in hand, you can begin designing your fireplace. Measure out the dimensions of the area you want to cover with cardboard and cut it accordingly. Then use construction paper to make bricks around the sides of the fireplace and draw flames on top with markers. Glue all pieces together securely and use additional decorations such as spiders or bats to give it an extra scary look. Finally, light some candles around the fireplace for a spooky effect!
Can I make my own Halloween costumes?
Absolutely! Making your own Halloween costumes can be a fun and creative project. First, you'll need to figure out what character or creature you want to dress up as. Then, do some research into what materials and supplies you'll need for the project. Gather these items from craft stores or thrift shops and get started on making the costume. Depending on how intricate the costume is, it may take multiple days of hard work but the end product will make it worth it!
What are some good ideas for a Halloween party?
Planning a Halloween party can be a blast if done right. Start by choosing a theme that everyone can agree on, such as horror movies or spooky monsters. You could also choose decorations based on this theme, such as setting up spider webs or fake skulls. Next, make sure to have plenty of food and drinks like candy apples, and pumpkin punch. An activity or game is also a must-have for any party – you could do something like a scavenger hunt or bob for apples! Lastly, don't forget the music – playing some eerie tunes will set the perfect atmosphere for a spooky Halloween night.
What are some tips on carving pumpkins?
Carving pumpkins can be a great way to let out your creative side while celebrating Halloween. Before you start carving, make sure to gather all the necessary supplies such as gloves, newspapers, pumpkin-carving tools, and stencils. When selecting your pumpkin, look for one that has a smooth surface and is free of blemishes. Once you have your pumpkin, plan out the design you want to carve before cutting anything. Use the tools to cut along the lines of your stencil and then scoop out all the insides with a spoon or ice cream scooper. Finally, light up the inside with some candles or LED lights and you're done!
What are some safety tips during Halloween?
Safety is an important part of celebrating Halloween, so it should always be kept in mind when participating in any activities related to it. When going trick-or-treating, bring flashlights and wear reflective clothing so that cars can easily spot you. Carry only flexible props such as a broomstick or plastic sword and try to avoid any real weapons. When going to a Halloween party, stay in groups and make sure someone always has an eye on the food and drinks being served. Lastly, check all candy for tampering before eating it and dispose of anything that looks suspicious.
How to decorate your mantel for Halloween?
Decorating your mantel for Halloween can be a great way to get into the spirit of the holiday. Start by picking out items that fit with your chosen theme, such as candles and pumpkins. Then use strings of lights, spider webs, and other decorations to give it an eerie look. Some fun mantel pieces could include fake skulls or skeleton figures. Add some black fabric draped over the edges and finish it off with a few garlands of leaves. With all these pieces combined, you'll have a spooky-chic mantel perfect for any Halloween party!
What are some healthy alternatives to candy on Halloween?
Halloween is traditionally associated with candy, but there are many healthy alternatives out there that can be just as fun and tasty. Some good options include popcorn, trail mix, dried fruit, and granola bars. If you're looking for something more Halloween-themed, try making your own spooky treats such as spider-shaped pizzas or monster munchies. For a special treat, you could even bake some gluten-free pumpkin muffins. Just remember to practice safe candy practices when handing out snacks to trick-or-treaters!
How to decorate a fireplace easily?
Decorating a fireplace can be an easy and enjoyable project. Start by picking out a theme – such as spooky or whimsical – that will guide your decor choices. Then use banners, garlands, and other decorations to fit the theme. Add some candles for extra ambiance and don't forget about the mantel! Place seasonal items like pumpkins, gourds, hay bales, and scarecrows on top for a festive touch. Finally, place logs in the hearth and light them up with some matches to create a cozy atmosphere. Voila – you have yourself a fabulous-looking fireplace!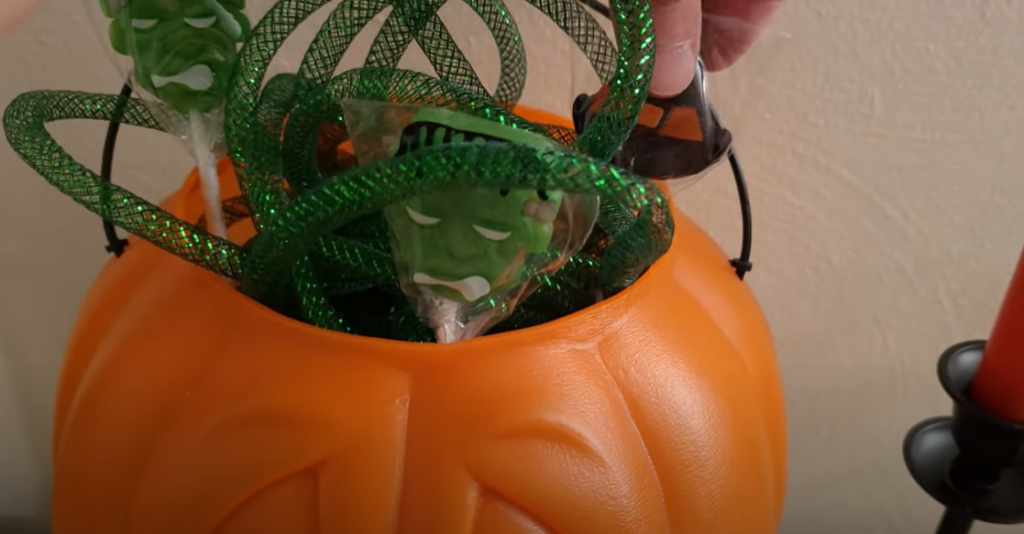 How can I decorate an empty fireplace?
An empty fireplace can be a great way to display seasonal decorations, such as pumpkins and fall plants. Start by adding some garlands of leaves along the mantel and add strings of lights for extra sparkle. Place candles on either side to create a warm atmosphere and if you have any spare pumpkins, put them in the hearth. Finally, hang up Halloween-themed banners or signs to give it an exciting touch. With these simple steps, your empty fireplace will be transformed into a festive holiday display!
How to decorate a fireplace on a budget?
Decorating a fireplace on a budget can be a great way to get creative. Start by shopping around for decorations that fit within your price range. Look for items like battery-powered candles and strings of lights to create an ambient atmosphere. You can also use accessories such as fabric banners or wreaths to give the area some character. Finally, incorporate seasonal items like pumpkins and gourds into the decor – these are usually inexpensive but make a big impact!
How do you style furniture around a fireplace?
Styling furniture around a fireplace can be an easy way to create a cozy atmosphere. Start by choosing pieces that fit with the theme or color of the room, such as plush armchairs and ottomans. Then place them in strategic positions so they are not too close to the fireplace but still within reach of it. To complete the look, add a rug or throw a blanket for added warmth and texture. With these simple steps, your living room will be transformed into a stylish and inviting space!
What safety tips should I follow when using my fireplace?
It is important to take safety seriously when using your fireplace. Always make sure you have working smoke detectors on all levels of your home, as well as carbon monoxide detectors in the same area as your fireplace. Before using your fireplace, have it inspected by a professional to ensure it is functioning properly? When burning wood, make sure you only use seasoned logs and never burn trash. Finally, make sure the fire is completely extinguished before leaving the room or going to sleep. Following these safety tips will help give you peace of mind when enjoying your beautiful fireplace!
Useful Video: Fireplace Decor Ideas | Halloween Mantel Reveal | Ashleigh Lauren
Conclusion
Halloween Fireplaces is a great option for those who want to bring the spooky spirit of Halloween into their home. It provides a fun, festive atmosphere that will make your guests feel welcome at your next gathering. Whether you choose a traditional fireplace setup or opt for a more modern design, you can be sure to find something that suits your style and budget. With so many different options available, it's easy to create the perfect Halloween fireplace for your home. So get ready for some spine-tingling nights with family and friends by setting up the perfect Halloween fireplace today!
References:
https://www.housebeautiful.com/uk/decorate/looks/g33883780/best-halloween-decorations/
https://www.capofireside.com/blogs/news/14-halloween-mantel-decor-ideas-for-2022
https://www.impressiveinteriordesign.com/how-to-clean-fireplace-brick/