Are you wondering how to hang those holiday stockings without a fireplace? While it may seem like a challenge, there are plenty of creative and unique ways that you can use to make sure your family's stockings get hung with care. Whether space is an issue in your home or you simply don't have access to the traditional mantel from which many families hang their stockings- don't fret! We've got some great ideas for other creative options for hanging up festive holiday decorations so that everyone will be able to feel merry and bright this season. Read on for our tips and advice on hanging festivities—fireplace free!
Ideas for Hanging Stockings Without a Fireplace
Stockings On Blanket Ladder
A blanket ladder can be used to hang your stockings without needing a fireplace. You can purchase a ready-made one or make your own. The advantages of this is that it can be disassembled easily and stored away when it's not in use. And, you don't need to worry about damaging the wall with nails or screws as the ladder will stand by itself.
Hanging Stockings on Wall
An alternative way to hang your stockings is by hooking them directly onto the wall. This works best if you have an empty wall where you could add some decorative hooks for hanging items like wreaths and garlands, which will also serve as great stocking holders. Place the hooks at different heights so that you can have a variety of sizes and shapes of stockings hung up. [1]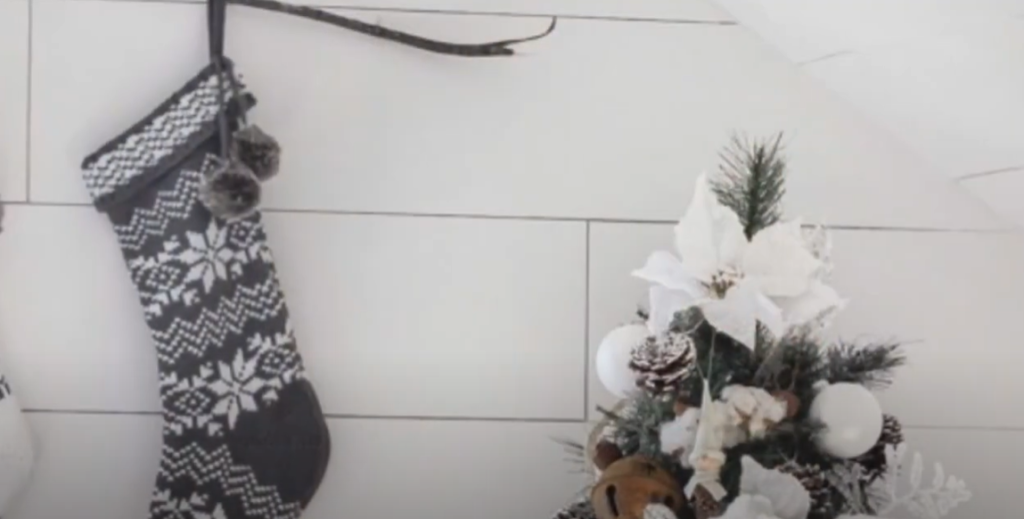 Neutral Stockings Next To Frosted Tree
If you have a neutral-colored tree, why not hang your stockings next to it? You can either use small hooks attached to the tree, or if you don't want to damage the tree with nails, try using suction cups or wire hooks. By hanging them around the base of the tree, it will create a beautiful display that doesn't require an actual fireplace or wall.
Command Hooks Around Doorway
You could also use Command Hooks around a doorway as another space-saving solution for hanging stockings without a fireplace. This works best if you have a door frame in an area of your home where you'd like to hang the Christmas decorations anyway. All you have to do is attach some command strips and add your stockings.
Wooden Dresser With Hooks For Stockings
A creative alternative to using a mantle is to repurpose an old wooden dresser with hooks. This idea works well if you don't have the space for a traditional fireplace and mantel. Simply attach small hooks to the side of a dresser, and then hang your stockings from them. Depending on the size of your family, you can even paint one drawer for each person and then add corresponding tags or labels so that everyone knows where their stocking should go! If done correctly, this project could also be a fun holiday decoration in its own right. And if you're feeling extra crafty, you could even paint festive designs on the front of the drawers for added flair.
Monochrome Dresser With Giant Clock
If you're looking for something a bit more modern and chic, consider adding a large clock to the top of an oversized dresser. Hang stockings from the drawer handles and voila! You'll have an eye-catching holiday display that's sure to impress your guests. Furthermore, it can even double as a functional piece of furniture after the holidays are over. By displaying some family photos or knick knacks on top of the dresser, you can instantly create a cozy atmosphere in any room.
Picture Frame Lineup
For those who want to get creative with their decorations, this could be a great solution. Gather up all of your old picture frames (or buy new ones if needed) and then hang them side-by-side on a wall. Once secure, add stockings to each frame and you've got yourself an adorable holiday scene! For added effect, you could even paint the frames or add festive decorations like garland and ornaments. [2]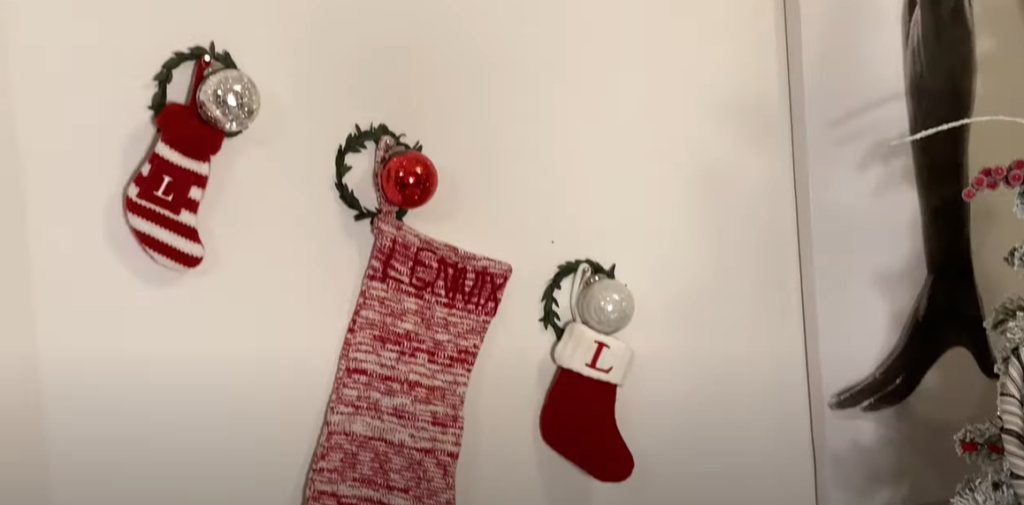 Front Of Staircase
If you have a staircase in your home, consider hanging stockings from the banister. This is an especially great option if you have multiple people living with you, as it can be divided into sections for each person's stocking. Furthermore, this idea can easily be supplemented with other decorations like garland and lights to create a truly eye-catching display! Just make sure the stockings are secure before hanging anything else up.
Bench Nook With Wreath Print
This idea is perfect for those who want to keep things simple yet stylish. Find a corner, nook, or shelf in your home and then add a festive wreath print to the wall. Hang stockings from the bottom of the wreath for a classic look that's sure to be admired by all! Additionally, this can even double as a place to store small items like books or mittens during the holiday season.
Christmas Stockings On A Branch
If you'd like to make an outdoor holiday display, this is the way to go. Find a sturdy branch (preferably one close to your house) and then hang stockings from it using festive ribbon or twine. You'll want to make sure the branch is secure and well-anchored so that it can bear the weight of all the stockings. This will create a wonderful winter wonderland look in front of your home – perfect for greeting visitors! [3]
Hang Them From A Bookcase
If you don't have a fireplace, then hanging your stockings from a shelf, bookcase or entertainment center can be an easy and festive way to display them. To make it look even more like a mantel, add garland and other decorations around the area to fill the space. You can hang the stockings on small hooks that are placed into the wall or with Command strips or hangers. This is a great solution if you want something fast and easy to set up for Christmas.
Use A Coat Rack
Another option for hanging up your stockings is to use a coat rack. If you have an unused hall tree or standing coat rack, it can be the perfect solution for displaying your festive items. A portable freestanding one is great too and easy to move around if need be. Hang the stockings on sturdy hooks that won't bend under the weight of the stocking so they stay secure. Add some ribbon or other decorations to make it look even more Christmasy!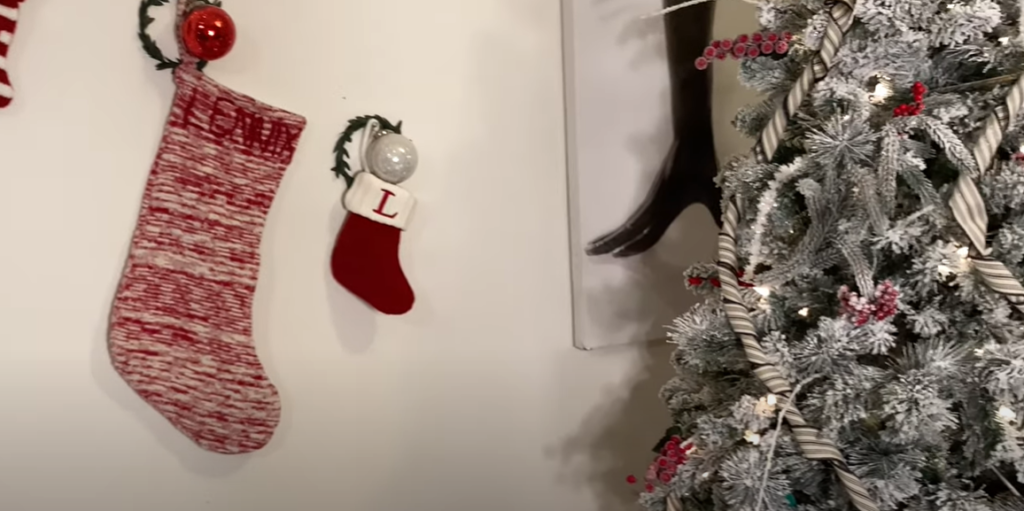 Hang From A Piano
If you have a piano in your home, it can be a great spot for hanging stockings. Place the piano near a wall or window and hang the stocking from small hooks placed into the wall. This is an easy way to show off your festive decorations while also using up otherwise wasted space. The best part is that this won't damage your piano at all! [4]
Knobs Of A Drawer Or Cabinets
Knobs of a drawer or cabinet provide a great way to hang stockings without a fireplace. Secure the stocking to the knob with ribbon, string, or decorative adhesive hooks. This provides a festive touch to any room in your home and adds extra storage for small gifts. You can even use special knobs that match the rest of your holiday decor for an extra festive look! Another advantage is that you can move them around easily if needed, so it's easy to accommodate different family members or guests. Plus, these knobs are also much safer than hanging stockings near an open flame.
Bedpost Or Bed Frame
Another option for hanging stockings without a fireplace is to use a bedpost or bed frame. All you need are some decorative hooks – or even just regular nails – and you're ready to get creative! Try using different colors of ribbon or other materials to add a festive touch, and make sure they're securely fastened so they don't slip off. This method works best if the bed frame is close enough to the floor that it's easy to reach, since most people would rather not be climbing on furniture while carrying gifts!
Windows
Window sills provide the perfect spot to hang stockings without a fireplace. Using adhesive hooks, attach strings or ribbons to the window, and you have a place to hang your stocking. Consider placing up decorations around the window as well for a festive look.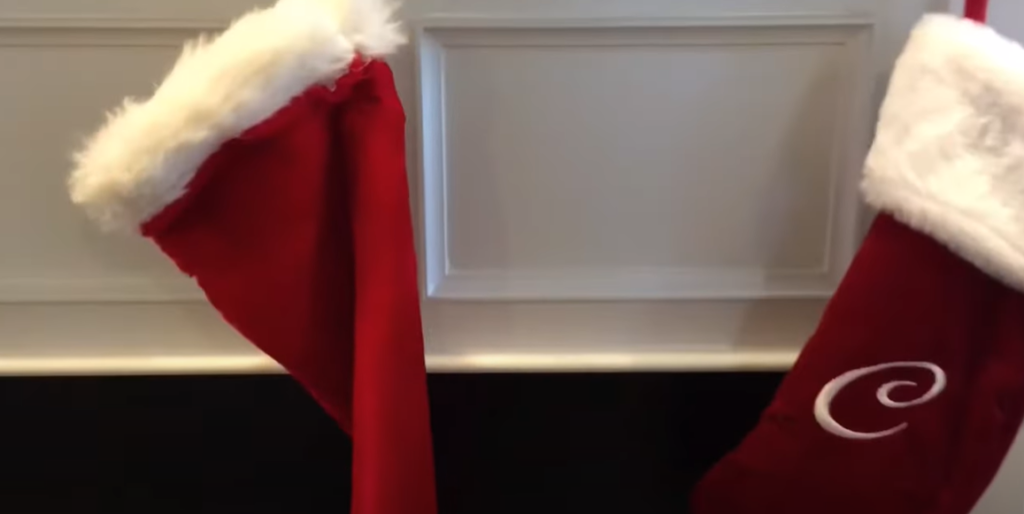 Hang From A Pair Of Skis
If your family is into outdoor activities, consider using a pair of skis to hang stockings. It's a creative way to show off your hobby even indoors. To make it work best, use adhesive hooks to hang the stockings on the skis and prop them up against a wall.
Hang From A Drying Rack
This is a great way to hang stockings without a fireplace. You can easily find a collapsible drying rack or a non-collapsible one depending on how often you plan to use it. Hang the stocking from the side of the drying rack and fill with treats! It'll be like having your own mini, personalized Christmas tree!
Entryway With Hanging Christmas Stockings
For those without a fireplace but need to hang stockings, this is the perfect option. Find an entryway or hallway that can accommodate a few hooks and display your Christmas decorations. Hang the stocking from the top of the hook and tuck some treats inside for a classic Christmas look. You can also add other festive decorations like twinkle lights, garland, and mini wreaths to complete the scene! [5]
Dark Dresser Brightened With Festive Décor
A dresser is a great place to hang stockings since it provides some extra height and can accommodate multiple hook placements. Place the dresser in an entryway, hallway, or even a corner of the living room to create a cozy spot for showcasing your decorations. Hang the stocking from each of the knobs and fill them with goodies! Add other festive touches like Christmas lights, nutcrackers, and holiday-scented candles to complete your look.
How Do You Hang Stockings From The Ceiling?
Hanging stockings from the ceiling is a great way to make use of vertical space if you lack a fireplace. All that is needed are sturdy hooks, some twine or ribbon to hang them from, and stocking holders that can attach directly to the ceiling.
Here's how it works:
Start by finding the right hooks for your ceiling – there are many options available! Make sure the hook you choose is suitable for holding the weight of your stockings (plus any treats inside). Consider using heavy-duty wall anchors rated for heavier weights if necessary.
Attach the hooks into the ceiling securely according to manufacturer instructions and leave enough room between each one so they can support multiple stocking holders.
Tie a length of twine or ribbon to each hook and then attach the stocking holder to the end of the twine. You can use any type of stocking holder, however those designed for ceilings may be more secure.
Hang the stockings by looping them over the stocking holders! Keep in mind that if you plan on adding treats inside, you'll want to make sure they're lightweight enough not to pull down on the hooks too much.
Hanging stockings from the ceiling is a great way to bring some festive cheer into your home without needing a fireplace! With just a few simple steps, you'll have your own whimsical holiday display ready for Santa's arrival this year! [6]
How Do You Make Stockings Look Full?
When it comes to making sure that your stockings look full, whether you are using a fireplace or another option for hanging them, there are a few things you can do. The easiest way is to fill the stocking with lots of goodies! Make sure to choose gifts that are appropriate for each person in the family, and that fit nicely inside the stocking.
Consider using small items such as candy and chocolates, as well as larger items like books or toys (if they fit). You could also do something special and give each person a personalized item which they'll be able to treasure forever.
If you're looking for a way to give your stockings an extra special touch, why not consider adding some decorations like bows or bells? Doing this won't take up much space in the stocking, but it will add a festive vibe and make them look even more beautiful when they are hung up.
No matter what you decide to do with your stockings, by following these simple tips you'll be sure to have stockings that are filled with presents and look great too!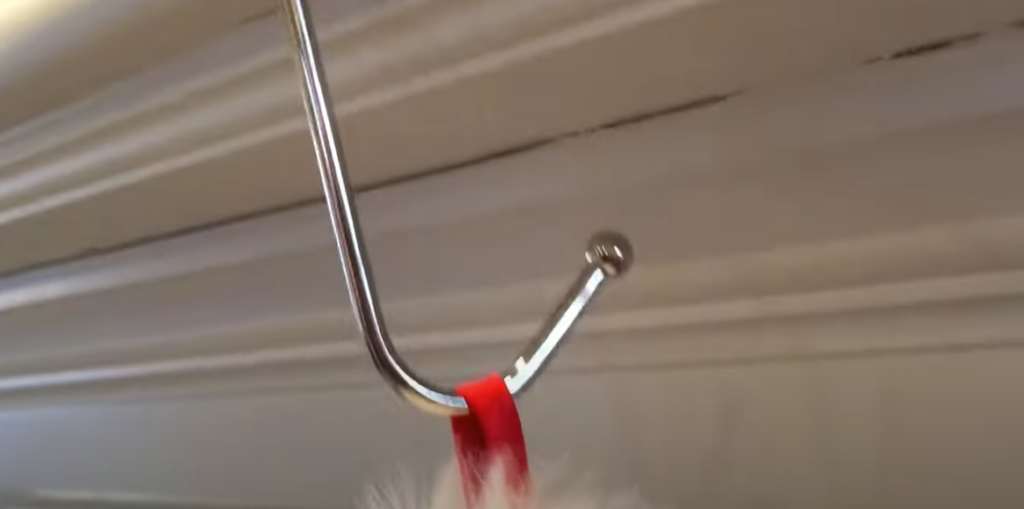 FAQ
How to decorate Christmas stockings without a fireplace?
Hanging stockings without a fireplace can seem like a daunting task, but it doesn't have to be! There are many creative ways to hang your Christmas decorations and keep the spirit of the holidays alive. Here are some ideas:
Hang them on the wall with festive adhesive hooks or clips, such as jingle bells.
Use Command strips for an easy, no-damage installation option when hanging from walls or doors.
Place stocking holders on banisters, mantles, shelves, tables or other furniture in your home.
Create a garland of stockings by looping colorful ribbon through each one and hanging them from window sills or curtain rods.
Hang them from ladder rungs or door knobs with ribbons or small nails.
Place the stockings on a Christmas tree skirt for an easy, yet festive display.
Suspend your stocking from the ceiling with twine and a hook for a whimsical look!
If you have high ceilings, hang them from curtain rods with garland hooks for a unique holiday look.
Use adhesive tape to attach the stockings to furniture, or even walls if you're looking for something more permanent!
Ask family members to hold onto their own stockings while they sit around the table during dinner—it adds extra festivity and encourages everyone to get into the holiday spirit!
How do you hang stockings without putting holes in the wall?
Command hooks are a great solution for this issue. They can be easily attached to any wall, window, door or other flat surface without damaging it. Plus, they come with removable adhesive strips that won't leave residue when taken down. For added convenience, some models even have built-in slots to hang stockings or decorations from them! You can also use tacks, nails or thumbtacks to hang your stockings on the wall. It's easy and doesn't require much effort; however, there is the risk of making holes in the wall if you're not careful. If you want an alternative option that won't damage your walls but still looks good, try using ribbon instead of nails or tacks.
How do you fill a stocking on a budget?
Fill your stocking with budget-friendly items such as candy, small toys, ornaments, and other trinkets. You can also fill it with homemade treats like cookies or handcrafted gifts. Another way to save money is to look for deals on bulk items like puzzles, coloring books, and games. If you're feeling extra crafty, you can make your own stocking stuffers out of fabric scraps or recycled materials. Finally, consider using gift cards as an easy and inexpensive way to fill up those stockings!
How do you make a stocking holder?
St holders can be made out of almost any material, such as wood, metal, or fabric. Some easy DIY projects involve using pipe cleaners to create a festive stocking holder that is both lightweight and easy to move around. You can also use old picture frames and spray paint them in festive colors for an instant stocking hanger. Finally, if you want something more rustic-looking, try repurposing wooden pallets into stocking holders with some simple nails and glue!
Useful Video: 6 Ways To Hang Stockings Without A Fireplace
Conclusion
Hanging stockings without a fireplace doesn't have to be difficult or expensive – the possibilities are virtually endless. Whether it's an innovative DIY solution or a store-bought alternative, there's a way for everyone to get creative and find a festive way to hang their holiday stocking without a fireplace. With some creativity and ingenuity, even those without access to traditional mantels can make their own Christmas traditions that will bring joy and cheer into their home this season!
Happy Holidays!
References:
https://www.rent.com/blog/places-to-hang-stockings-with-no-fireplace/
https://www.mymommystyle.com/15-places-to-hang-a-stocking-when-you-dont-have-a-fireplace/
https://www.curbly.com/christmas-stocking-hanging-ideas
https://www.decoist.com/hang-christmas-stockings-no-fireplace/
https://www.soulandlane.com/hang-stockings-without-a-mantle-2546/
https://justagirlandherblog.com/hang-stockings-without-a-mantel/