Fireplaces have been a part of homes for centuries, and there's a reason why. They're cozy and inviting, and they create an atmosphere that is perfect for relaxing after a long day or spending time with family and friends. If you're looking to add a touch of rustic charm to your home, consider adding a fireplace. This article will discuss the different types of fireplaces that are available as well as some tips for choosing the right one for your home. It will also offer ideas for decorating your fireplace in a rustic style.
Indoor Fireplace Design Ideas to Match Your Style
Rustic
For a truly rustic look, opt for a stone, brick, or tile-lined fireplace. These classic materials are timeless and suited to many styles, from traditional to contemporary. For added warmth and texture, consider adding reclaimed wood mantels or accents around the wall and hearth. A few simple details like wrought iron candelabras or natural greenery can bring even more character to the room.
Modern
If you prefer a sleek and contemporary aesthetic for your indoor fireplace, there is no shortage of design options. Smooth concrete surrounds with angular edges make for an edgy look that's still comfortable in any home. Metal tile inserts can add some flair while still keeping the modern vibe intact. You could also choose a firebox with glass panels for a truly eye-catching look.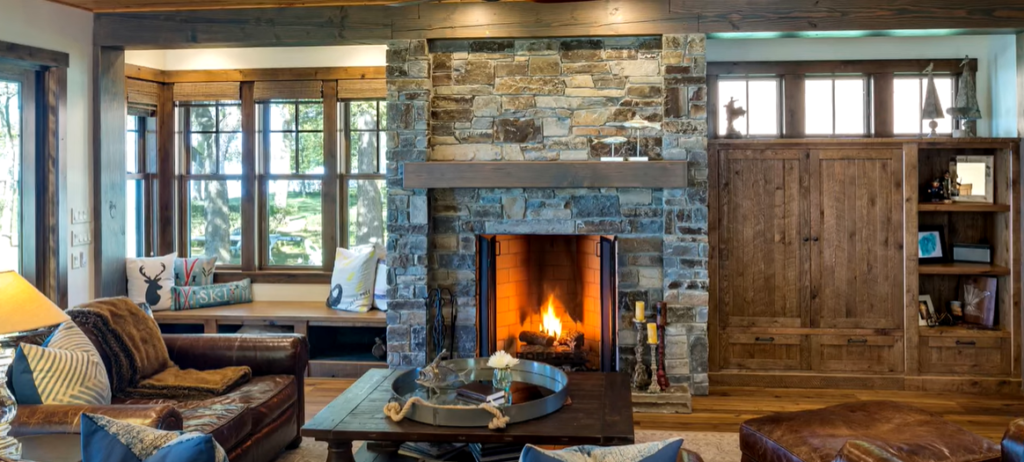 Traditional
For a timeless and traditional style, choose an indoor fireplace with more classic touches. Brick walls or stone hearths are always popular choices, especially when paired with ornate mantels and carved accents. You could also opt for a classic wood mantel in any number of finishes to suit your home's decor. And don't forget the finishing touches; consider adding some vintage accessories like sconces or lanterns to further elevate the space.
Eclectic
If you prefer a mix of styles, an eclectic approach to your indoor fireplace design is the way to go! Think outside the box and experiment with different textures and materials – from stone to metal and everything in between. Choose a unique firebox or surround to give the room some personality, and add pops of color with accessories and artwork. You can have fun mixing different shapes, styles, and textures for an eclectic look that's original.
Cozy
For a cozy atmosphere, consider building an indoor fireplace surrounded by built-in bookshelves or cabinetry. This will not only lend a comfortable feel to your home but also provide extra storage space for books and other knick-knacks. Consider using natural materials like wood stoves for a rustic touch or modern materials such as steel for a more contemporary vibe. For extra warmth and texture, add a few area rugs around the fireplace and cozy up with a good book.
Romantic
If you're looking to create the perfect romantic atmosphere, an indoor fireplace is a way to go. Choose a soft color palette for the surrounds and mantel and add plenty of throw pillows for lounging in front of the fire. Candles are also a must-have if you want to set that romantic mood. Go for pillar candles in varying heights or opt for decorative wall sconces if your space is limited. And don't forget the finishing touches – some fresh flowers or greenery can bring even more charm to your space!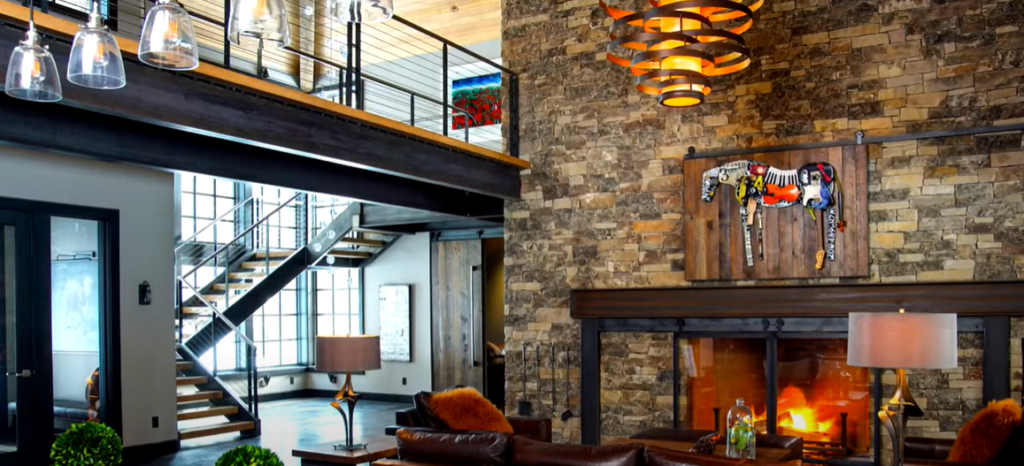 Glamorous
For those who prefer their home decor on the glamorous side, consider an indoor fireplace with a marble surround or mantel. This will add instant sophistication to any room and pairs well with luxurious accents like velvet cushions, metallic fixtures, and mirror frames. Opt for a firebox that is sleek and modern or choose one with intricate details for added drama. Don't forget the lighting – chandeliers are the perfect way to add sparkle to your glamorous design [1].
What is a Rustic Fireplace?
A rustic fireplace is a style of fireplace that emphasizes the use of natural materials and textures to create an inviting, cozy atmosphere in your home. Rustic fireplaces often feature stone or brick surrounds, wood mantels, and sometimes even pieces of driftwood or logs. The goal is to bring the outdoors into your living room and provide a relaxing spot for gathering with family and friends.
In addition to its aesthetic appeal, there are other advantages of a rustic fireplace. First of all, they tend to be very efficient in terms of energy consumption since they make use of natural materials that insulate well and require little maintenance. Also, because these fireplaces often feature an open hearth or wood-burning stove, you can enjoy a cozy fire without having to worry about complicated installation processes. Lastly, with so many creative options available, you can easily customize your rustic fireplace to match the existing décor in your home.
Rustic Fireplace Mantel Ideas That Make a Room Feel Warmer
Painted Rustic Mantel
A great way to make your fireplace pop is to paint the mantel a bold color. Choose a hue that complements the rest of your décor and stands out in comparison to the brick or stone surrounding it. A painted rustic mantel can help you achieve that effect, as well as give your space an instant upgrade.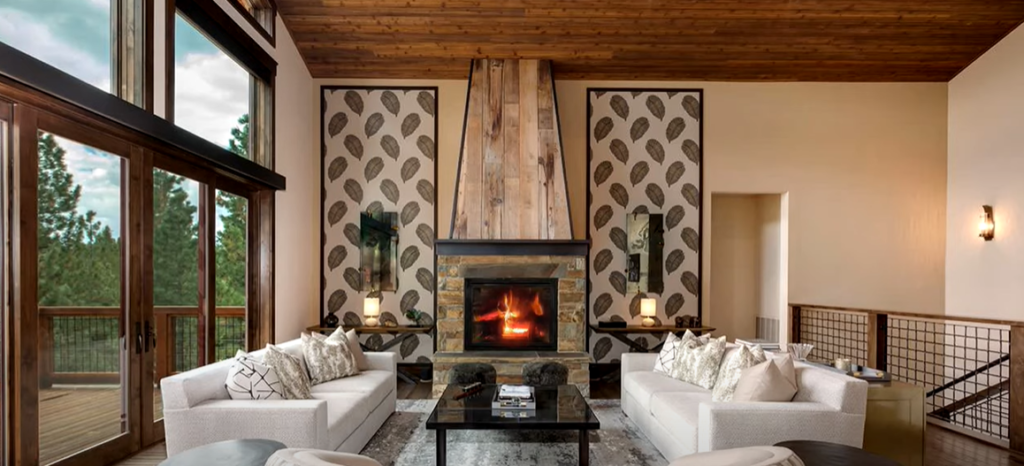 Reclaimed Wood Mantel
Reclaimed wood is a great material for creating a stunning rustic mantelpiece. The natural grain of old wood brings texture and character to any fireplace setting, whether it's used on its own or combined with other materials like metal or stone. Try adding black iron brackets for an industrial touch, or opt for a lighter finish by adding white-washed wood.
Stone Rustic Mantel
Bring a bit of the outdoors inside by using a rustic stone mantel around your fireplace. A stacked-stone look adds texture and warmth to any space, while also giving it an earthy feel. Choose a color that matches the rest of your décor, or go for something bolder like dark gray or black stones. You can even add in some greenery with plants tucked into the rocks to bring life to the room.
Wood Beam Mantel
For a truly rustic feel, you can't go wrong with a wood beam mantel. This look is perfect for traditional homes, and the beams can be stained or painted to match your existing décor. Your fireplace will be the center of attention with this look, so make sure it stands out by adding some greenery and other natural elements into the mix.
Chippy Painted Mantel
A chippy-painted mantel brings a touch of charm to any room. You can keep it simple by painting the mantel white, or go for something bolder with a deep blue hue. The distressed finish adds texture and character to the fireplace setting, and you can even add some decorative elements like greenery or candles for an extra cozy atmosphere.
Rustic Log Mantel
For a truly unique look, try adding a rustic log mantel around your fireplace. This idea works best in cabins and cottages but can also be used in modern homes for an unexpected twist. Paint the logs white for a classic look, or leave them natural for more of an outdoorsy vibe. Either way, this is sure to be a statement piece in any room.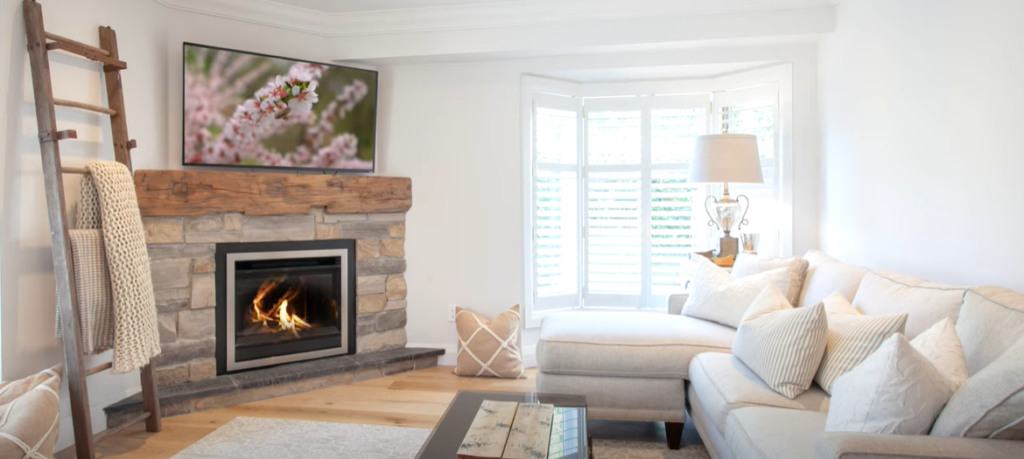 Shiplap Rustic Mantel
Make a statement with a shiplap around your fireplace mantel. This classic look is perfect for farmhouse-style homes and can be used to add texture and color to your décor. Choose a lighter shade of paint to keep the look subtle, or go for a darker hue if you want something bolder. Either way, this is sure to be a timeless and eye-catching addition to any room.
Metal Rustic Mantel
Give your fireplace an industrial edge with a metal rustic mantel. This look works best in modern homes and can be used to add some dramatic flair. Try adding black iron brackets for an edgy aesthetic, or opt for a warmer finish by using copper or brass accents. No matter which material you choose, this will instantly upgrade your fireplace setting and make it stand out in the room.
Carved Wood Fireplace Mantel
If you're looking for something truly special, try adding a carved wood fireplace mantel. This intricate design adds an element of sophistication to any room and creates a focal point in the space. Choose your wood stain carefully so that it matches the rest of your décor, and add some decorative elements like candles or greenery to bring life to the mantelpiece. With a carved wood fireplace mantel, your guests will be sure to be impressed.
Chiseled Stone Mantel
For an elegant and timeless look, try adding a chiseled stone mantel around your fireplace. This style works best in traditional homes and can be used to create a luxurious feel. Choose a natural gray or white stone color for a classic look, or opt for something bolder like black or blue stones. Either way, this will instantly upgrade the atmosphere of any room.
Mosaic Tile Mantel
Add some texture and sparkle to your fireplace with a mosaic tile mantel. This idea is perfect for modern homes and adds a hint of glamor to the space. Try combining different shapes and sizes of tiles for an eclectic vibe, or go for something more subdued by using white tiles for an understated look.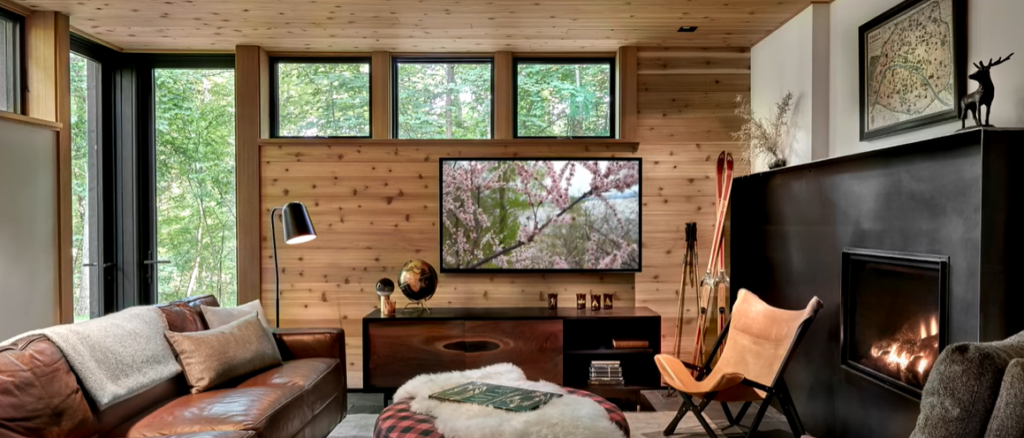 Country French Fireplace Mantel
If you're looking for a truly unique look, try adding a country French fireplace mantel. This style works best in traditional homes and adds an element of elegance to the room. Choose white or cream-colored marble for a classic look, or opt for something bolder like black granite. Add some decorative elements like greenery or candles to bring life to the mantelpiece, and you'll have a luxurious focal point in the room.
Floating Fireplace Mantel
Create a modern and streamlined look with a floating fireplace mantel. This unique design works best in contemporary homes and adds an element of style to the room. Try using black or white for a monochromatic look, or opt for something bolder like red or blue for an eye-catching statement piece. Either way, this is sure to be a conversation starter in any room.
Nature-Inspired Mantel
For a truly rustic look, try adding a nature-inspired mantel around your fireplace. This idea works best in cabins and cottages but can also be used in modern homes for an unexpected twist. Pick materials like wood logs or stones to create an outdoorsy vibe, and add some decorative elements like greenery to bring life to the mantelpiece. With a nature-inspired mantel, you'll have an eye-catching focal point that is sure to be the envy of all your guests.
Pine Wood Mantel
Add a touch of warmth and coziness to your home with a pine wood mantel. This style works best in rustic homes and can be used to create an inviting atmosphere. Choose between lighter shades for a more subtle look, or go for something bolder like dark browns or blacks. Either way, this will instantly add some character to your fireplace setting and make it stand out in the room [2].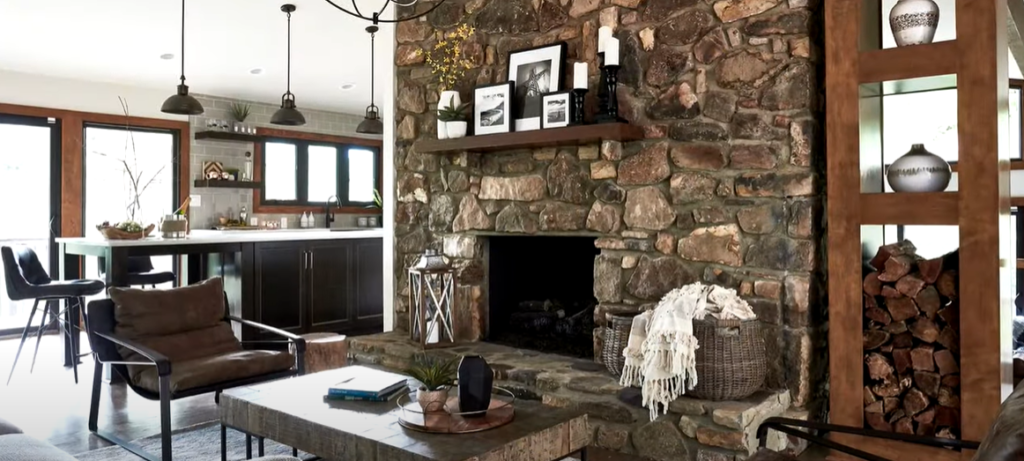 How to Make a Rustic Fireplace?
Once you have decided on a location for your rustic fireplace, it is time to start building. Here are the steps required to build a rustic fireplace:
First, you will need to dig a hole in the ground large enough for both the fire and your seating area around it. Make sure that the hole has good drainage so rainwater does not stand in it.
Lay down gravel or stones of varying sizes in the bottom of the hole as well as on each side and make sure that they form an even surface. This will help protect any combustible material from direct contact with fire and provide stability when you add heavier materials like bricks or stones later.
Place a fire ring, preferably made from stone like granite or cast iron, in the center of your fireplace. This will serve as the foundation for your fire and help keep it contained.
Start building up the sides of the fireplace with bricks or stones. Make sure to use mortar to securely attach each piece and create a sturdy construction.
Once you are happy with the shape of your fireplace, use fireproof materials such as sand or gravel to fill in any gaps between stones and bricks or around the edges of the pit.
Finally, light a small fire to test out your new rustic fireplace! Enjoy spending time outdoors near a cozy fire surrounded by nature's beauty!
For more advanced projects, like building a chimney, you may need to consult with an experienced mason or builder before proceeding. Keep in mind that safety is always the most important factor when working with fire!
How to maintain an indoor rustic fireplace?
Maintaining an indoor rustic fireplace is not as hard as it may seem. With a few simple steps, you can keep your fireplace looking great and functioning properly for years to come.
Clean the Fireplace: The first step in maintaining your rustic fireplace is to clean it regularly. This includes wiping down any dust or soot that has accumulated on the walls, doors, and other surfaces of the fireplace. Make sure to use warm water and mild soap when cleaning your fireplace, but never use abrasive cleaners or scouring pads.
Inspect Your Chimney: Inspecting your chimney regularly should also be part of your routine maintenance plan for your indoor rustic fireplace. You want to make sure that your chimney is clear of debris and blockages, as well as cracks or other damage. If you notice any damage, it's important to have it repaired as soon as possible.
Check for Moisture: Rustic fireplaces should also be checked for moisture regularly. This is especially true in humid climates, where dampness can cause the wooden surfaces of the fireplace to warp or rot over time. You want to make sure that there are no leaks around the flue pipe or any other parts of the fireplace that could lead to water damage.
Repair Damaged Parts: If you notice any damaged parts on your rustic fireplace, such as cracked tiles or broken bricks, they should be replaced as soon as possible. This will help ensure that your fireplace continues to function properly and safely for years to come.
Have Your Fireplace Serviced: Finally, it's important to have your rustic fireplace serviced by a professional periodically. A professional can inspect the fireplace for any potential problems and make sure that all of the components are working properly. They can also clean any soot or debris from the chimney and check for any other necessary repairs.
By following these simple steps, you can keep your indoor rustic fireplace looking great and functioning properly for years to come!  With proper maintenance, you'll be able to enjoy your cozy fire with peace of mind knowing that it is safe and well-maintained.
FAQ
What is the trend in fireplaces?
The trend in fireplaces is moving away from traditional wood-burning fireplaces towards more modern, eco-friendly options such as gas and electric fireplaces. Gas fireplaces offer a clean, efficient source of heat while electric fireplaces provide the ambiance of a real fire with no smoke or mess. Many homeowners are choosing to install energy-efficient inserts that can help reduce heating costs while still providing a beautiful focal point for the room. In addition, outdoor fireplace options are becoming increasingly popular for entertaining guests or relaxing on a cozy evening outdoors. No matter your style or budget, there is sure to be an option that will bring warmth and comfort to your home.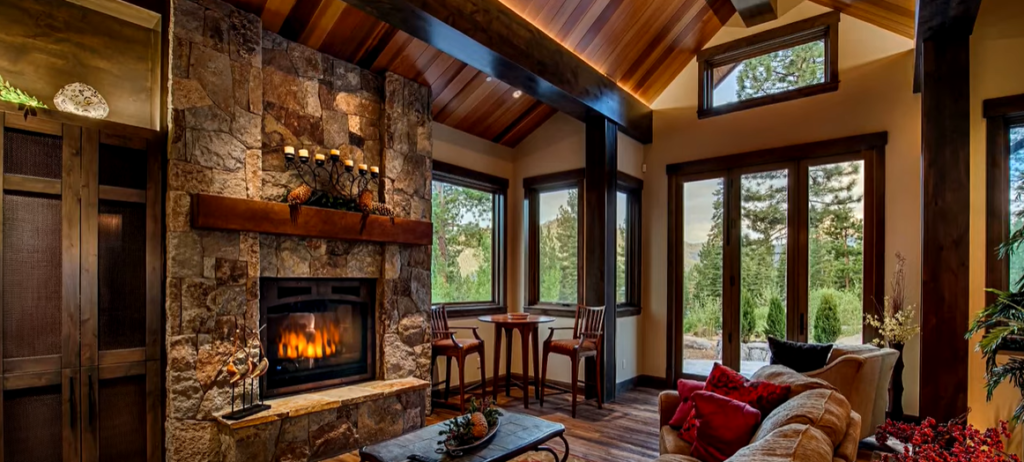 What safety measures should I take when using my fireplace?
Fireplace safety should always be a top priority. Be sure to regularly inspect and clean your fireplace and chimney to ensure that they are free of any debris, soot, or creosote buildup. Additionally, follow the manufacturer's instructions when lighting and operating your fireplace, as well as installing and maintaining any screens or other protective barriers. Lastly, keep flammable materials away from the firebox area at all times to prevent accidental fires. Taking these simple steps will help ensure a safe experience for you and your family.
What type of fuel do I need for my fireplace?
The type of fuel you use in your fireplace will depend on the type of appliance you have installed. Generally speaking, wood-burning fireplaces require logs or seasoned wood for fuel, while gas fireplaces require either natural gas or propane. Electric fireplaces do not require any type of fuel and are powered by electricity. Consult your fireplace manual for further information on the type of fuel your appliance requires.
Can I install a fireplace without professional help?
While some basic installation tasks may be able to be completed without professional help, it is always best to consult a qualified installer before beginning any project involving a fireplace. Installation can be complex and requires special tools and expertise in areas such as building codes, venting requirements, and safety measures. Improperly installed fireplaces can cause significant property damage or even result in serious injury, so it is always advised to seek out an experienced professional when dealing with these types of projects.
What are the benefits of having a fireplace?
Having a fireplace can provide many benefits to your home, from adding warmth and coziness to providing an attractive focal point in a room. Fireplaces can also help reduce energy costs by providing supplemental heat during colder months, while gas fireplaces are clean-burning and efficient sources of heat. In addition, having a fireplace in your home can increase its value when it comes time to sell. Regardless of the type of fuel you choose, having a fireplace is sure to make your home more appealing and inviting.
Do I need special maintenance for my fireplace?
Yes, regular maintenance is essential for keeping any type of fireplace in proper working condition. Wood-burning fireplaces should be inspected and cleaned annually to ensure that the chimney is free of any creosote buildup or obstruction. Gas and electric fireplaces should also be inspected each year to check for any signs of wear or damage and to make sure that all safety features are functioning correctly. Consult your owner's manual for specific maintenance instructions for your particular type of fireplace.
How can I make my fireplace interesting?
There are several ways to make your fireplace stand out and become a focal point in the room. Consider adding some decorative tiles or paint around the firebox for extra flair, or hang a piece of artwork above it. You can also choose to install unique mantels, surrounds, or hearths to give the area more character and charm. For even more visual interest, consider accessorizing with candles, logs, plants, or vases that match your decorating style. Whatever you decide to do, making sure your fireplace stands out is sure to bring warmth and character into any space.
How to make a rustic fireplace mantel?
Creating a rustic fireplace mantel is a great way to add character and charm to your space. To get started, you'll need some wood that can be cut into the desired shape — such as reclaimed barn wood or recycled pallet boards. Use a jigsaw to cut the wood into your desired dimensions, then sand and finish it with an oil-based stain in a color of your choice. Once the stain has dried, screw heavy-duty brackets onto the wall above your fireplace for mounting the finished mantle. Finally, secure the mantel to the wall using screws driven through pre-drilled holes in both sides of the mantel.
What is the most effective fireplace design?
The most effective fireplace design will depend on the size and layout of your space, as well as your personal preferences. For smaller areas, an enclosed gas or electric fireplace is a great choice that doesn't take up much room while still providing warmth and ambiance. If you have more floor space to work with, consider installing an open-faced wood-burning model or a see-through fireplace that can be enjoyed from multiple rooms. No matter what type of fireplace you choose, be sure to consult with a qualified installer before starting any type of installation project.
Useful Video: 35 Rustic Fireplace Ideas
Conclusion
Rustic Fireplaces are an excellent addition to any home and can be a great way to add charm and atmosphere. They are easy to care for, require minimal upkeep, and provide warmth in the winter months. With so many benefits, Rustic Fireplaces are a great choice for those looking for something different in their homes. They come in various styles and finishes that can help you create the perfect ambiance whether you're entertaining or just relaxing with friends and family. With proper installation and maintenance, Rustic Fireplaces will last a lifetime while providing warmth and comfort throughout your home.
References:
https://www.stokefires.com/nz/journal/9-fireplace-surround-ideas-to-match-your-interior-style/
https://www.bhg.com/decorating/fireplace/styles/rustic-fireplace-mantels-281474979509398/