A fireplace is a beautiful addition to any home. It can provide warmth and comfort on cold winter nights, or be the perfect place to relax after a long day. If you're considering adding a black fireplace to your home, there are some things you need to know. This article will answer common questions about black fireplaces and offer tips for choosing, using, and decorating them. It will help you choose the right black fireplace for your needs and give you ideas for decorating it so it will perfectly match your home's style.
What are Black Fireplaces?
Black fireplaces have an elegant and contemporary look that lends sophistication to any room. They are made of black materials, such as cast iron, steel, or composite material. Black fireplaces can be traditional models with an open flame, or they can be modern gas-burning inserts. The sleek lines of a black fireplace offer warmth in the winter and create a focal point for living areas throughout the year.
No matter the type, black fireplaces create an inviting atmosphere and make any home cozier. Whether you're looking to add an elegant touch to your living room or want a classic look for your bedroom, there is a perfect black fireplace out there for you. Consider all the options before making your final decision!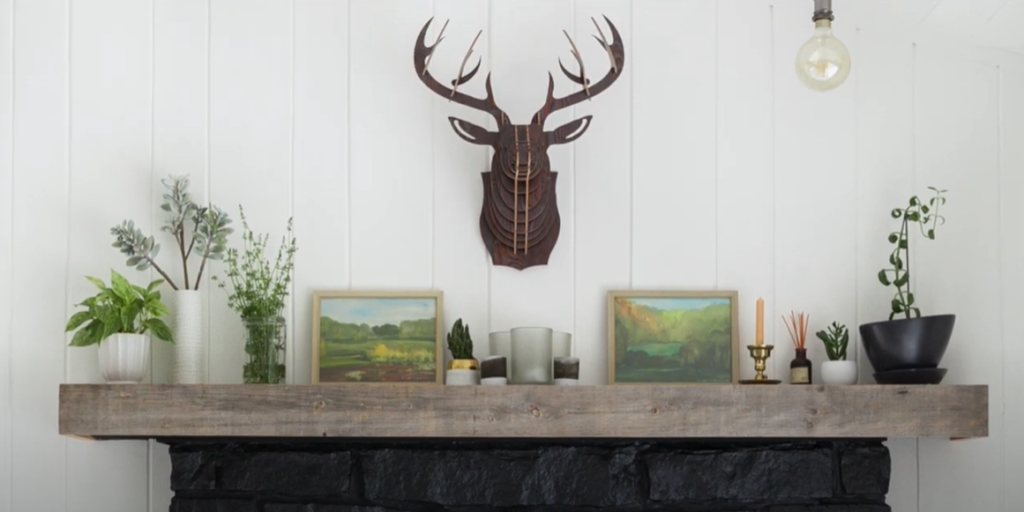 Inspirational black fireplace ideas for a vivid impact
Painted black fireplace
One of the most unique and inspiring ways to spruce up a black fireplace is to give it a fresh coat of paint. Whether you choose a classic black or go for bolder colors like navy, emerald, or scarlet; a painted fireplace can be an eye-catching centerpiece. You could also use stencils and patterns to create custom designs that will truly make your hearth stand out from the crowd.
Tiled black fireplace
Using tiles or mosaic pieces on your black fireplace can instantly upgrade its look. Tiles come in many shapes, sizes, and colors so you're sure to find something that fits your style. If you want to add texture to your design, consider using brick tiles with various shades of gray. You could also use a combination of tiles to create more intricate designs.
Concrete black fireplace
A concrete black fireplace can give your living room a modern, industrial feel. To get the look you want, you'll have to find an expert contractor who specializes in concrete fireplaces. Once it's installed, you can choose from different finishes and textures such as polished, honed, or textured depending on how much sheen you want.
Wood-burning black fireplace
If you're looking for something that adds warmth and coziness to your home, then a wood-burning black fireplace is a perfect choice. Installing a wood-burning stove in your living room gives you the perfect opportunity to show off your rustic decorating style. Just make sure that all safety regulations are followed and have a professional inspect it prior to use.
Stone black fireplace
A stone black fireplace is an excellent way to add texture and depth to your living room. Natural stones such as slate, travertine, or marble can easily be combined with brick or other tiles for a more modern look. You could also choose stacked stone panels that come in different shapes and sizes for a truly unique design.
Black shiplap fireplace
If you're looking for a more traditional look, then shiplap is the way to go. Shiplap is a type of wood paneling that gives your fireplace a classic appearance and adds texture to the space. You can choose from different colors such as white, gray, or black to suit your style.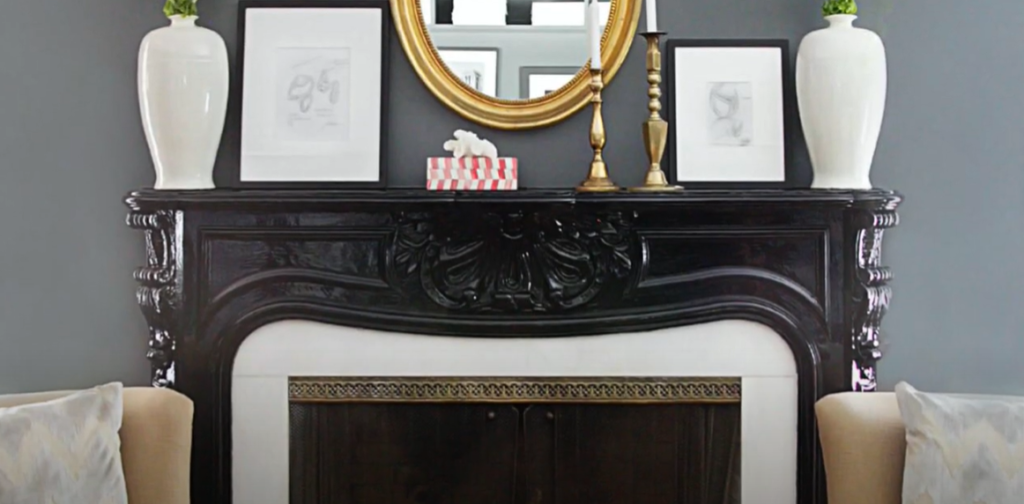 Black granite fireplace surround
Adding a black granite fireplace surround can give your living room an elegant and sophisticated look. Granite is not only durable and heat-resistant, but it also comes in many different colors so you can find one that fits your decorating scheme. You could also opt for marble for a more luxurious feel.
Black corner fireplace
If you have a smaller space or want to add some drama to your fireplace, then a black corner fireplace is the way to go. This type of hearth will make the most of your available square footage and provide a focal point for any room. Just make sure that you get one with adequate ventilation so it won't be too smoky.
Floor-to-ceiling tall fireplace
For a truly dramatic effect, you can't go wrong with a floor-to-ceiling tall black fireplace. This type of hearth will make any room look grand and luxurious. You could even choose to install a gas or electric fireplace for convenience and ease of use.
Black brick fireplace
A black brick fireplace is a timeless classic that will never go out of style. This type of hearth has a rustic look and feel and can easily be dressed up with decorative accents like candles, plants, or framed art. Just make sure that the bricks are in good condition before you light it up.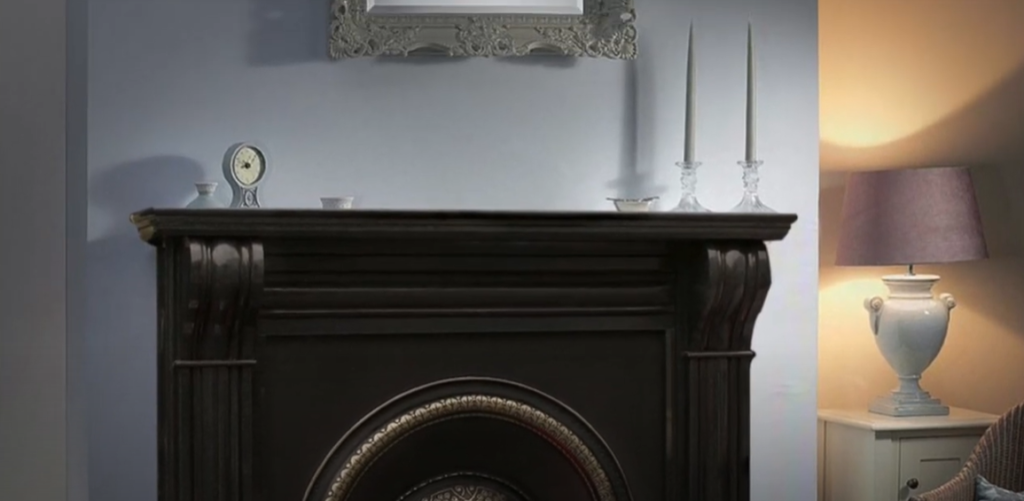 Black shiplap fireplace with a contrasting white marble surround
If you want to make a bold statement in your living room, then consider combining a black shiplap fireplace with a contrasting white marble surround. This look will instantly upgrade the style of any space and create an eye-catching focal point. Just remember to choose a durable material for the hearth so it can withstand high temperatures.
How to use a black feature wall to create a Christmas fireplace?
Paint a festive focal point with beautiful Rich Black paint
A black feature wall can be used to create a stunning Christmas fireplace. The first step is to select the area in which you want to place the fireplace and prepare it for painting with Rich Black paint.
Once your fireplace is completely painted, decorate it with festive accessories such as garlands or small evergreen trees. Add warm lighting fixtures around the space to complete your Christmas fireplace.
Embrace a black fireplace this season
With the right accessories, you will be able to give your home a cozy, Christmas vibe. You could also use other colors along with Rich Black paint to add more detail or texture to your feature wall. Consider adding white accents to create a snowy winter scene or incorporating jewel-tone colors for an elegant and festive look. Accent pieces such as vintage mirrors, holiday decorations, rustic logs, and even family photos can be used to bring more life and personality into the space. Creating a black feature wall provides you with an opportunity to get creative and make your home unique this holiday season.
Fireplace décor ideas for cozy nights in
Once your black feature wall is complete, you can start adding decorations to create a cozy atmosphere. Consider displaying winter candles in various sizes and colors throughout the room to give it a warm glow. Adding festive pillows, throws, and blankets will help to make the space even more inviting. If there's room for additional seating, place comfortable chairs around the fireplace so family and friends can gather together for holiday celebrations. You could also hang stockings from the mantel or place an evergreen wreath on the wall for added cheer.
Which colors?
Rich Black paint is a deep, dark hue that will provide a stunning backdrop for your Christmas fireplace. You could also incorporate other colors such as white, emerald green, and royal blue to create a beautiful holiday scene that's sure to be the focal point of your living space this season. Additionally, you could add touches of gold or silver to create a more luxe look for your Christmas fireplace.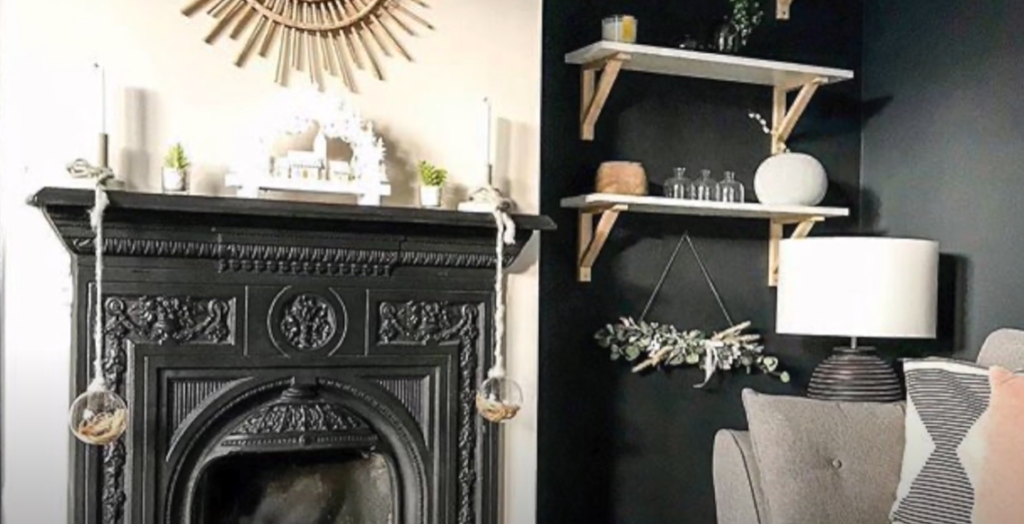 Timeless tradition
A black feature wall and a Christmas fireplace are timeless combinations that will provide warmth and comfort throughout the season. With just a few simple steps, you can give your home an inviting atmosphere that will bring joy to your family year after year. So embrace this new tradition and celebrate the holidays with style and grace!
Keep things on track
When painting a black feature wall for your Christmas fireplace, it's important to keep things on track. Before you start any project, always remember to measure the area and make sure that the design will fit in with the rest of the room. Additionally, make sure to use quality materials such as Rich Black paint so that your fireplace is built to last. Finally, take time out of each day to enjoy your new space and all its festive decorations [1]!
How to maintain black fireplaces?
Maintaining a black fireplace is not particularly difficult, but there are certain steps you should take to ensure that your fireplace looks its best and remains in good condition.
Cleaning: The most important step of maintaining a black fireplace is cleaning it regularly. Dust and dirt can accumulate on the surface which may eventually damage it if left unattended for too long. You can use a damp cloth to wipe down the exterior of the fireplace and vacuum off any debris inside the firebox.
Protective Coating: Applying a protective coating such as wax or ceramic sealer will help protect your fireplace from dirt and dust accumulation, as well as water damage. This should be done periodically, at least once every couple of months.
Repairs: If your fireplace begins to show signs of wear and tear, it's important to make any necessary repairs as soon as possible. This includes checking for cracks in the firebox that could lead to smoke leaks or replacing any broken parts.
Additionally, you should have a qualified professional inspect your fireplace at least once a year to ensure its safety and integrity. Follow these steps and your black fireplace will remain looking like new for many years to come. Taking proper care of your fireplace is essential if you want to maintain its beauty and functionality [2]!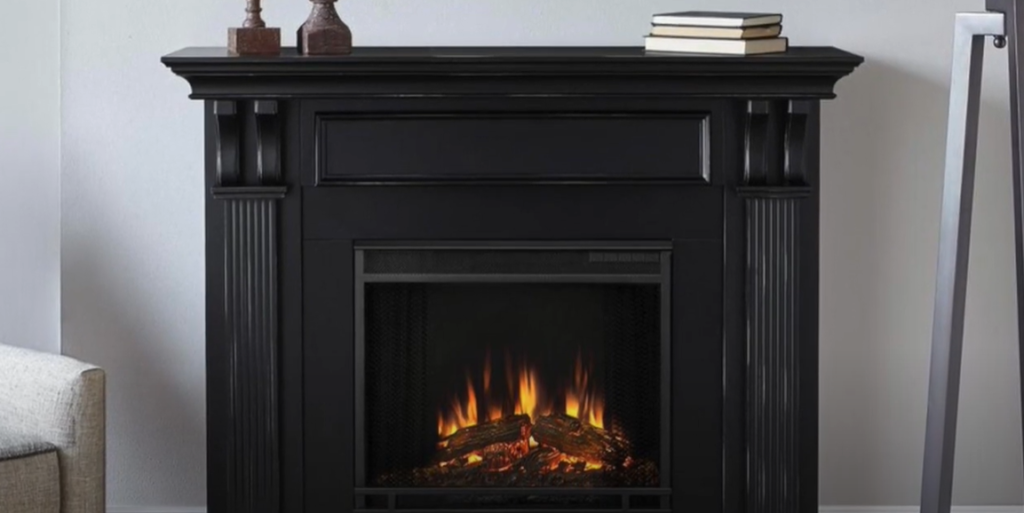 How to paint fireplaces?
Painting fireplaces is one of the best ways to add a fresh and modern look to your home. It's also an inexpensive way to update the appearance of your living room or den while adding a layer of protection and insulation from heat. But when it comes to painting fireplaces, there are some important steps you'll need to follow to ensure a successful result.
First, it's important to make sure that any exposed brick is sealed before starting the job. This will prevent moisture from seeping in and causing damage later on. You can use masonry sealer for this step, which can be purchased at most hardware stores. Once the brick is sealed, you can begin preparing the fireplace for painting. Make sure to sand and clean the area thoroughly before applying any primer or paint.
Next, choose a high-quality paint that is both heat-resistant and flame-retardant for the best results. To start painting, use either a brush or roller to apply at least two coats of paint, allowing each coat to dry completely before adding the next one. Lastly, make sure to seal off your painted fireplace with a lacquer sealer for extra protection from heat and moisture.
With these steps in mind, you can easily create a brand-new look for your fireplace that will last for years to come! Remember to always use proper safety precautions when working around fireplaces as they can be very dangerous if not taken seriously. Wear protective gear, such as goggles and gloves, to avoid any injuries.
Black fireplace as DIY project
Adding a black fireplace to your home can be a great way to add some warmth and style. It also can be an inexpensive DIY project. Here are the steps you'll need to take to install or upgrade your existing fireplace with one that is black:
Measure and purchase the right size of the firebox, flue pipe, and other materials needed for the job. Be sure to buy more than enough material so you don't run short during installation.
Consider hiring a professional if you're not comfortable with doing any of the work yourself – especially when it comes to working on electrical wiring or setting up an exhaust fan system for ventilation purposes.
Remove existing fireplace components and clean the area. Make sure all dust, debris, and dirt are removed before proceeding.
Install the firebox and flue pipe according to the manufacturer's instructions or local building codes.
Apply heat-resistant paint to both the firebox and flue pipe if they haven't been pre-painted already.
Connect any necessary electrical wiring for a gas fireplace according to instructions from the manufacturer or your electrician.
Place the metal surround over the firebox once everything else is in place, then attach it with bolts or screws as necessary to secure it in place.
Add whatever type of black-facing material you want around your fireplace – stone tiles, brick, slate, etc.
Buy a set of tools for use with your new black fireplace – such as a fire poker and tongs – to help you manage the fire safely.
Test out your new black fireplace! Enjoy the warmth and ambiance it brings to your home.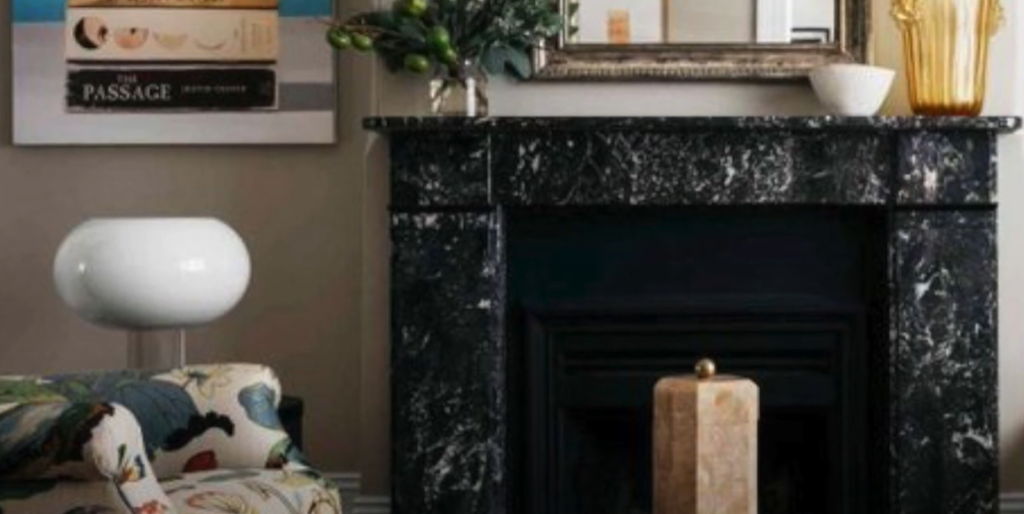 FAQ
What can I do with a black fireplace?
A black fireplace can be used to add a modern and sophisticated touch to any room. It is a great way to make a statement in any living space, from traditional to contemporary designs. With the right accessories and styling, a black fireplace can be both stylish and functional. The sleek look of black adds an air of sophistication that other finishes lack. Depending on the type of fireplace you have, you may be able to use it for heating or just as a decorative piece. Even if your fireplace isn't connected to your gas line, there are wood-burning options or electric fireplaces that make a dramatic statement without requiring additional work.
How do you dress up a dark fireplace?
There are a variety of options for dressing up a dark fireplace. Adding in some lighter tones, such as white or cream can help to lighten the space and make it feel more inviting. Consider hanging artwork above the mantel to add some visual interest to the room. Installing tile around the fireplace can also help to brighten the area and draw attention away from the darker tones. If you're looking for something more dramatic, consider painting your fireplace with a bright color like red or yellow. Finally, incorporating accessories like candles, vases, or plants can bring life into the room and create a cozy atmosphere.
What is the best way to maintain my black fireplace?
Regular maintenance is key when it comes to keeping your black fireplace looking its best. Make sure to clean the glass and tiles often as they can easily get dirty or smudged. If you have a gas-powered fireplace, make sure to check it regularly for any signs of damage, such as cracks in the seals or broken pieces. Finally, be sure to inspect the chimney for any blockages that could prevent smoke from exiting safely. By following these simple steps, you can ensure your black fireplace looks great for years to come!
What color is best for the fireplace wall?
The color of the wall surrounding your fireplace will depend on the overall aesthetic you're going for. If you want to make a bold statement with your black fireplace, consider painting the walls in a bright, vibrant color such as red or yellow. For a softer look, opt for lighter tones like beige or cream. You could also use a combination of colors to create an eye-catching contrast between the dark fireplace and lighter walls. Ultimately, it comes down to personal preference – so choose whatever fits your style best!
Should I paint my fireplace black?
Painting your fireplace black can be a great way to make it stand out and create a modern look for your living space. However, if you're not experienced with painting, then it may be best to leave this job to the professionals. Before beginning any repainting project, make sure that you understand the risks associated with painting over an existing finish. Additionally, keep in mind that black paint is particularly prone to fading or chipping due to its dark color. With proper preparation and care, however, you can ensure that your black fireplace looks great for years to come.
Should I paint my fireplace dark or light?
The answer to this question will ultimately depend on the overall look that you are trying to achieve. If you are looking for a bold and modern statement, then a dark color such as black or navy can be an effective choice. On the other hand, if you want a softer look, then lighter colors like white or cream can be used. Keep in mind that darker colors tend to absorb more heat than lighter colors, so it is important to consider this when choosing your paint color. Ultimately, the decision is yours – just make sure that you choose a color that fits with your existing decor!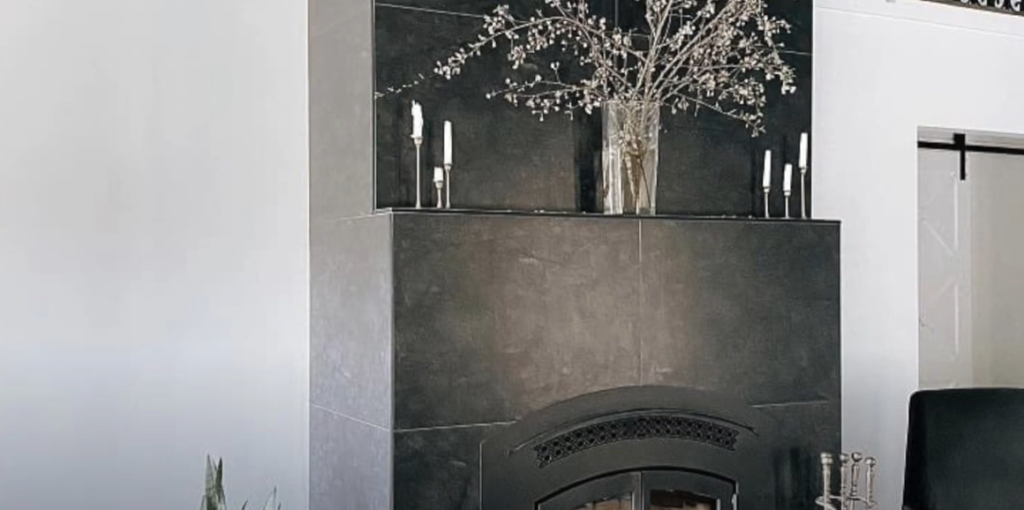 What color fireplace makes the room look bigger?
A light color fireplace can help to make a room appear larger and more spacious. Lighter colors tend to reflect more light, which can make the space feel bigger than it actually is. Consider painting your fireplace white or cream for a classic look that will also open up the room. If you want something more dramatic, opt for pale shades of blue or green, which will bring some energy into the room without overpowering it. No matter what color you choose, remember to keep other elements in the room simple so as not to distract from your beautiful new fireplace!
How do I choose a fireplace color?
When it comes to choosing a fireplace color, it's important to consider the overall look and feel of the room. If you want a classic, timeless look, opt for neutral colors such as white or cream. For a more modern vibe, go with bolder hues like black or navy blue. If you're looking for something that stands out from the rest of your decor, choose bright colors like red or yellow. You can also use combinations of colors to create an eye-catching contrast between light and dark shades. Ultimately, it comes down to personal preference – so choose whichever color makes you happy! ​
What is the best paint for a fireplace?
When it comes to painting a fireplace, you want to make sure that you use the right kind of paint. For best results, opt for a high-quality exterior or interior latex-based paint. This type of paint is designed to withstand heat and will be more durable than other types of paint. Additionally, make sure that you choose a color that will work with your existing decor and won't fade or chip easily due to its dark hue. With the right preparation and care, you can ensure that your black fireplace looks great for years to come!
How can I make my fireplace more attractive?
If you want to make your fireplace more attractive, consider adding decorative elements such as colored tile or a mantel. You can also paint the inside of the firebox with bright colors or patterns for a unique look. Additionally, try using different types of wood such as oak or cherry for a change in texture and color. Finally, use rugs and furniture to add warmth and comfort to the area around your fireplace. With some simple touches, you can easily transform your fireplace into an inviting centerpiece of any room!
Useful Video: How To Style A Black Fireplace | And Then There Was Style
Conclusion
Black Fireplaces are a great addition to any home, providing an attractive and functional centerpiece for any room. They offer a variety of features, from traditional wood-burning options to modern gas-powered models. Whether you're looking for a classic feel or something more contemporary, there is a black fireplace that can meet your needs and make an impressive statement in your home. With its timeless design and versatile heating capabilities, the black fireplace has become a popular choice for homeowners who want to add style and comfort to their living space.
References:
https://farmhousehub.com/black-fireplace-ideas/
https://www.fireplace.co.uk/blog/How+Best+to+Clean+Matt+Black+Cast+Iron+Fireplaces/819