What could be more inviting on a crisp autumn day or a balmy summer evening than a crackling outdoor fireplace? Whether you are looking to add an extra touch of warmth and ambiance to your deck or patio, or want to create an outdoor living space that can be enjoyed all year long, adding an outdoor brick fireplace is the perfect way to do it! This article will answer some common questions about outdoor brick fireplaces and offer some tips for choosing, using, and decorating them. So, read on – your perfect backyard oasis is just around the corner!
What are Outdoor Brick Fireplaces made of?
Outdoor brick fireplaces are typically made of either concrete or clay bricks. Concrete bricks can withstand the weather for a longer period, but their heavier weight makes it difficult to move and install. Clay bricks may be easier to work with and require less maintenance, but they're also more susceptible to cracking due to temperature changes.
Both types of brick provide excellent insulation from the heat generated by the fireplace, making them ideal for outdoor use. You will want to ensure that you choose a quality product that is designed specifically for outdoor use to get the most out of your investment. Additionally, if you opt for a prefabricated fireplace kit, then you need to be aware of any additional components that might be needed to complete the installation (e.g. a foundation or chimney). Finally, keep in mind that building codes vary from place to place and it is important to check with your local municipality before undertaking any construction project.
No matter what type of brick you choose, an outdoor brick fireplace can provide warmth and beauty for years to come if properly maintained. With just a little bit of care and attention, your outdoor living area can become a cozy oasis right in your backyard [1]!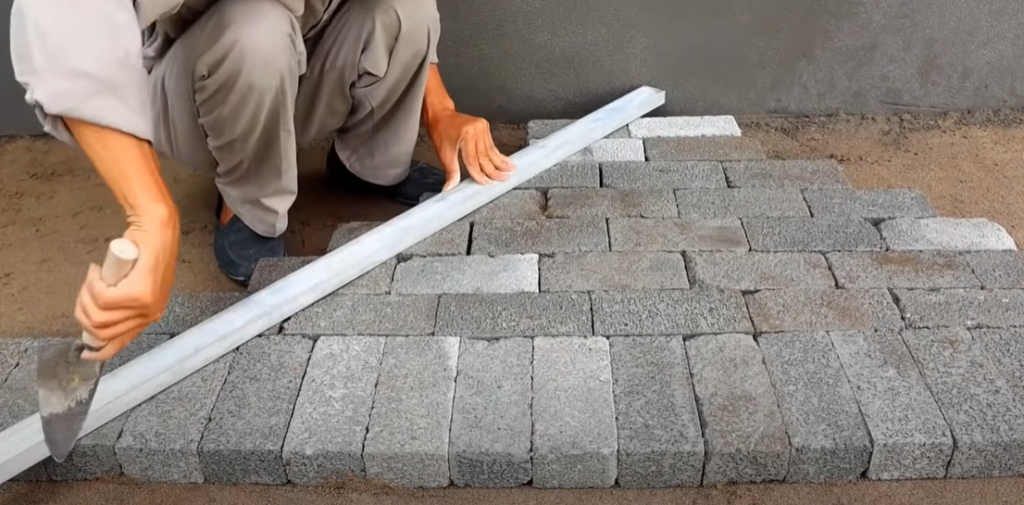 How Do You Care for an Outdoor Brick Fireplace?
Caring for an outdoor brick fireplace is fairly easy as long as you take the time to inspect it regularly. First, you should make sure that any grout used to hold the bricks together is in good condition. If it has started to crack and flake, then you will want to repair or replace it before any moisture can seep in and cause damage.
Second, you should check for signs of water damage around the fireplace and make sure that all mortar joints are properly sealed with a waterproof sealant. This will help keep out moisture and prevent mold from growing on your outdoor brick fireplace.
By taking proper care of your outdoor brick fireplace, you can enjoy its beauty and warmth for many years to come [2]!
How to Build An Outdoor Fireplace Step-by-Step Guide
Step 1: Check local codes
Before you begin building your outdoor fireplace, it is important to make sure that you comply with local codes. Your local building inspector can provide specific information regarding the regulations in your area and will be able to help you ensure that you are following all safety requirements.
Step 2: Choose your location
Once you have determined that it is safe to build an outdoor fireplace in your area, carefully select the location for the structure. Consider factors such as proximity to other buildings and trees, the orientation of the firebox toward prevailing winds, and accessibility for future maintenance. You should also take into account drainage when selecting a site so that rainwater does not accumulate near the base of the structure.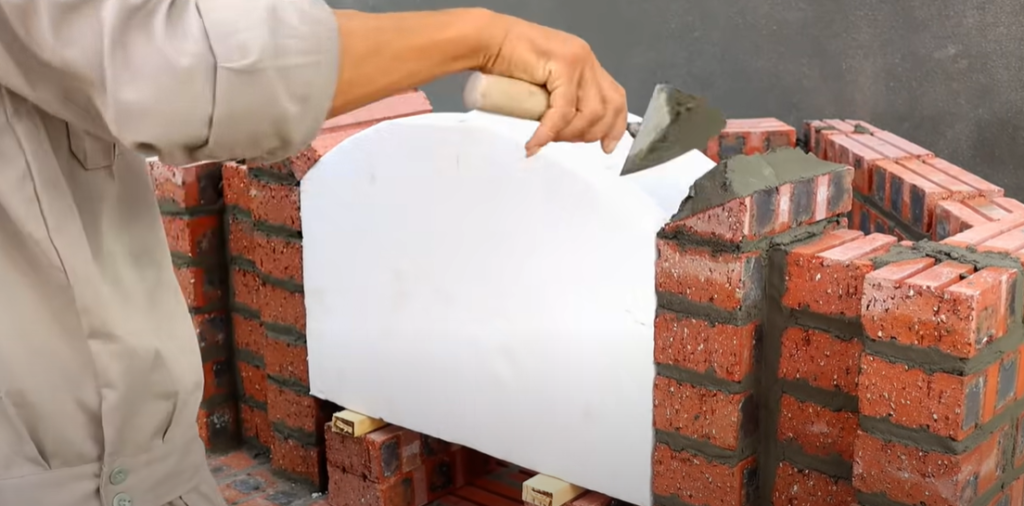 Step 3: Prepare a foundation
Once you have found the perfect spot for your outdoor fireplace, it's time to prepare a solid and level foundation. This will ensure that the structure is stable, secure, and able to resist moisture damage. You can use concrete blocks or poured concrete for this step.
Step 4: Install the firebox
The next step is to install the firebox of your outdoor fireplace. This component should be crafted from masonry materials such as concrete blocks, brick, stone, or stucco. Be sure to follow all instructions provided with your specific product to ensure a secure installation that adheres to local codes and regulations.
Step 5: Build a chimney
A chimney is essential for any outdoor fireplace to properly vent smoke and other hazardous gases. Make sure that the chimney is built higher than the roof of any nearby buildings and sufficiently high enough to clear trees or other structures. It should also be angled away from the prevailing winds to prevent smoke from blowing into your living area.
Step 6: Install a spark arrestor
A spark arrestor is an important safety feature that helps keep sparks, embers, and other debris from leaving the firebox and entering your outdoor area. Installing a spark arrestor will also help reduce maintenance as it prevents ashes and soot from collecting on nearby surfaces.
Step 7: Add finishing touches
Once all of the major components are installed, you can begin adding the finishing touches to your outdoor fireplace. This may include mortar, grout, and sealant for a better-finished look as well as additional accessories such as fire screens or wood holders. You can also add decorative elements like stone veneer or tile around the base of the structure.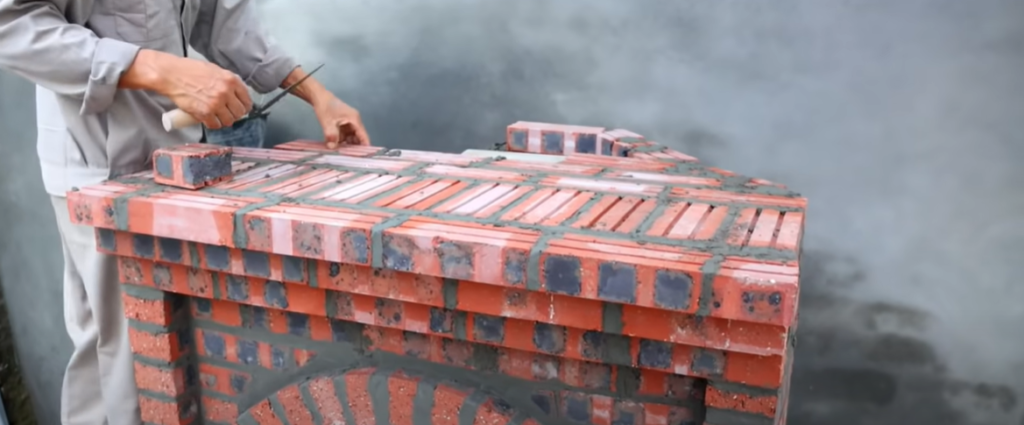 Step 8: Enjoy your outdoor fireplace
Once all of the necessary components are in place, you can begin using and enjoying your outdoor fireplace! Be sure to follow safety protocols such as never leaving a fire unattended and keeping combustible materials at least three feet away from the flames. With regular maintenance and care, your outdoor fireplace should provide you with many years of enjoyment [3].
How to Build a Fireplace in a Corner?
Building a fireplace in the corner of your home can be a great way to create an inviting atmosphere and add value to your property. To get started, you'll need to determine the size and shape of your desired fireplace, as well as what type of materials you want to use. Once these decisions have been made, it's time to start planning and building.
The first step is finding the right location for your new fireplace. You'll want to measure out the space in your house where you plan on installing the fireplace so that it fits perfectly within the corner area. It's also important to ensure that any electrical or gas lines are far enough away from the proposed spot so they won't be affected by the heat of the fire.
Next, you'll need to construct a frame for your fireplace using wood or metal materials like steel beams. This will provide structure and support for the fireplace, allowing it to withstand temperatures up to 1500 degrees Celsius. You can also find prefabricated frames that are specifically designed for corner fireplaces at most home improvement stores.
With some careful planning and attention to detail, you can create a beautiful corner fireplace that will be enjoyed for many years to come. Just remember to take all necessary safety precautions when working with fire and heat-producing appliances, like having a smoke detector nearby at all times.
Stylish Outdoor Fireplaces That Will Keep You Toasty All Night
Bring in a Midcentury Mood
If you're looking to create a midcentury modern outdoor space, some key pieces will help set the tone. A stylish outdoor fireplace should be at the top of your list. These fireplaces come in all shapes and sizes, so it's easy to find one that suits your style — whether you're going for sleek and minimalist or classic with plenty of character. Not only do they add warmth on cold nights, but they also bring a touch of drama to your outdoor area.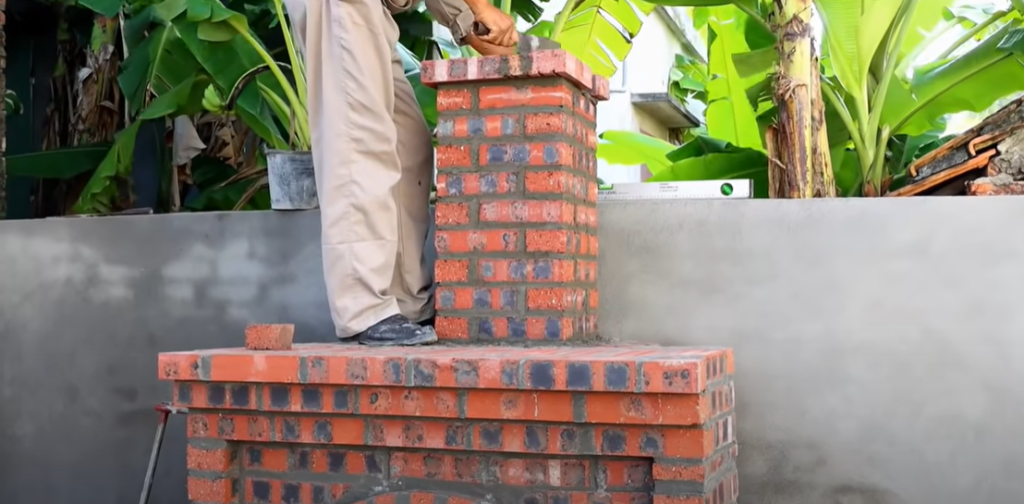 Go Rustic with a Traditional Chimney
A traditional chimney is an iconic way to heat up an outdoor space. This type of fireplace creates a rustic atmosphere and makes for a great conversation piece when you're entertaining guests outdoors. If you're looking for something a little more low-key, there are plenty of smaller versions with the same warm and cozy vibe.
Fuel Up with a Fire Pit
If your outdoor space is on the smaller side, then going with a fire pit might be the way to go. It'll heat up your area quickly and provide enough warmth to keep you comfortable through those chillier evenings. Plus, it doubles as an elevated table for snacks or drinks when you don't need any extra heat. There are lots of great design options too — from sleek modern styles to classic copper designs that add a touch of elegance.
Showcase Multiple Materials
If you're looking for something that stands out, then consider using multiple materials to create your outdoor fireplace. Combining stone and brick or metal and wood can give a unique flair to your space. Plus, mixing materials allows you to get creative with the design — think of herringbone patterns or geometric shapes. With so many options available, it's easy to find the perfect look for your outdoor area.
Separate Your Spaces
Having an outdoor fireplace can help you create two distinct areas in your backyard. You can place one side of the fireplace near a seating area for entertaining and the other side toward a dining space — which is great if you're looking to keep the conversation away from food prep. Or, if you'd like some privacy, use tall plants or walls on either side of the fire to break up the space into separate zones.
Deck Out Your Chimney
Adding a few extra touches to your outdoor fireplace can really transform the look and feel of your space. Try dressing up the chimney with some colorful tiles or patterned stones — this will give it an elevated look without breaking the bank. You can also hang plants from either side like ivy or wisteria for a lush, natural touch. With these tips in mind, you're sure to create a stylish and inviting outdoor area that will keep you cozy all night long.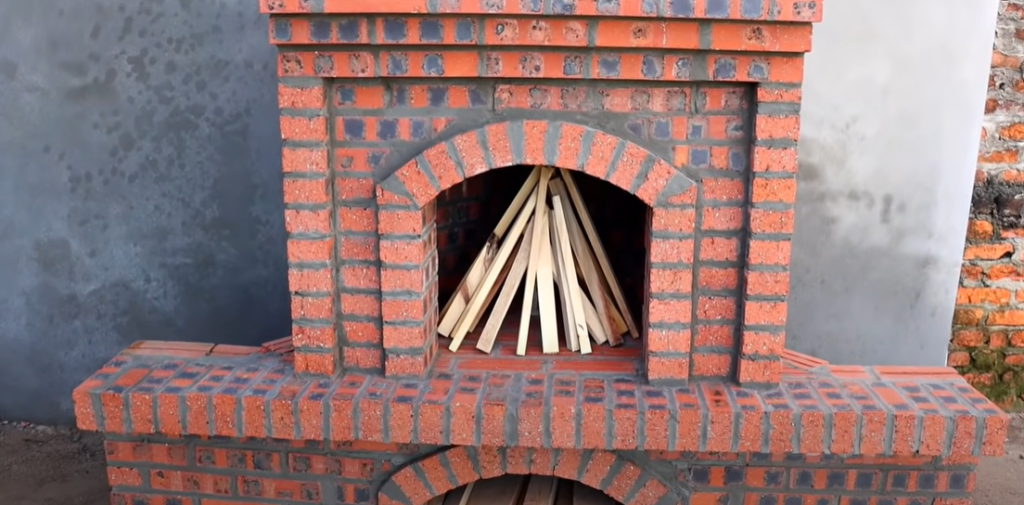 Design It Up with Gas Fireplaces
If you'd prefer something more contemporary, then a gas-powered fire feature might be just what you need. This type of fireplace is generally easier to install than traditional ones and doesn't require as much maintenance. Plus, you can choose from a wide range of styles — from modern geometric shapes to classic brick designs.
Choose Colorful Tiles
Adding colorful tiles to your outdoor fireplace can instantly turn it into a show stopping feature. Try sticking with one color for the entire design, or mix and match different hues for a playful look. You can also opt for patterned tiles that add texture and depth to your outdoor area. Whatever style you decide on, colorful tiles will help make your outdoor fireplace stand out — especially when paired with cozy seating and flickering flames.
Infuse Some Spanish Flair
If you want to add a bit of European flair to your outdoor area, then consider going for an old-world-style fireplace. This type of design is usually made with terracotta tiles and intricate details like carvings or decorative archways. It's perfect for those who want to create a romantic atmosphere in their backyard — just add some string lights and comfy seating, and you're all set!
Light It Up
Adding lighting around your outdoor fireplace can help create a cozy ambiance that will keep your guests coming back for more. Accent lights are great for highlighting the chimney, while ambient lighting can make it easier to find your way around after dark. You can also opt for candles or fire pits to add some extra warmth and light.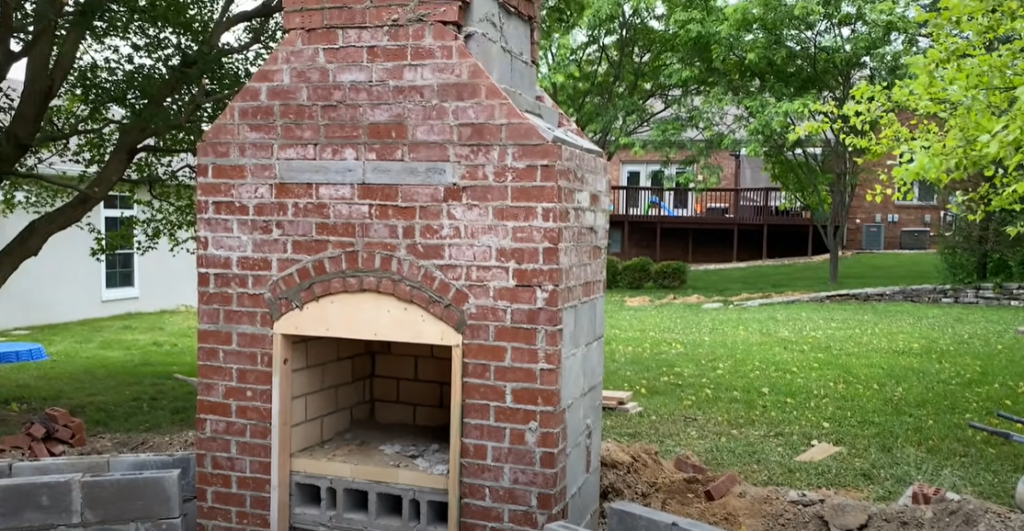 Create a Cozy Vibe
When you gather around an outdoor fireplace, it creates an inviting atmosphere that's perfect for relaxing conversations. Make sure to include comfy seating like armchairs or benches — this will encourage people to linger longer. You can also add some throw blankets and pillows in vibrant colors or cozy textures like velvet and sherpa  – this will help make the space even more inviting.
Make a Modern Rooftop Retreat
Having a rooftop outdoor fireplace is the perfect way to make your space stand out. This type of design usually includes sleek and modern materials like metal, glass, and concrete. You can also choose dramatic colors like deep blues or emerald greens to really make your fireplace pop. With its streamlined look, you'll be able to create a chic spot for entertaining – all while taking in stunning views of the city skyline.
Go Green with Your Fireplace
If you want to add an eco-friendly touch to your space, then why not consider using recycled materials for your outdoor fireplace? This will help reduce waste and give it a rustic charm that's sure to impress. You can use brick or stone from old buildings, repurpose old logs and branches, or even incorporate items like bicycle wheels for a truly unique look. And don't forget to add some plants around your fireplace — this will help soften the design and make it more inviting.
Introduce an Eclectic Fire Pit
For a modern take on the traditional outdoor fireplace, why not opt for an eclectic fire pit? This type of design usually includes interesting materials like metal and ceramic, as well as bright colors that make it stand out. You can also add some unique accent pieces to give it a one-of-a-kind vibe. With its bold and daring look, an eclectic fire pit is sure to be the focal point of your backyard get-togethers [4]!
FAQ
Can you use brick for an outdoor fireplace?
Yes, you can use brick for an outdoor fireplace. Brick provides a classic and natural look to any outdoor living space, as well as providing extra heat protection from the flames. Additionally, it is durable and long-lasting against the elements like rain or snow. However, when using brick for an outdoor fireplace, make sure all bricks are installed properly and sealed with weatherproof sealant to prevent moisture damage. Also, be sure to follow local building codes to ensure your project is up to code.
What are some common types of bricks used for fireplaces?
The most popular type of brick used for fireplaces is refractory brick, which can withstand the high temperatures associated with a fireplace. Other materials commonly used include concrete, sand-lime brick, and clay brick. When selecting a type of brick for your fireplace, consider the size, color, and texture that best fits the design scheme of your outdoor space. Additionally, be sure to check with local building codes to ensure you are using approved materials for your project.
Are there different types of mortar suitable for fireplaces?
Yes, several types of mortar can be used for fireplaces. The most common type is the refractory mortar which is designed specifically for use in high-heat applications like fireplaces. It is made from a blend of Portland cement and other ingredients designed to protect against heat transfer and chemical or physical breakdown due to temperature changes. Other types commonly used for fireplaces include masonry cement and cement-lime mortar. When selecting a type of mortar, be sure to consider the application and local building codes before purchasing.
How much does it cost to put a brick fireplace outside?
The cost of building an outdoor brick fireplace will depend on the size, material used, and labor involved. Generally, a basic outdoor fireplace can cost anywhere from $500 to $5000 or more depending on all factors mentioned above. Additionally, you should factor in any extra materials such as mortar and weatherproof sealant that may be needed to complete your project. It is also important to note that hiring a professional contractor for this type of work carries its associated costs, which should also be factored into your budget.
Are there other materials I can use for an outdoor fireplace?
Yes, several other materials can be used for an outdoor fireplace. Common alternatives include natural stones like flagstone or granite, as well as manufactured materials like bricks or concrete blocks. Depending on the look and functionality you desire, there are various options available to provide a unique aesthetic to your outdoor living space. Be sure to do research on the best type of material for your project before making a final decision.
Can you build an outdoor fireplace yourself?
Yes, it is possible to build an outdoor fireplace yourself. However, this type of project can be complex and time-consuming, so it is important to have a clear plan in place before beginning any work. Additionally, you should be aware of local building codes and regulations that may apply to your specific area. If you are unsure about the process or would like some guidance, it is recommended to consult a professional contractor who can help walk you through the steps necessary for a successful outdoor fireplace project.
Are there any maintenance tips for keeping my outdoor brick fireplace looking its best?
Yes! Regular maintenance on an outdoor brick fireplace will ensure that your living space looks its best for years to come. Be sure to regularly inspect the brickwork for any signs of wear and tear, as well as clean away any dirt or debris that has accumulated on the surface. Additionally, applying a weatherproof sealant every few years will help protect your fireplace from potential water damage. Lastly, inspect all components such as vents, flue liners, and dampers to ensure they are in good working order and free of any debris buildup.
Useful Video: HOW TO BUILD AN OUTDOOR FIREPLACE LOW COST CHEAP!!!
Conclusion
Outdoor Brick Fireplaces have come a long way since their inception centuries ago. They are now available in a variety of styles and materials to suit any aesthetic, while still providing the same warmth, comfort, and ambiance that they did years ago. With careful planning and consideration of your needs, an outdoor brick fireplace can be an excellent addition to any backyard or garden setting. Not only will it bring extra warmth and style, but it can also become the centerpiece for many enjoyable evenings spent with family and friends. Investing in an outdoor brick fireplace is sure to be a decision you won't regret!
References:
https://shop.vitcas.com/blog/the-only-guide-you-need-on-how-to-build-an-outdoor-fireplace.html
https://www.arizonatile.com/how-to-clean-and-maintain-your-outdoor-fireplace/
https://www.thespruce.com/building-an-outdoor-fireplace-5086091
https://www.housebeautiful.com/room-decorating/outdoor-ideas/g4403/outdoor-fireplaces/