Are you looking for a fireplace that will bring a touch of luxury and warmth to your home? If so, consider installing a recessed fireplace. Recessed fireplaces are the perfect way to add an elegant yet functional element of style to any room in your home. Not only can you find one with ease, but also you'll be able to customize it with different materials and colors for whatever look fits your needs. Whether you want something modern or traditional, gas or electric – this post has all the information on recessed fireplaces that will help you create exactly what you're after! Read on and get inspired by these gorgeous ideas!
What Is a Recessed Fireplace?
A recessed fireplace is a type of fireplace set into the wall, creating an enclosed space for burning firewood. The design allows for efficient heating and an aesthetically pleasing look as it fits seamlessly into any room's décor. They are typically made from metal or stone materials and can be built in different sizes, styles, and finishes to meet your needs. Due to their sleekness, recessed fireplaces are often used in modern homes as a statement piece or focal point. In addition to bringing warmth and beauty to the home, they also provide more safety than traditional open fireplaces due to their ability to enclose the burning wood. [1]
Recessed Fireplace Ideas
Jungle Tile Fireplace
Creating a jungle-like feel in your living room with a recessed fireplace can be done with the right tile. Stone, slate and ceramic tiles are ideal for this purpose because they come in various shapes and sizes to allow you to create a unique look. Choose from earthy tones like greens, browns, and oranges or bright colors like turquoise, yellow, and pink to make what will become the focal point of your room. Adding accents of gold or brass can take it up a notch for an even more exotic look.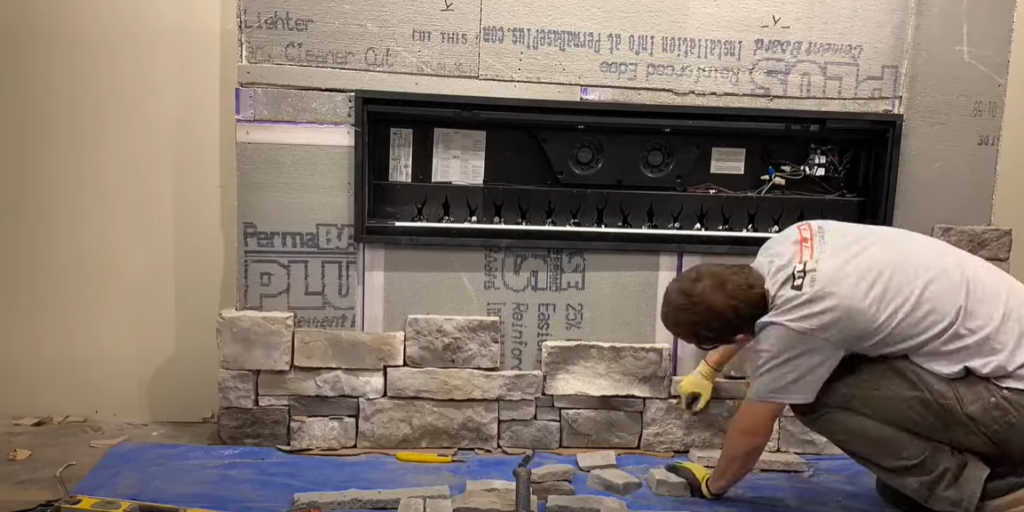 Matching Moody Fireplace
Create a luxurious and modern look with a matching recessed fireplace and wall paneling. This is ideal for those who want to create an elegant atmosphere while still incorporating the warmth of a fireplace. Choose darker tones like navy, black or even charcoal gray for the wall panels and choose marble tiles or slate for the fire surround to complete the look. Accent pieces such as glass hurricanes filled with candles can also help to bring out this moody design.
Sunburst Fireplace
Bring the outdoors in with a sunburst fireplace design. Select tiles that have floral designs or images of the sun to create this classic look. Choose colors such as yellow, orange, blue, and green to really make it stand out. For an extra touch of luxury, consider adding gold accents throughout the design to really draw attention to your recessed fireplace.
Retro Fireplace
If you're looking for a retro feel in your living room then recessing your fire is the perfect way to go. Tile examples such as penny rounds and Art Deco shapes will be ideal for this style. Match these with bright colors like red, blue or green and add some vintage accessories like brass sconces or metal light fixtures for an even more retro look. With a few simple touches, you can create the perfect atmosphere for entertaining and relaxation. [2]
Minimalist Fireplace Design
If you're looking for a modern and minimalistic option, try a recessed fireplace with natural stone surround. This design is perfect for the contemporary living room as it maximizes space while adding a touch of style. A sleek black or white marble border will add an air of sophistication to any room, and you can easily accessorize the mantelpiece to fit your unique aesthetic. You can also use this design as an opportunity to install built-in shelving around the firebox, which is ideal for displaying books, trinkets, or photographs.
Mirrored Fireplace
A mirrored fireplace is an elegant way to draw attention to your recessed design. Choose a large, decorative mirror to hang above the firebox and reflect the light in the room. You can also choose a small circular or oval mirror as an accent piece, adding another layer of contemporary style. The mirrored look will add a touch of glamor while enhancing the size and depth of the space.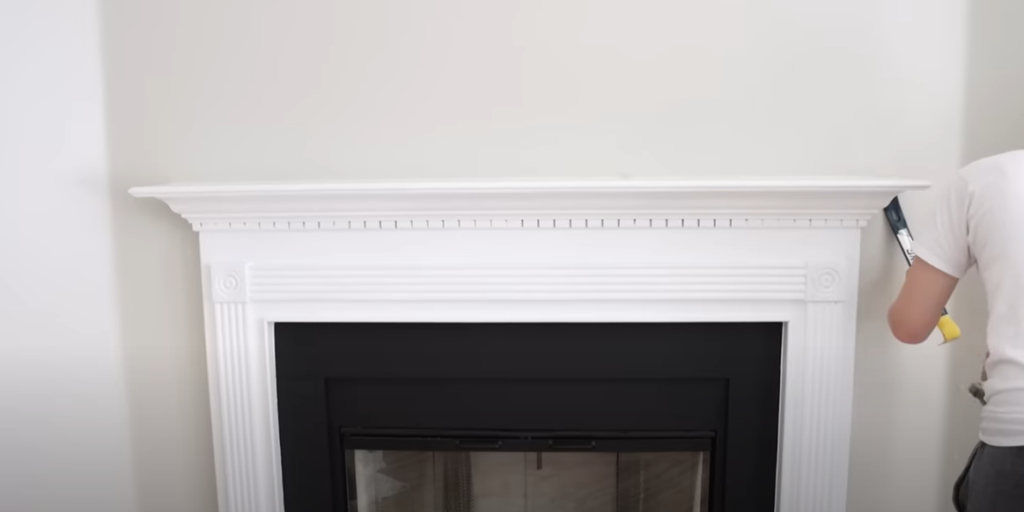 Gas Fireplace Inserts
If you're looking for a modern, low-maintenance option, gas fireplace inserts are an excellent choice. These devices are designed to fit into existing fireplaces without having to make any major modifications. They provide efficient heating with no mess and minimal upkeep involved. Plus, they come in various sizes, styles, and finishes so you can find one to fit your home's existing decor.
All-White Mantel
If you want to add a touch of light and airiness to your recessed fireplace, choose an all-white mantel. This design is perfect for modern homes as it creates a crisp and clean look that won't overpower the rest of the room. Choosing white as a dominant color in your space makes it easy to add either bold or subtle decor pieces, giving you the flexibility to personalize your space.
Glossy Black Fireplace
For a bolder option, you can install a glossy black fireplace in your recessed design. This look is perfect for contemporary homes and will give the room an edgy and modern feel. The black color also helps to create a focal point in the space, drawing attention to the fireplace as soon as someone enters the room. Plus, it's easy to decorate around this striking feature too! [3]
Jet Black Marble Fireplace
For a luxurious and refined look, you can install a jet black marble fireplace. This design will make any room feel more upscale and elegant while also adding an air of sophistication. Plus, the dark stone will contrast beautifully with lighter colors in the space, creating an eye-catching focal point that will be sure to draw attention.
Bookshelf Fireplace
A bookshelf fireplace is the perfect way to add a unique touch to any room. It is the ultimate combination of style and functionality, creating a cozy atmosphere while still giving you extra storage space. Recessed fireplaces are especially great for book lovers as they give you the opportunity to display your favorite volumes in an interesting way.
Coral Gables Chic Fireplace
For a more modern look, the coral gables chic fireplace is the perfect choice. This sleek and stylish fireplace features recessed walls that provide extra depth and visual interest. The minimalist design allows it to blend in with any decor, while the LED technology creates a gentle glow.
Grand Harlem Fireplace
For a truly luxurious look, the grand Harlem fireplace provides the perfect amount of sophistication and charm. This beautiful design is constructed from solid wood and has an elegant marble finish. The recessed walls are adorned with intricate carvings that add a touch of timeless beauty to any room. [4]
Low-Slung Contemporary Fireplace
This low-slung contemporary fireplace is the perfect way to add a modern flair to any room. It features sleek lines and recessed walls that provide an interesting visual contrast. The muted color palette and simple design make it easy to integrate with any decor, while the gas fire provides a cozy atmosphere.
Basketweave Tile Fireplace
For a unique and eye-catching design, the basketweave tile fireplace is a great option. This distinctive fireplace features recessed walls that are covered with intricate tile mosaics for an interesting look. The subtle colors add a touch of warmth and elegance to any room, while the gas fire creates a cozy atmosphere.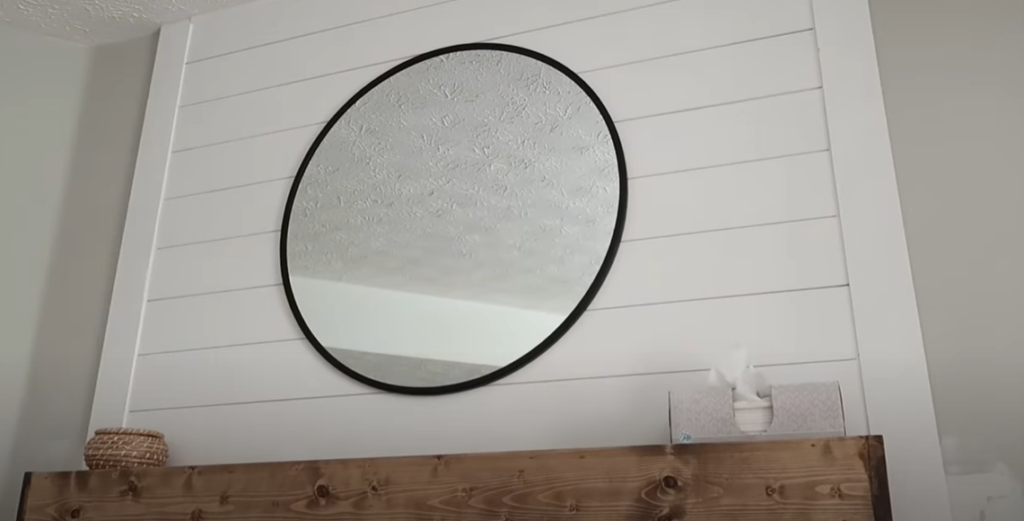 Benefits of Recessed Fireplaces
Recessed fireplaces offer a number of advantages over traditional fireplaces. For starters, they are much easier to incorporate into the overall design of your room. Since they are recessed into the wall and don't stick out like a traditional fireplace, they fit in more seamlessly with existing furniture and architecture.
Another benefit of recessed fireplaces is that they require less maintenance than other types of fireplaces. Most recessed designs feature glass panels which make them easier to clean and maintain. Recessed fireplaces also tend to be safer because there is no open flame or hot surfaces exposed, making them ideal for homes with small children or pets.
Finally, recessed fireplaces tend to be more energy efficient than traditional models because the heat is trapped within the wall and doesn't escape out of the chimney like it would with a standard fireplace. This makes them great for those wanting to save money on their heating bills while still enjoying the ambiance of a real fire!
With so many benefits, it's no wonder why recessed fireplaces are becoming increasingly popular among homeowners looking to bring style and comfort into their homes.
What Is The Difference Between Recessed And Built In Fireplace?
The main difference between a recessed and built-in fireplace is that a recessed fireplace is set into the wall, while a built-in fireplace is more like an insert that sits in front of the wall. This means that with a recessed fireplace, you can enjoy larger flames, as well as greater heat output and efficiency.
With recessed fireplaces, most of the flue or chimney pipe will be hidden behind the wall, allowing for a cleaner look. On the other hand, built-in fireplaces require more room depth and often come with visible pipes or vents which may not blend in with your décor. Additionally, when installing a built-in fireplace you need to consider how much space it will take up in the room, as it may become a focal point of the space. [5]
Recessed fireplaces offer more options for customization, such as different materials and styles, so you can find the perfect one to match your home's interior design. Plus, recessed fireplaces also tend to be more energy efficient due to their ability to draw air from outside rather than inside the home. However, built-in fireplaces are usually easier to install and maintain because they have less parts compared with recessed fireplaces.
No matter which type of fireplace you choose, both will help add warmth and ambiance to any home. When deciding between a recessed or built-in fireplace, think about what kind of look you want to achieve and how much maintenance you're willing to do. With the right fireplace, you can create an inviting atmosphere that everyone can enjoy.
FAQ
What can you do with a fireplace recess?
A fireplace recess can be used to add a warm, inviting atmosphere to any living space. With a variety of styles and materials available, you can use the recess to create a stunning focal point in your home. Whether it's a sleek and stylish modern design or an old-fashioned, rustic look, recessed fireplaces are sure to add character and charm to any room.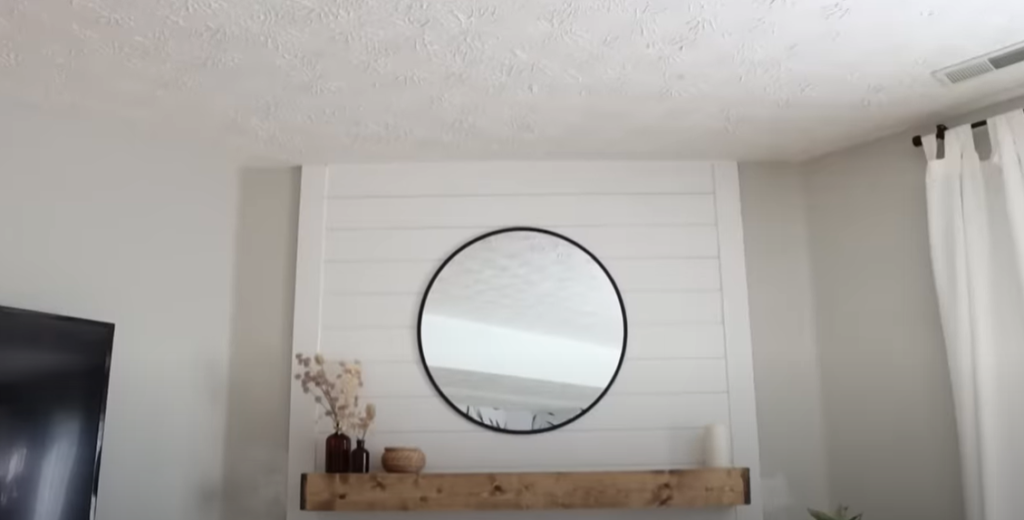 What are some ideas for decorating around a recessed fireplace?
There are many different ways to decorate around a recessed fireplace. Incorporating wall art is one way to draw attention away from the recess and create an eye-catching display. You could also hang curtains or drapes on either side of the recess to give it a more inviting feel. Adding a tile or stone surround can also help to frame the fireplace and pull together the design of the room. Throw pillows, rugs and blankets are great for adding color and texture to your decor, while plants can add life and greenery to the space.
What type of materials should I use when building a recessed fireplace?
When building a recessed fireplace, safety is key. Therefore, it's important to choose materials that won't easily catch fire or emit dangerous fumes. Brick, stone and concrete are all great choices as they are both durable and fire-resistant. Metal frames are another option but these may require additional insulation in order to ensure the area remains safe. When it comes to the actual firebox, make sure it is constructed with non-combustible materials like ceramic tile, steel or refractory panels. Finally, always remember to consult an expert when in doubt about any element of your recessed fireplace.
What type of mantel should I use for a recessed fireplace?
The type of mantel used for a recessed fireplace can really help enhance its overall look and feel. Popular choices include wood, stone and metal mantels – all of which come in a variety of designs that can be easily adapted to match the style of your room. If you're feeling creative, you could even build your own custom mantel using mixed materials such as bricks and wood planks.
What is a recessed fireplace called?
A recessed fireplace is often referred to as a "zero-clearance" fireplace, because it can be safely built into tight spaces without the need for additional space such as a hearth or mantel. It can also be installed in an existing wall, taking up little to no room. Because of their design, recessed fireplaces provide an efficient and stylish alternative to traditional fireplaces and are popular among homeowners who want an updated look with greater energy efficiency. When choosing a recessed fireplace, there are several factors that must be taken into consideration. The size and shape of the unit will depend on the available area within your home, as well as its desired purpose – whether you plan to use it solely for aesthetic purposes or for heating the room. Additionally, you should consider the type of fuel used – either gas or electric – and whether it will have a fan to circulate heat. Finally, you must think about the safety features included in your new fireplace, as well as any venting requirements that may be necessary.
What to put in fireplace ideas?
A recessed fireplace can add a cozy and inviting feel to any room, but without the right elements in place, it can often look incomplete. To make the most of your recessed fireplace setup, consider adding some unique design elements like mantel shelves, a fireplace screen and even a fireback decor. Mantel shelves are great for displaying photographs, candles or treasured decorations. A decorative fireplace screen is also an excellent way to add visual interest around the firebox. Finally, you may want to consider adding a fireback — an ornamental piece that sits at the back of the firebox — as well as other accessories like logs and fire starters to complete your cozy look.
What is the trend in fireplaces?
Today, the trend in fireplaces is leaning towards modern, minimalist designs. This includes a focus on sleek lines, open views, and simple materials such as metal or glass to make them blend into their surroundings. Recessed fireplaces are a great way to go with this trend since they can be tucked away and are still visible from all angles of the room. Other popular trends include bioethanol fireplaces which don't require any ventilation or gas lines and can add an extra touch of ambiance to any space. Additionally, electric fireplaces are becoming increasingly popular due to their convenience and energy-efficient design. No matter what your style may be, there is sure to be a recessed fireplace option that fits perfectly into your home.
Useful Video: Unboxing & Installing • Wall Mounted Fireplace
Conclusion
Recessed fireplaces are a great way to add style and warmth to any home. They can be used as a focal point for entertaining or simply for providing comfort during those cold winter evenings. With the wide variety of styles, colors and materials available, homeowners have plenty of options when it comes to transforming their existing space into something special with a recessed fireplace. Installation is relatively simple and can often be done by a trained professional in just a few hours. Homeowners should consider all of their options before making a decision on which recessed fireplace best suits their needs. With the right design, installation, and maintenance, recessed fireplaces can offer years of enjoyment and warmth.
References:
https://www.houzz.com/photos/query/recessed-fireplace
https://foter.com/electric-fireplace-wall-unit
https://ledhomedecors.com/products/40-recessed-electric-fireplace
https://jenron-designs.com/installing-a-recessed-custom-build-fireplace/
https://jennakateathome.com/built-ins-around-fireplace-ideas/