Are you looking to add a touch of timeless mid-century modern style to your home's interior design? Whether you have an existing fireplace or are starting from scratch, incorporating one of the unique Mid-Century Modern Fireplace Ideas will be sure to add character and charm. These pieces offer classic styles with unique curves, lines, shapes and colors that can give your living space a fresh new look. From cozy corner fireplaces with clean lines, to wall mounted options that provide extra storage and efficiency – there is no shortage of possibilities when it comes to enchanting fireplace designs. We've gathered some inspiring ideas so you can explore the many ways these modern masterpieces can become the focal point in any room!
What Are Mid-Century Modern Fireplaces?
The Mid-Century Modern fireplaces are a distinct type of fireplace that draws inspiration from the modern design style of the mid-1900s era. These fireplaces feature sleek lines, minimal decoration, and a focus on function over form. The look is perfect for those who want to create a modern and stylish space without going overboard with decorations or accessories. Mid-Century Modern fireplaces come in a range of materials, including stone, brick, ceramic tile, and even metal. They also come in different sizes and shapes, so you can find the perfect one for your space.
For your Mid-Century Modern fireplace design, aim for simplicity and minimalism. Choose clean lines and neutral colors that blend with the existing aesthetic of your home. You may want to add a few decorative elements, such as plants or artwork, to complete the look.
The size of your Mid-Century Modern fireplace will depend on the size of your space and how much heat you need it to generate. If you have a smaller area, you may want to opt for a smaller-sized fireplace, while larger spaces can accommodate larger fireplaces. You should also consider the height of your ceiling when selecting the size of your fireplace.
Finally, don't forget to think about safety when designing your Mid-Century Modern fireplace. Make sure that it is not placed too close to furniture or other items and that it is properly ventilated so that smoke and carbon monoxide gasses do not accumulate in your home. Taking these steps will ensure that you have a safe and efficient fireplace that brings both warmth and style to your living space. [1]
These tips will help you create a Mid-Century Modern fireplace that is perfect for your home.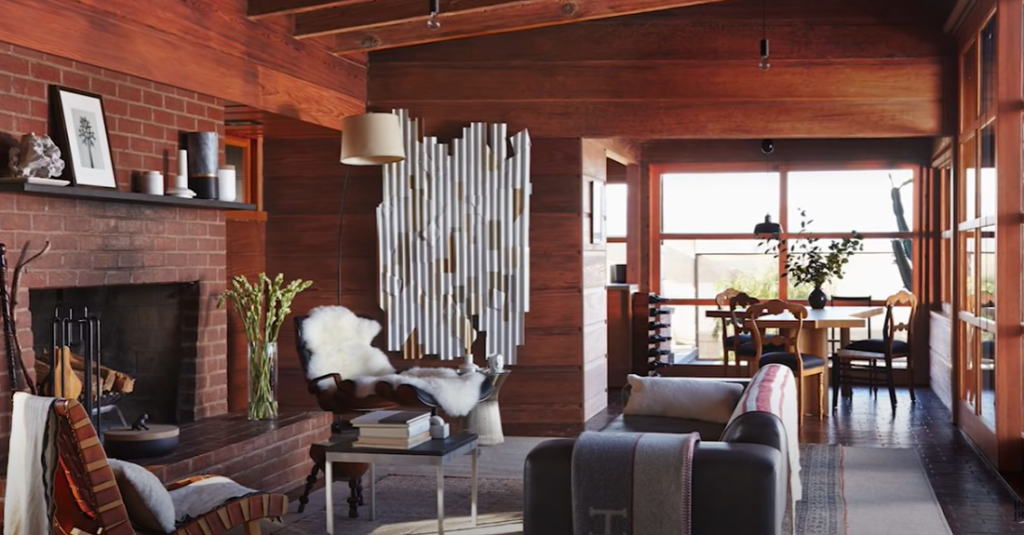 Should You Get a Mid-Century Modern Fireplace?
Mid-century modern fireplaces can give any room a timeless and contemporary touch. They are an excellent option for those who want to embrace the classic mid-century style while also enjoying the warmth and coziness of a fireplace. But before you dive in, it's important to consider all of your options and understand the pros and cons associated with this type of fireplace.
Mid-century modern fireplaces are beneficial as they require less maintenance than traditional wood or gas burning fireplaces. They function on electricity or natural gas, which makes them easier to maintain. This makes them much easier to operate and clean up after use. Additionally, many modern fireplaces offer adjustable heat settings, allowing you to customize the ambiance and warmth in your home.
You can choose from a range of sizes and shapes for mid-century modern fireplaces to find the one that best suits your space. This will provide you with a perfect design option. They are typically characterized by simple lines and classic materials like wood and stone which give off an inviting, yet sophisticated look. 
Moreover, electric fireplaces can be installed almost anywhere, while gas burning options offer realistic flames that can provide a more traditional fireplace feel. [2]
Mid-Century Modern Fireplace Ideas
Ramp Up Contrasts
If you're a fan of Mid-Century Modern style, then you know that contrast is key. From color to texture, everything should be sharp and eye-catching. Therefore, when it comes to your fireplace, ramp up the contrasts with bold colors and textures. Choose a bright white mantle or accent wall against dark Black slate surrounding the firebox. Use materials like natural stone or ceramic tile for maximum impact.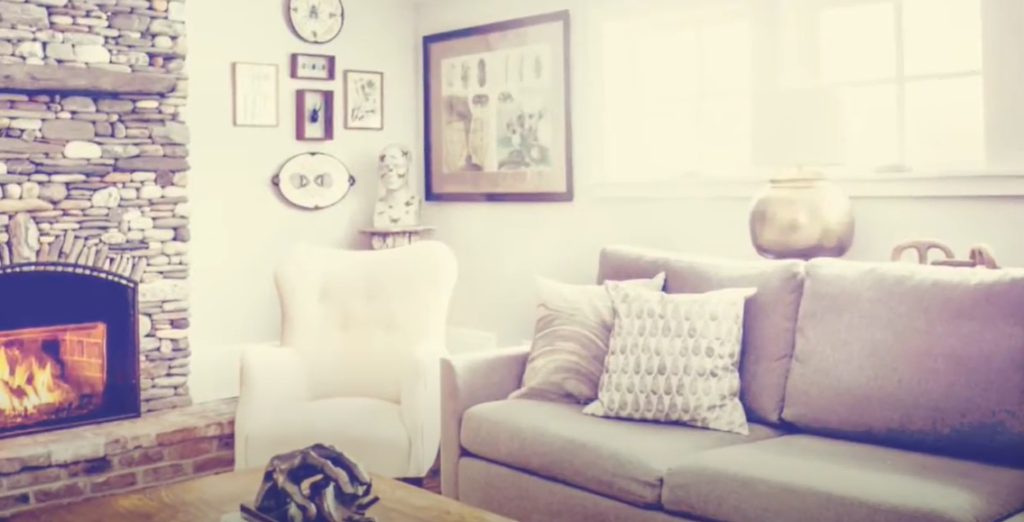 Add Eye-Catching Artwork
When selecting artwork for your Mid-Century Modern fireplace, go for something large and eye-catching. Look for abstract art with geometric shapes and stark lines to bring out the best in the space. Avoid anything too busy or distracting as this will take away from the intended focus of the room. Consider mounting a large piece on the wall above the mantel or using it as an accent in front of the firebox.
Infuse Rustic Charm
If you're looking to add a bit of rustic charm, then look no further than vintage wood. Reclaimed lumber or barn wood can bring the outdoors in and create an inviting atmosphere. To give it an even more modern spin, choose light-colored woods such as driftwood for the mantel and distressed dark woods for the surround.
Add A Splash Of Color
If you're looking to really add some vibrancy to your Mid-Century Modern fireplace, then look no further than accent tiles. Choose vibrant colors such as turquoise or orange and incorporate them into the design of the surround. You can also use them as a focal point in front of the firebox for maximum impact. [3]
Incorporate Shelving Units
For a truly unique take on the Mid-Century Modern fireplace, incorporate shelving units into the design. Choose angled shelving or floating shelves and use them as an accent against the wall or around the firebox. This will not only increase your storage options but also add an extra layer of interest that's sure to capture attention.
Skip The Mantel
Sometimes less is more and that applies to Mid-Century Modern fireplaces as well. If you're looking to create a sleek and minimalistic design, then skip the mantel all together. This will give the space an open feel while still creating a focal point in front of the firebox.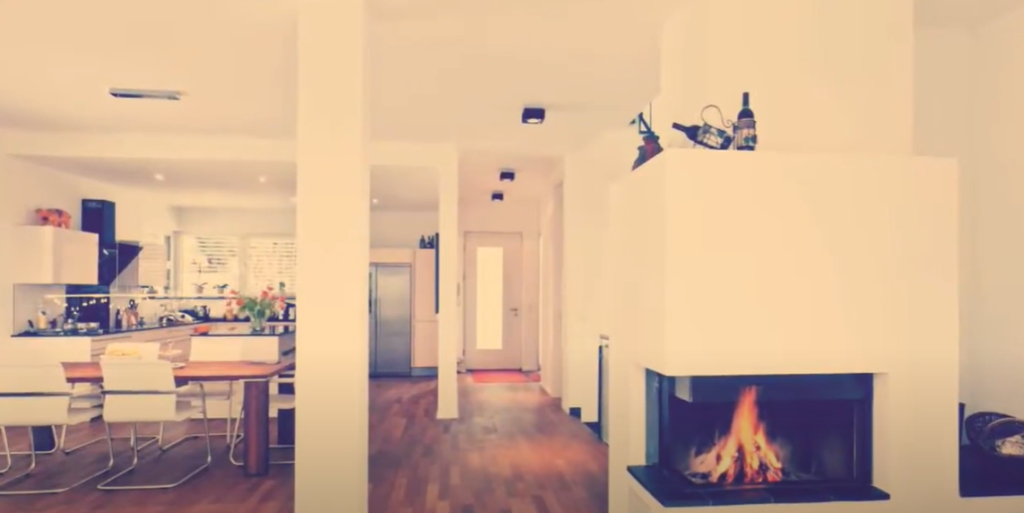 Soothing Neutrals
If you're looking for a timeless fireplace design, neutral tones are always in style. Mid-Century Modern fireplaces feature calming shades of white, beige and gray, plus materials such as marble or stone that reflect the light and give any room a warm glow. For an even more eye-catching look, try adding black accents such as tile trim around the fireplace opening or an ornate framed mirror above it. You can also create interest by highlighting architectural details like built-in bookshelves or recessed lighting with accent tiles. Whatever look you choose, neutrals will provide a peaceful backdrop to your cozy space.
Use A Double-Sided Fireplace As A Divider
A double-sided fireplace is an ideal choice for those who have a large, open-concept space and need to define different areas. This type of fireplace can be installed between two rooms, such as the living room and dining room, providing both with a cozy atmosphere. Or you can use it as a partition between the kitchen and family room. Choose from materials such as brick, stone or tile for your surround, then add some flair with modern art pieces mounted on either side of the firebox. [4]
Go Green With A Biofuel Fireplace
Biofuel fireplaces are a great way to create an eco-friendly Mid-Century Modern look in your home. These fireplaces burn bioethanol fuel which is carbon neutral and produces no smoke or soot. They come in a variety of styles, from wall-mounted to freestanding and even tabletop varieties. You can also find them in any material you'd like, from stainless steel and glass to stone and concrete. With no chimney required, they are easy to install and maintain. Plus they make a beautiful addition to any room!
Steal Danish Design Elements
The Mid-Century Modern era was heavily influenced by Danish design. To add a touch of this style to your fireplace, look for simple, geometric shapes and clean lines. A traditional brick or stone surround can be transformed with the addition of sleek metal trim or a minimalist mantelpiece. You can even go one step further and use wood paneling to create an entire wall around your firebox. Then accessorize with vintage accessories like art prints and sculptural pieces to complete the look.
Melwood Fireplace
The Melwood fireplace is a classic Mid-Century Modern design that consists of a large, rectangular firebox surrounded by an angular mantelpiece. This style was popularized in the 1950s and remains an all-time favorite today due to its bold yet minimal look. It's easy to install, with prefabricated kits available for those who want to DIY. To give your Melwood fireplace a modern twist, try adding glossy white tile or stone around the firebox opening and along the length of the mantelpiece. Or go for something truly unique by painting the entire structure in one eye-catching color!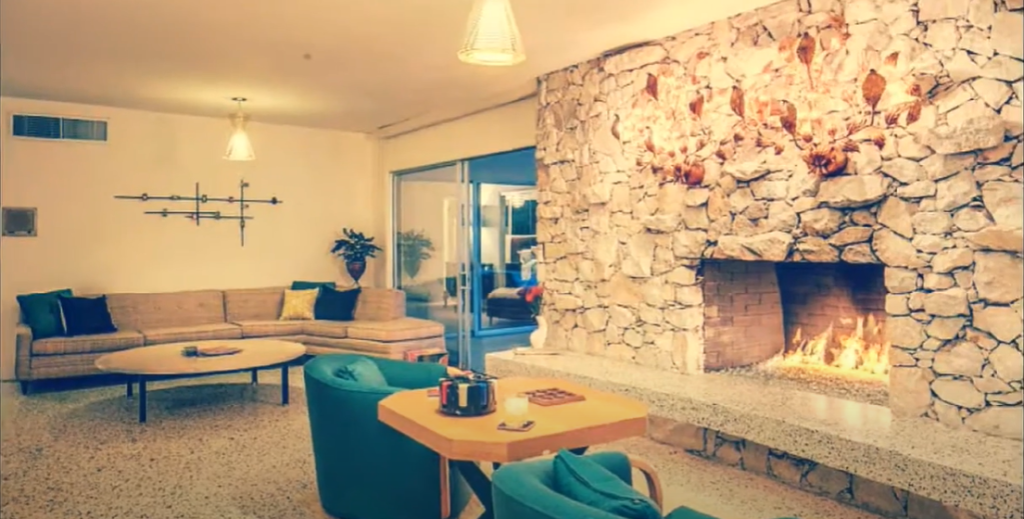 Willow Oak Gas Fireplace
The Willow Oak gas fireplace is a stunning example of Mid-Century Modern design. This model features an oak mantelpiece with an arched top and distinctive tapered legs. The firebox is surrounded by painted black steel, creating a bold contrast that will stand out in any room. For an even more dramatic look, you can add on optional decorative ceramic tiles to the surround. This fireplace also has a convenient remote control feature so you can enjoy your roaring fire from the comfort of your favorite armchair!
Gray Wood TV Electric Fireplace
If you're looking for a modern take on the traditional fireplace, then look no further than the Gray Wood TV Electric Fireplace. This sleek model has a large firebox framed by contemporary angled wood panels. The whole unit is painted in a rich gray color that will complement any décor. Plus this electric fireplace comes with an adjustable thermostat so you can control the temperature and make your space as cozy as possible. Hang a flat screen TV above it to complete the look! [5]
Bio-Ethanol Fireplace
Bio-ethanol fireplaces are a great way to get the look of a real wood burning fire without any of the smoke or soot. This type of fireplace burns bio-ethanol fuel, which is carbon neutral and produces no emissions. Plus it's easy to install with no chimney required! For an extra touch of Mid-Century Modern style, choose one with a sleek steel frame and modern art pieces mounted on either side of the firebox. You can also find ones that come with built-in shelves or storage space for added convenience.
Recessed Wall-Mounted Fireplace
A recessed wall-mounted fireplace is a great way to add warmth and ambiance to any room. This type of fireplace is typically mounted into the wall, creating a built-in look that will fit seamlessly into your Mid-Century Modern décor. The firebox can be set at any height for maximum convenience and the perfect view of your flickering flames. Plus you can choose from a variety of styles, including ones with sleek metal trim or natural stone surrounds.
Direct Vent Fireplace Insert
For those who are looking for a more energy-efficient option, the direct vent fireplace insert is an excellent choice. This type of fireplace uses a sealed combustion system and vents directly to the outside, eliminating the need for a chimney or flue. It also has several safety features, such as flame height adjustment, automatic shut offs and temperature sensors. For maximum design impact, choose one with clean lines and minimal detailing that perfectly complements your Mid-Century Modern décor.
No matter which style you choose, adding a fireplace to your home is sure to be a great way to add warmth and charm while creating an inviting atmosphere in any room. With so many stylish options available today, it's easy to find one that will fit perfectly into your Mid-Century Modern design scheme. From sleek gas models to energy efficient electric inserts, you'll be sure to find something that will set your home apart from the rest!  So why wait? Get ready to cozy up and enjoy the warmth of a beautiful new fireplace in your home. [6]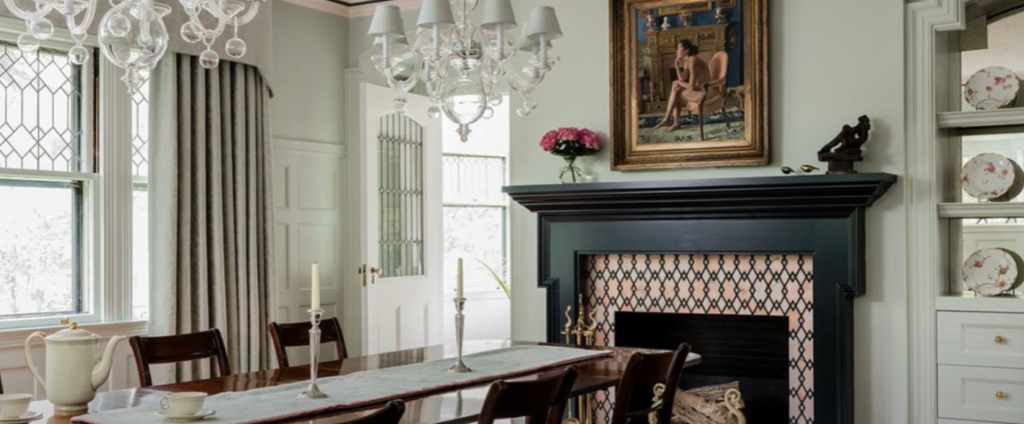 FAQ
What are mid century fireplaces called?
Mid century fireplaces are typically referred to as modern fireplace designs. They often feature a sleek, streamlined look and clean lines, inspired by the architecture of the mid twentieth century.
How do I incorporate a mid-century fireplace into my home?
One way to bring a mid-century look to your home is through the use of materials such as stone, brick, concrete, or tile. Your choice of material will depend on both the style you wish to achieve and practical considerations such as cost and maintenance. Incorporating furniture pieces with angular shapes into your design can also help enhance the vintage look.
What type of fuel should I use for my mid-century modern fireplace?
The most popular fuels used in mid-century modern fireplaces are gas and wood. Gas is often more convenient, as it requires no chopping of logs or other maintenance tasks. However, if you prefer the authentic feel that a wood burning fireplace provides, you can also consider using pellets or electricity as your fuel source.
Are there any unique design elements to consider when choosing a mid-century modern fireplace?
Yes! Mid century fireplaces often feature unique design elements such as geometric shapes, open hearths, and minimalist detailing. Consider adding decorative elements like patterned tile work around the perimeter of the hearth or emphasizing the lines of the mantel with bold colors and patterns in order to add visual interest to your space. Additionally, installing a wall-mounted unit for an ultra-modern look is a great option as well.
What safety measures should I take with my mid-century modern fireplace?
Anytime you are using a fireplace, it's important to take the necessary steps to ensure your family's safety. This includes having regular maintenance performed on the unit and ensuring that all combustible materials are at least three feet away from the firebox. Furthermore, make sure there is adequate ventilation in the room to prevent the buildup of smoke or carbon monoxide. Lastly, never leave a fire unattended or allow children to play near it.
What is the trend in fireplaces?
The trend in fireplaces is leaning towards modern, sleek designs that incorporate architectural elements from the mid-twentieth century. That said, traditional styles are still popular and a great option for those looking to add a classic touch to their home. Additionally, rustic looks have also gained traction as of late due to their warm and cozy vibe.
What is a rococo fireplace?
Rococo fireplaces are a form of mid-century modern fireplace design that features ornate, highly decorative elements. They often feature curved lines and intricate scrollwork along the edges and mantelpiece, as well as sculpted rosettes or shells tucked into corners or around the opening. Popular colors for these types of fireplaces include deep reds, golds, and whites. These designs can create a dramatic focal point and bring unique style to any room in your home.
What do you put in front of a fireplace?
There are many things you can put in front of a fireplace to create an inviting and warm atmosphere. A mantelpiece is the most common choice, as it provides a space to display artwork or photos and will become the focus of any room. You could also opt for a hearth rug that gives a cozy feel and protects your floor from sparks. For added charm, try adding decorative accents such as candles, vases, plants, or baskets filled with books or throw blankets. No matter what items you choose, the key is to keep everything proportional to the size of the fireplace. That way you'll be able to create an attractive arrangement that looks purposeful instead of cluttered.
Useful Video: HOW TO DECORATE MID CENTURY MODERN
Conclusion
Mid-Century Modern Fireplaces are beautiful, timeless pieces of art that can be used to bring an extra layer of style and sophistication to any home. Whether you choose a classic wood burning fireplace or a modern gas insert, incorporating this aesthetic into your home will add a touch of elegance and charm. With the wide range of options available today, there's sure to be something that meets your personal taste as well as your budget. Consider adding a Mid-Century Modern Fireplace to your home for an instant upgrade that adds character and warmth to any space!
References:
https://curatedinterior.com/mid-century-modern-fireplaces/
https://www.loveproperty.com/news/74894/9-ways-to-update-an-old-fireplace
https://www.houzz.com/photos/mid-century-modern-living-room-ideas-phbr2-bp~t_718~s_2115~a_48-21156
https://www.hunker.com/13715658/midcentury-fireplaces-that-are-heating-things-up
https://www.atomic-ranch.com/architecture-design/mid-century-modern-fireplaces/
https://decoratedlife.com/beautiful-mid-century-modern-fireplace-ideas/