When planning for a home update, adding a fireplace can offer comfort and beauty to any room in your home. Coastal interior design places an emphasis on light, airy design choices that evoke feelings of life by the sea – and fireplaces are no exception! Whether it's adding an electric fireplace for ambiance or installing gas and wood burning styles for heat, discover coastal fireplace ideas to improve your home from the inside out. From fashionable farmhouse mantels to charming beach-inspired fire pits, you'll be sure to find inspiration here as we explore our favorite coastal fireplace ideas!
Coastal Fireplace Ideas
Blue and White Striped Rug
A blue and white striped rug is a great way to add a subtle coastal touch to any living room where your fireplace is. This type of rug will bring out the colors in any fireplaces that have accents of blues and whites, such as beachy themed mantels or glass accessories. The natural fibers used in this style of rug can also make it quite durable, ensuring that its nautical vibes will last for years to come.
Seashell Mantel Decor
Adding seashells to your fireplace's mantel will instantly transform it into a beach-inspired focal point. Gather up shells from your own local beaches or purchase them at craft stores for an easy DIY project. You can even use other items like driftwood, coral, and starfish to complete the look. [1]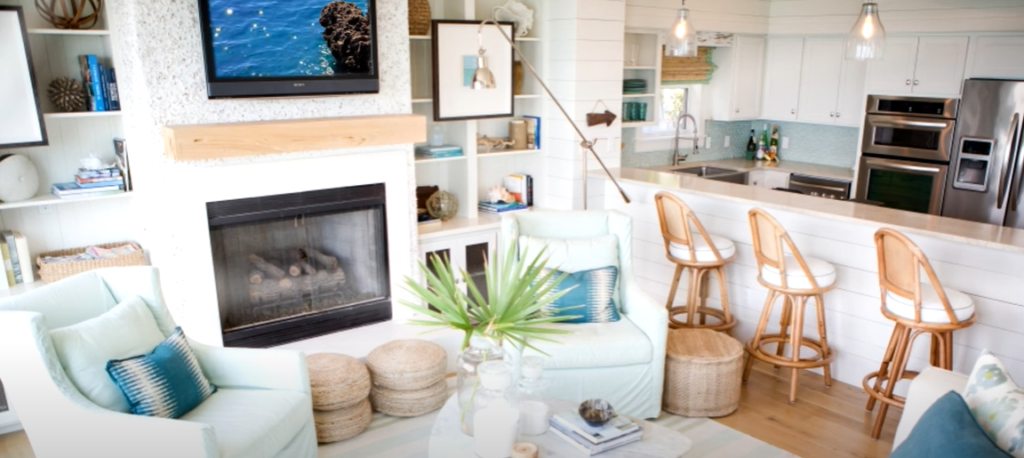 Light Blue Paint
Painting your fireplace walls in a light blue hue will create an inviting and peaceful atmosphere that is reminiscent of the beach. You can also add white or grey accents to give the space a more classic coastal feel. For example, you could paint the mantel white or grey and then have light blue surround it. This way, you'll get a great combination of both modern and traditional beach vibes.
Rope Chandelier
If you want to take your coastal-inspired fireplace to the next level, consider adding a rope chandelier. This type of lighting fixture will give any room an airy and relaxed vibe that is perfect for beach houses. You can also add other nautical accents like rope knots and starfish to really bring out the coastal vibes.
Marlin Fish Wall Decor
Adding a marlin fish wall decor to your fireplace is a great way to bring out the ocean vibes in any living room. This type of decor will not only look great with beachy themed fireplaces, but it can also be used alongside other coastal accents like seashells and light blue paint. Marlin fish wall decor is sure to bring an ocean breeze into any home! [2]
Surfboard Wall Decor
Surfboard wall decor is another great way to accentuate a coastal fireplace. This type of decor can add an element of fun and sportiness to any room, while still maintaining the beachy vibes that you want to achieve. You can find surfboards in all shapes and sizes, from vintage-inspired boards to modern ones with bright colors.
Wicker Furniture
If you're looking for a rustic yet modern touch to your coastal fireplace space, consider adding wicker furniture. Wicker is a classic choice that can instantly inject a breezy and relaxed atmosphere into any room. Choose pieces such as sofas, chairs, ottomans and coffee tables to customize the look of your space. The natural material pairs perfectly with other beach-inspired decor items like driftwood accents, coral sculptures or sea glass vases. To keep your wicker furniture in top shape, make sure it is well cared for by cleaning it regularly and protecting it from direct sunlight when possible.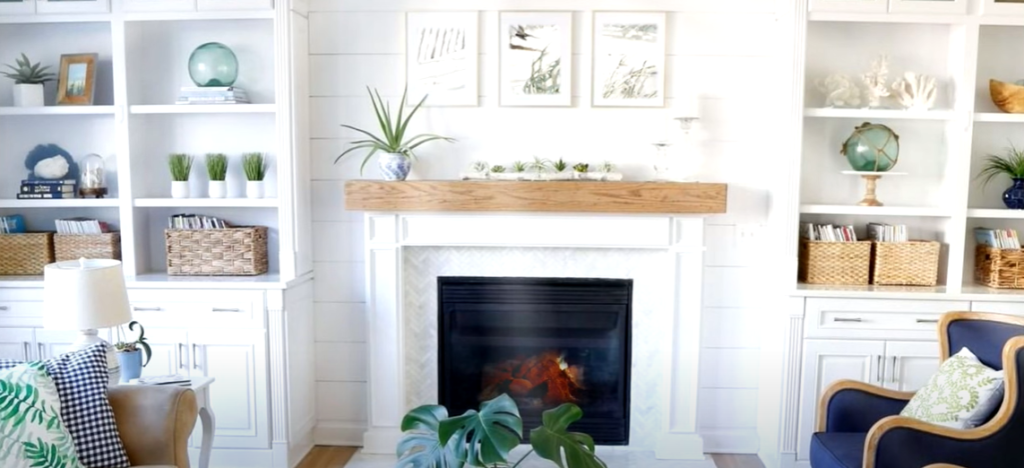 Large Coral Photo Artwork
To really make your coastal fireplace the focal point of any room, consider displaying a large statement piece like coral artwork. This can be done in various ways, such as framing and hanging a photographic print of a beautiful coral reef or choosing an abstract painting depicting ocean life. The vibrant colors of this type of artwork will instantly bring depth and character to your space while also providing a calming visual effect. Complement this with other beach-inspired decor items such as shell sculptures or starfish pillows for an extra dose of coastal vibes!
Lifebuoys on the Mantel
To further embrace the nautical design of your coastal fireplace, consider adding lifebuoys to the mantel. These classic decorations will add a timeless touch while also providing an interesting conversation piece. Look for pieces that are painted in colors to match your decor scheme and hang them at varying heights for a dramatic effect. You can also use lifebuoys as wall art by placing them on small hooks or brackets near the fireplace. This is sure to be a conversation starter every time you have guests over! [3]
Painted Blue Ceiling
For a truly unique and eye-catching touch, consider painting the ceiling blue. This will instantly draw the eye up from the fireplace and give a cool, calming effect to any room. Choose a light shade of blue that won't overwhelm the space but will still make an impact. You can then complement this with white trim or finish off with some beachy decorations like seashells or starfish patterns around the edges. The possibilities are endless when it comes to creating a coastal oasis in your home!
Palm Centerpiece Decor
To bring all the pieces of your coastal fireplace together, consider adding a palm centerpiece decor. This could be a small potted plant placed in the center of the room or even a mini palm tree on either side of the mantel. The lush greenery from these plants will add life and energy to any space while also providing an unmistakable tropical feel. You can further carry this look throughout the rest of the room with other beach-inspired decor items like coral sculptures or driftwood vases.
Tropical Print Accent Chairs
If you're looking for a fun and unique way to complete the look of your coastal fireplace, consider adding some tropical print accent chairs. These can be small armchairs or ottomans in bright colors like turquoise or coral that feature palm leaves or other beach-inspired prints. This will instantly inject a feeling of relaxation into the room while also providing an extra seating option when entertaining. [4]
Blue and White Striped Sofa
No coastal-inspired space is complete without a blue and white striped sofa. Choose a large piece that can fit the whole family and make it the centerpiece of your room. This timeless classic will bring a sense of warmth to your space while also providing a cozy spot for you to curl up on and enjoy the view of your fireplace. Your guests will be sure to appreciate this stylish addition!
Blue Console Table
To finish off the look of your coastal fireplace, consider adding a blue console table. This can be used to display items like books or plants, and it will also provide extra storage for all those beach-inspired items you've been collecting. Choose one that matches the colors of your decor scheme and place it next to the fireplace for a polished, pulled-together look.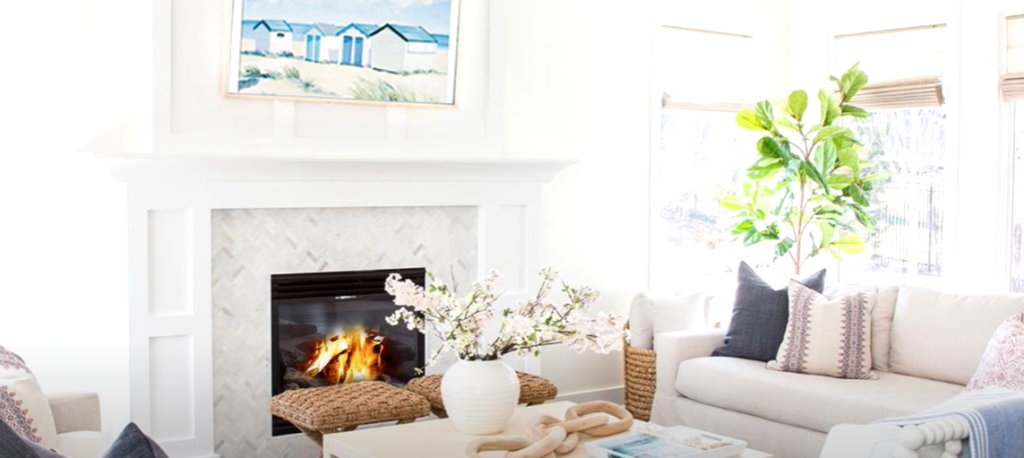 Pineapple Chandelier
For a truly stunning and unique touch, consider adding a pineapple chandelier to your coastal fireplace. This whimsical piece of decor will instantly draw the eye up and provide a cheerful light source for the space. Look for one in gold or silver with intricate details like beading or cutouts that will make it stand out even more. Your guests are sure to admire this tropical finishing touch! [5]
Boho Coastal Pillows
For an extra layer of comfort and style, add some boho coastal pillows to your seating area. Look for ones in bright colors with beach-inspired patterns like shells or starfish that will bring an element of fun to the space. These cushions are also a great way to tie all the other decor elements together and really make your coastal fireplace stand out!
Blue Accent Chair and White Garden Stool
A coastal fireplace can be easily spruced up with a few accent pieces. Consider adding a blue accent chair or white garden stool for an inviting touch and a visually pleasing focal point. The bright colors of the furniture will stand out against the natural tones of the fireplace, creating an eye-catching contrast. Place two chairs and/or stools on either side of the fireplace to create an inviting seating area and warm ambiance. Adding pillows in complementary colors will bring even more comfort and style to your space. If you're looking for something more unique, consider hanging art or wall hangings above your fireplace to make it more interesting. Whichever pieces you choose, they'll add a special touch that will take your coastal fireplace to the next level.
Seashell Mirror and Woven Basket
Seashells are a classic coastal accent, and they can be easily incorporated into your fireplace decor. Hang a seashell mirror above the mantel for an elegant touch that will reflect light throughout the room. On either side of the fireplace, place woven baskets filled with shells or driftwood to add texture and interest to your space. Incorporating these natural elements will bring in a sense of the coast without being overwhelming or overwhelming busy.
Surfer Decorations and Beach Paintings
For a more whimsical touch, add surfer decorations or beach paintings to your coastal fireplace. The bright colors of the artwork will contrast nicely with the neutral tones of the fireplace and will create a fun atmosphere. Hang up framed surfing photographs on either side of the mantel for a personal touch, or use wall stickers to liven up plain walls. To bring in even more beachy vibes, try displaying seashells and starfish in glass jars on top of the mantelpiece. Any combination of these pieces will make your coastal fireplace stand out from the rest! [6]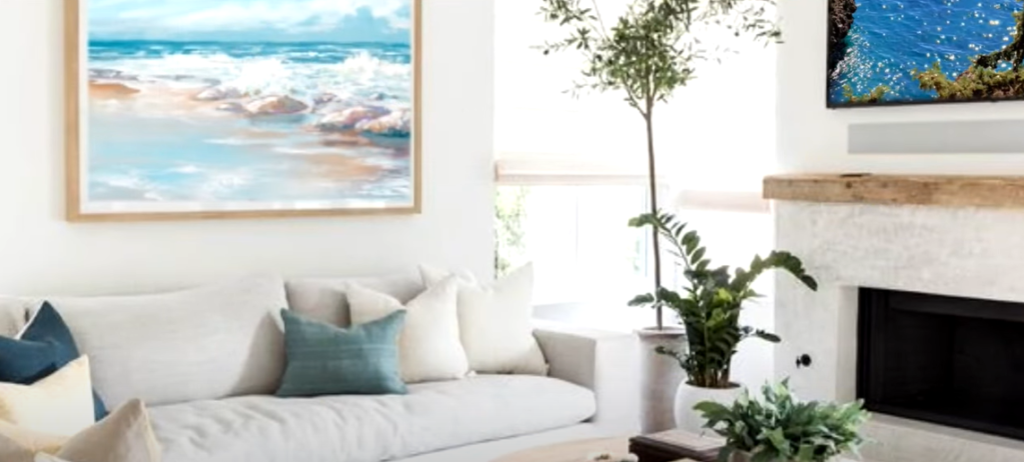 FAQ
What is the trend in fireplaces?
The trend in fireplaces is to combine natural elements with modern designs. Coastal fireplaces are a popular choice for homeowners wanting to create a warm and inviting atmosphere in their living room. In coastal fireplaces, you'll find stone surrounds, brick or tile details, unique mantelpieces and neutral color palettes that bring the beauty of the outdoors inside. The use of natural materials like driftwood, shells, coral and ocean-inspired artwork also adds an extra touch of nautical charm.
What safety concerns should I consider when installing a coastal fireplace?
When installing a coastal fireplace, it's important to be aware of any potential safety issues that may arise from having an open flame indoors. Be sure to have your fireplace professionally inspected and adhere to any local codes or regulations. Additionally, it's important to consider the placement of your fireplace in order to ensure proper ventilation and to prevent smoke from entering other rooms. Finally, be sure to use a fire screen that meets all safety standards.
Are there any special care instructions for coastal fireplaces?
Yes! It is important to take special care when cleaning and maintaining your coastal fireplace. Regularly vacuum or sweep away debris like ash and soot, as this can discolor the materials used in the surround or mantle. Be sure to also inspect your chimney regularly for signs of wear such as cracking, crumbling bricks, and rusting metal components. Finally, make sure you use appropriate fuel types for your fireplace and never leave a burning fire unattended.
Are there any unique design elements to consider when installing a coastal fireplace?
Yes! Coastal fireplaces can add a touch of seaside charm to any living space. Consider incorporating beach-inspired details such as driftwood mantels, stone surrounded with seashell accents, or hand painted tiles that depict ocean life. You could also use wall art featuring seascapes and nautical themes.
What looks good in front of a fireplace?
The answer to this question can vary depending on the homeowner's individual style, but for a coastal-style design, some great options include beachy artwork and coastal furniture. Wall hangings such as sea shells, starfish, or driftwood can also add an interesting touch of texture and color to any fireplace. Depending on the size of the space, area rugs in shades of blue or sandy colors will help bring harmony to a coastal design theme. A cozy armchair or settee in a wicker or rattan finish is perfect for adding seating near the fireplace. If there is room for additional seating, matching ottomans provide extra comfort and function as an extra surface when needed. To tie it all together, an oversized wall mirror or statement piece of art hung above the fireplace can complete the look.
What are the three types of fireplaces?
The three types of fireplaces are wood-burning, gas, and electric. Wood-burning fireplaces use real logs for fuel and provide a more natural, rustic look. Gas fireplaces burn either propane or natural gas and are typically easier to control than wood-burning versions. Electric fireplaces offer the convenience of no venting required and can be used as an accent piece with varied heat settings.
What type of fireplace works best in a coastal home?
For a coastal home design, an electric fireplace is the best option because it requires no venting and can easily be moved around for different style options. This means you can move it outdoors for entertaining on warmer days or bring it indoors when temperatures drop for some added warmth. Electric fireplaces can also be used as a decorative accent piece and come in various styles to suit your space's needs. Plus, they are easy to install and use so you can enjoy the ambiance of a traditional fireplace without any hassle or mess. So when it comes to coastal fireplace ideas, an electric fireplace is an ideal choice for adding character, style, and comfort to your home.
Useful Video: Our Top 10 COASTAL STYLE Design Tips & Tricks | What is Coastal Style?
Conclusion
When it comes to adding a touch of warmth and charm to your home, coastal fireplace ideas are an ideal choice. Whether you are looking for something classic or contemporary, there is sure to be a design that will fit perfectly in your space. From traditional stone fireplaces to modern wall-mounted electric models, there is no shortage of options when it comes to creating the perfect focal point for your living room or den. With the right materials and accessories, you can create a stunning centerpiece that will bring family and friends together during cold winter nights. No matter what style or budget you have in mind, coastal fireplace ideas offer an opportunity to express yourself through interior design while adding a unique aesthetic appeal. So embrace this timeless look by bringing warmth and character to your home.
References:
https://www.thisoldhouse.com/fireplaces/21018854/17-fireplace-upgrades
https://www.hunker.com/13727582/coastal-fireplace-ideas-and-inspiration
https://beachblissliving.com/fireplaces-beach-houses/
https://www.completely-coastal.com/2009/11/12-fireplaces-for-people-who-love-sea.html
https://curatedinterior.com/coastal-living-rooms/
https://www.sandandsisal.com/2016/08/coastal-familyroom-and-fireplace-makeover.html